AdsMain
OFFERS

4.95

PAYOUT

4.99

TRACKING

4.96

SUPPORT

4.99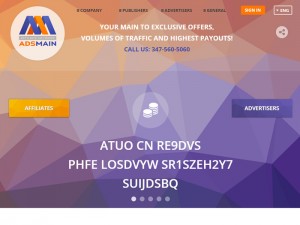 AdsMain Network provides affiliates with full-service management platform dedicated to optimizing revenue generation for both its Advertisers and Publishers!

Our goal is to address your growing marketing needs yielding the best value return on investment possible. All internet advertising is conducted exclusively on a pay for performance basis eliminating any sort of risk or ad waste.

Our CPA platform offers a complete solution for publishers to generate huge revenue from their websites by providing premium CPA offers on the web while assisting them in tracking their performance with fast online reporting.
[More]
Affiliate Network Details
Commission Type
CPA , CPL , CPS
Tracking Link
http://tracking.adsmain.com/aff_c?
Affiliate Managers
George Evigan

Vlad Troy

Daria Barda

Daria Kobzeva

Nastya Minkovskaya

Aleksa Prokofieva

Nikita Pivtorak
Rating Distribution
Excellent

163

Very good

3

Average

0

Poor

0

Terrible

0
Offers

Payout

Tracking

Support
My review is simple and directed to all publishers who constantly looking for trusted networks that have good offers.
I personally chose adsmain because they have direct relationships with product owner I needed.
They gave me reasonable price and we started making good money together. 7 months with no problems, super pro and fast support.
Hope it never stops!
The CPA network is awesome. I signed up about a few months ago and I already helped a few friends to also start earning very good amount. $500 per month is pretty easy to earn as long as you know what to do.
Sign up link: http://bit.ly/2fFWycd
Hola)
I like the style AdsMain work in. They never ignore your questions and always very clear with payments. I had a interesting case with them, there were some problems with advertiser - they said that all creatives must be pre-approved, which was not written in campaign description. But my manager solved the situation and now I have personal payout with this advertiser.
This is style I need - individual and professional.
Adsmain manager is so nice. I am very glad to have the chanve to work with her. The payment is nice and on time. anyway looking forward to continued cooperation and big money
My manager Daria helps me a lot. I want to say personal thanks to her. She makes my work with adsmain easier. I even don't need to enter my account each tome i need new converting offer, she send me daily everything by skype. All offers approve even before i ask. She know what i need and sends me only best offers. She take care of my account for 6 months already and every month my profit grows. Daria is the best manager!
My payouts increasing month by month, this is very encouraging and will hopefully be able to run with them on some exclusive payment conditions soon. Only have positive experience with AdsMain so far. Guys keep their promises and follow agreements, for me it is important.
I'm in aff marketing 3 years already and hate myself because i didn't start with them earlier.
My manager asked me to write a review about adsmain and i'm happy to do that.
I can tell only positive about adsmain:
-they are responsive
-pay fast and in time
-no scrubs
-no payment fees(at least for me)
-they add any offer i ask and give me the best price
You can see result of my work with help of my AM in the screen i attached.
Definitely one of the best networks i ever worked with. And I worked with MANY! )))))))
Cheers!
Only positive experience with AdsMain! I can give few tips, how to work with this network:
-chose offer you need, run it with your traffic and wait! Wait for managers to pay more attention to you))) After they do, you can tell them your conditions. After quality is checked they will be your best friends (pay faster, give high payouts, suggest optimization and so on.)
This is my way of work. I did same with many networks, and only few keep their promises, like Adsmain.
AdsMain is surely one of the top networks I have worked with. They are very supportive and responsive (BUT only after account is approved!!! before approval, i felt like a suspect at police dept., anyway now i see that it worth trying). I put such high marks because Adsmain the first network that really paid me on time from beginning of our relationships. They only thing i don't like is that we work in differnet time zones and sometimes my manager can't be there when i need him (but during few months of work we managed to suit each other schedules - thank you Nastya)
Best network
Best offers
Very nice support
Max Bosack is great A. M great support
I have already working on network 2016 !!
Cool network!!! Paid me fast and promised to pay even faster. Will see:)
During 2 years I run 1 single offer at adsmain. Because of hasoffers traction is not always as i expect, but usually its high. I have fast response from my manager and even when i do tests they help to make the process as more painless as they can. payouts are always on time or even faster. I never got scrubbed a peny! They give me the highest price for my offer then almost anywhere. But I'd rather lose couple of cents here with lower price, then couple of grands on another network. I appreciate that and will continue running with adsmain. Wish you guys success and hope we will grow together. TY :)
Net15 paid today. After 3 months of work everything go good.
I will post my payment reviews here and let everyone know how adsmain behaive with affiliates. Now everything is perfect :)
THANK YOU ADSMAIN!!!
I work with them since may 2016 and starting from September I receive early payments - 2 times per month. Each time payout is made in time and with no fee.
The only minus is that my manager is in different time zone with me, but anyway he always replies fast.
Add more dating and diet offers and I will be your affiliate forever! :))))
Best network with my best AM (Max Bosack)
Hope to provide more good traffic for adsmain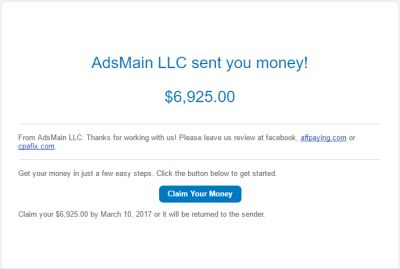 Copyright © 2010-2019 Affpaying.com All rights reserved.