AdGate Media
OFFERS

4.92

PAYOUT

4.91

TRACKING

4.94

SUPPORT

4.95
AdGate Media is a private CPA incentive network. Our team is comprised of veterans from the incentive industry. We know the ins and outs of being an affiliate in this industry, and we use this to help our affiliates succeed. We guarantee outstanding support, higher payouts, and a flexible payout schedule. When it comes to incentive marketing, it's not about who has the most offers, but rather who has the best converting ones. Almost all of our offers have been tested by us to make sure they convert well. Our custom gateway solution allows you to always be displaying the top converting offers for your visitors. There's no need to lose money by testing different offers, our gateway will choose the best ones for you. Affiliates earn more with our network. Don't just take our word for it, try it for yourself.
Affiliate Network Details
Referral Commission
5% Lifetime Commission
Tracking Link
http://clk.adgatemedia.com
Affiliate Managers
Dan Sapozhnikov

Sean Glickman
Rating Distribution
Excellent

197

Very good

13

Average

0

Poor

0

Terrible

1
Offers

Payout

Tracking

Support
AdGate Media is the Best CPA network i ever seen. Offers are good, the support is awesome.
My ID: 16777
The best network for PPD! Highest rate!
Aff ID: 16389
im happy on adgatemedia right now about its offers and conversions... stay strong!!!!
Affiliate ID: 11317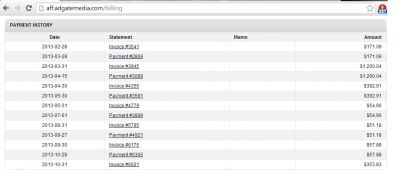 One of the best network, Nice all around offers for almost all countries, never had problems with payouts. Fast payment, nice support.
My aff ID: 10443
ID: 14987
Great network, pay ontime. Adgatemedia is the true choice.
I'll recommend to join AdGate Media network now!
http://bit.ly/1aM3MyB
It's amazing just try it out an you will see. I am never going to change mt CPA site again. Going with AdGateMedia for ever!!
My ID : 13365
Adgatemedia is the best. The support is super, the paying is always on time.
Thank you.
My ID 16309
Another early payment from adgatemedia...Great Network
I am on Net 30 but my AM sent me payment on 14th. Thank YOu Sean and thankyou adgatemedia.
Publisher id is 9267.
Amazing they just updated the site and now it is even better. Its simple and quick if you are a first timer like me try it out. My ID 13365
Just received another payment from Adgate Media ,thanks Dan .
Adgate Media Limited Liability Company sent you $381.94 USD
Just thought you'd like to know Adgate Media Limited Liability Company sent you $381.94 USD.
Adgate Media is the best network :)
I started working with AdGate about two years ago, and so far it has been a very positive experience. This is by far one of the best networks I've worked with. They have great offers, great payouts, quality traffic
My ID: 16777
Adgatemedia is awesome and reliable CPA network. Incredible EPC compared and fast payment, this is my first payment $652 ;)
My Publisher ID: 9811
Guys I recommend you to join Adgatemedia, if you need a referral you can head to this link http://bit.ly/17osJ8U
Adgatemedia is the best CPA network I ever see.Many offers are converting very well.Thanks AdgateMedia!!!
My id is 8756
Adgatemedia has good support and no delays with the payment,i'm vrey content of their services.
My ID is 10909
forget about delays in payment and poor support. adgate is the thing!!!!

Copyright © 2010-2019 Affpaying.com All rights reserved.