Sybarite Elite
OFFERS

4.5

PAYOUT

4.75

TRACKING

4.75

SUPPORT

4.75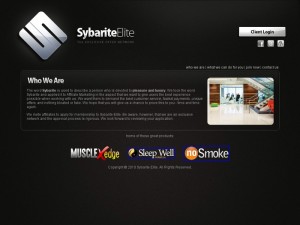 Sybarite Elite offers a competitive edge for affiliates in that we are not offering campaigns that are over saturated. We form direct and exclusive relationships with products and service providers and become the only source of leads for these entities. At times, we may only call on a few affiliates with specific marketing skills to run leads to these particular offers. This way, we are able to drive quality leads and allow affiliates higher conversions than may otherwise be expected. We invite affiliates to apply for membership to Sybarite Elite. Be aware, however, that we are an exclusive network and the approval process is rigorous. We look forward to reviewing your application.
Affiliate Network Details
Commission Type
CPA , CPL , CPS
Tracking Link
http://www.sybtrck.com/click.track?CID=
Affiliate Managers
Bryan VanAlmkerk

Brandon Halpner

Laura Cruz
Rating Distribution
Excellent

3

Very good

1

Average

0

Poor

0

Terrible

0
Offers

Payout

Tracking

Support
I have never heard of Sybarite Elite, but it sounds like a great network.
If anyone has any proof that they pay, or any other info, feel free to post here.
Thanks in advance.
Sam
I'm trying to join the network and can't find the contact info for Sybarite Elite affiliate managers. Does anyone know a number or email address through which I can reach them? Mail me through minicop363@yahoo.com. Thanks.
I've been working with Syb Elite for just over a year and it's been an awesome experience. These guys are really knowledgable about the non-traditional traffic sources, which has been highly profitable for me.
I've always been paid on time and if I have a hot offer, they're willing to pay me sooner to get it scaled!
You're leaving money on the table if you're not running with Sybarite Elite.
Sybarite Elite is a great CPA affiliate network and has a pretty solid reputation. I have been part of them for about 6 months now and run a few offers and never had issues other than good ones. I like to get paid fast so I use Direct Deposit. I like their range of offers and they have a lot of high paying offers that are easy to convert. My AM is always there when I need him and I know that I can always rely on him to fix any problems or answer any questions I have. They have all been nice and very helpful.
Overall, Sybarite Elite is an amazing CPA network, and I recommend all people to give their offers a try.

Copyright © 2010-2021 Affpaying.com All rights reserved.