RichAds
QUALITY

4.63

VOLUME

4.5

PLATFORM

4.75

SUPPORT

5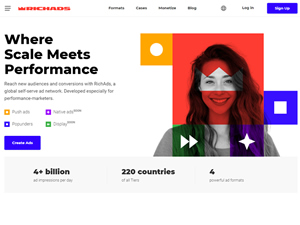 RichAds – Where Scale meets performance. Develop your advertising with a global self-serve performance ad platform. We offer push & popunder formats.

RichAds traffic quality is verified by Adscore. We block any bot or other fraudulent traffic.

Why choose RichAds?
• Premium sources with 2.5x higher conversion
• Top formats: push (native, calendar, in-page), popunders
• Expert's support (whitelists, tips on launch and optimization, creatives)
• Auto CPA for the effective start
• 4B+ impressions per day for the perfect scaling

Use the power of our ad formats to capture new quality leads from premium sources.

Push
Personal-like notifications or alerts are similar to 1-to-1 messages on the user's screen. This format is resistant to banner blindness. Harness the traffic quality, huge volumes, and low price.

Pops
Ad tabs appearing under the previously visited page with no interruption of the user experience. This format is easy to launch, it has the lowest bid price and widest outreach.
Advertising Network Details
Minimum Payment
No Minimum
Payment Frequency
Bi-Weekly (every two weeks)
Payment Method
WebMoney, Capitalist, Bank Wire Transfer, PayPal
Payment Method
WebMoney, Bank Wire Transfer, Credit Card, Paxum, ePayments
Daily Impression
4 billion
Top GEO
IND, IDN, BRA, USA, POL, MEX, RUS, TUR, THA, PAK
Top Vertical
VPN & Antiviruses, Crypto, Gambling, Betting, Sweepstakes, Dating
Rating Distribution
Excellent

8

Very good

0

Average

0

Poor

0

Terrible

0
Quality

Volume

Platform

Support
RichAds is the best ad network i have used! Excellent quality of traffic.
- good rates and no fraud detected for the push traffic (haven't tried pop) - :)
- small UI issues are not fixed though reported - :(
Overall is good!
I work with Richads for more than 6 months and overall the performance is good. Account Manager is nice, supportive and always gives quick reply. Richads has a good volume of push traffic but it can improve on other formats.
We need to use one word - excellent! We cooperate with Richads 2 months now and we definitely recommend.
RichAds' killer feature is their human and pro support. In addition of the great support to any advertiser wanting to create and manage their own campaigns, RichaAds team also offers fully managed campaigns for any advertiser investing at least a certain amount per month. For advertisers wanting to scale but lacking time or human resources, RichAds can be a game changer.
A very good ad platform. Convenient UX / UI, quick ad review and most importantly a truly amazing customer support - you are treated as a dear friend at all times, even if you ask dumb questions))
I worked with push traffic, worked only with premium source in Richads , and want to say what traffic is good, good convert , good volume , and very good support thank u Veronika for her help in work. Good traffic for dating , finance , Gambling.
TOP QUALITY TRAFFIC
-push
-pop
Making big figures already for 1 year with RichAds. Really scalable traffic, perfect account management and good payment options.
A+ traffic quality and quantity, really recommend

Copyright © 2010-2021 Affpaying.com All rights reserved.