ProLeadsMedia
OFFERS

4.95

PAYOUT

4.94

TRACKING

4.95

SUPPORT

4.96
ProLeadsMedia (Incentive Friendly) is your one stop affiliate for all your offer needs. With over 13 years of experience in online marketing we know what you want! Real-time tracking, easy to reach support, on time (often early) payments. No games, no drama just tons of great offers!
[More]
Affiliate Network Details
Commission Type
CPA, CPC, CPS, CPL, CPI
Rating Distribution
Excellent

177

Very good

7

Average

0

Poor

0

Terrible

0
Offers

Payout

Tracking

Support
I have used Proleads for years now and have never been disappointed.
Again more early payments. WTG Christina.
This network is great! They always give me the most offers everyday and they sometimes send payments early!
Great network with amazing support! Payments are ALWAYS on time and alot of times early! :)
Great network, just got paid for my January revenue! Awesome network, one thing I really wish is better rates but the early payments are awesome!
Nice offers, nice support and fast payment. Thank you Christina!
Got another early payment
Christina Zoulek sent you $61.12 USD
Transaction ID: 1VD540704F479602E
Hello barbara norris,
Just thought you'd like to know Christina Zoulek sent you $61.12 USD.
Note from Christina Zoulek:
Thanks Christina! You have always paid on time as long as I had the correct email address on file!
Sent by:
Christina Zoulek (The sender of this payment is Verified)
Payment sent from:
[email protected]
Payment sent to:
CashinOffers1
Business Contact Information
Customer Service URL: http://proleadsmedia.com
Customer Service Email:
[email protected]
Amount received:
$4.03 USD
Fee amount:
$0.00 USD
Net amount:
$4.03 USD
Date:
Jan 28, 2013
Time:
02:34:54 CST
Subject:
PROLEADSMEDIA
Note:
Please post payment proof/a review here to support PLM- http://www.affpaying.com/proleadsmedia
Payment type:
Instant
One of my favorite networks. Excellent support. Fast payouts. SO MANY offers to choose from. Got 2 EARLY payments already. LOVE IT!
Always dependable, right on time! Thanks Christina!
Hi
just receive payment from ProLeadsMedia..
Thank you so much..
I've switched to Christina permanently due to the early payments! Most affiliate networks stay with a net30 plan and end up paying very late. But Christina pays us early even for little revenue. The best affiliate network!
Got paid today for Decembers earnings, an extremely early payment, this is a must have network!
(attached screenshot) http://img29.imageshack.us/img29/4711/proleadsmediadec.png
Great offers , payment early.5 star from me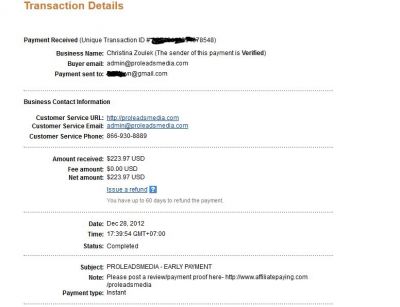 Thank you Christina for another fast and early payout.
Your support is always top notch!
Merry Christmas
This is my first time payment. After receive my first payment, i will go on with Proleadsmedia forever. Thank you so much..

Copyright © 2010-2020 Affpaying.com All rights reserved.