Panthera Network
OFFERS

4.91

PAYOUT

4.91

TRACKING

4.91

SUPPORT

4.55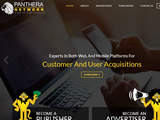 Panthera Network, a Division of Panthera Interactive, LLC, is an online marketing solution that specializes in performance-based advertising. Our network consists of hundreds of specialty-content publishers and quality advertisers with high-converting offers. What makes Panthera Network special is our staff. Panthera Network employs experts in the online adverting industry.

Panthera Network is dedicated to maximizing the revenue of our publisher's advertising inventory. Here at Panthera Network, you will find all the popular offers found on the other networks, as well as exclusive, high-converting offers. We want to be your first choice for picking up offers and will work hard for your business.
Affiliate Network Details
Commission Type
CPA , CPL , CPS
Rating Distribution
Excellent

10

Very good

0

Average

1

Poor

0

Terrible

0
Offers

Payout

Tracking

Support
There Have Good Offers and good working there but when payment time they are not the correct time to get a payment. if you complete work 1 month they are not say any problem but when time to go on payment they are say its problem lots of excuse so never work there.
Joined the Panthera Network in February. Received my first check today April 18 for my February earnings.
It took a bit longer than I was hoping, but from what I was told first payment must be via check and it takes longer to approve commissions.
Future payments will be made via direct deposit and hopefully a bit quicker!
Panthera is truly a great network. I have been with them for over 2 years now, never had a late payment, always helpful AMs, but the best part is that their offers pay rate usually is way higher than other network\'s.
Highly recommended for anyone who is seruios about CPA marketing.
Panthera is the best CPA network for me. Support is very very great, my AM helps with anything! It's great to be a part of the Panthera Network...
Thank You, Dennis & the folks of Panthera Interactive!
Excellent network. got my first cheque for $179 today the only reason i rated 4 for tracking and support is the giveusyour2cents was not crediting for my site users and i got no reply when i contacted them over it.
Panthera is one of the best quality affiliate networks I have worked with. Great AMs and good offers. I highly recommend working with them, they are a great network.
PantheraNetwork.com rocks!
Panthera is one of the best networks I work with. The payments are very dependable and come at about the same time every month. They have a great selection of offers. I highly recommend them!
I've been working with Panthera Network for more than 10 months now and I've nothing but great things to say about them. They paid me monthly on a consistent basis on time!
Thanks Greg! :)
Brian
Panthera Network is one of the most efficient network I have worked with. They have a huge number of HOT offers with TOP payouts and WONDERFUL affiliate support as well. I highly recommend you check out Panthera Network!
Panthera Network is the best affiliate network I have come across. Fast on-time payments, excellent conversions and responsive affiliate manger. My AM is Greg. He's been very helpful and I can always rely on him to give me advice and honest opinions on marketing offers. I would recommend him to anyone.
Panthera is one of my favorite affiliate networks. The have a bunch of exclusive offers with nice payments, and my AM is always helpful.

Copyright © 2010-2023 Affpaying.com All rights reserved.