OFFERS

4.75

PAYOUT

4.75

TRACKING

4.75

SUPPORT

4.75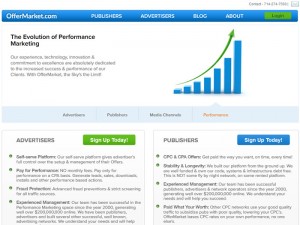 OfferMarket.com, a CPC & CPA Performance Ad Market, is an Evolution in Performance Marketing. They are accepting new Publishers & Advertisers right now. Curtis Fullmer, long time industry veteran, has generated well over $200,000,000 in the Performance Marketing space. He is well known for his roll at Adknowledge, where he built the fastest growing and most profitable Performance Affiliate Network in the industry. His new platform, OfferMarket.com, has been purpose built, from the ground up, as a hybrid CPC/CPA Performance Ad Market, to offer unique solutions for both publishers & advertisers. Publishers & Advertisers can visit OfferMarket.com to get started. Publisher Benefits: • CPC & CPA Offers: Diversify your monetization mix and get paid the way you want, on time, every time! • Stability & Longevity: We built our custom platform from the ground up to offer more monetization options & increased adaptability. We fully own & control all of our code, systems and infrastructure. We are well funded and in it for the long term. We are most definitely NOT another fly by night network, on some rented platform. • Offer Selection: Broad range of verticals to choose from with new CPC & CPA offers added weekly. Let us know what you are looking for and if we don't have it yet, then we'll be sure to get it! • Media Channels: We work in all major Performance Marketing media channels including; Display, Email, Search, Social, Mobile, Contextual, etc. • Experienced Management: Our team has been successful in the Performance Marketing space since the year 2000. We have been publishers, advertisers and built several successful, well-known, advertising networks. We understand your needs and will help you succeed. • Paid What Your Worth: Other CPC networks use your good quality traffic to subsidize publishers with poor quality, lowering your CPC's. OfferMarket bases CPC rates on your own performance, no one else's. • NO CPC Ceiling: Other CPC networks have a payout ceiling they cannot pay publishers above. If your Traffic Quality improves beyond their top CPC payout, they will not pay you the higher rates you have earned. OfferMarket has NO CPC ceiling. As your TQ increases, your CPC increases, continually & automatically. • Referral Commissions: 5% on publishers you refer, for the life of your account! • With OfferMarket, the sky's the limit! Connect with us at OfferMarket.com to get started or for more info.
[More]
Affiliate Network Details
Tracking Software
In-house proprietary platform
Rating Distribution
Excellent

3

Very good

1

Average

0

Poor

0

Terrible

0
Offers

Payout

Tracking

Support
I have received my first payment from OfferMarket.
It's very nice and full of great offers with High EPCs and Conversion Rates.
'Curtis Fullmer' owner of this network is a very fast and responsible person.
He paid me 10 days before the time of payment.
The Minimum Threshold of this network is $50.
But I asked for the payment of February then he agreed and he paid me today still i didn't reach Minimum of $50 in Feb.
New Network always should be like this.
Thanks For Payment :-)
This is My Referral Link.
Anyone can sign up through this link-
http://bit.ly/WCJm8T
Signed up and waiting for acceptance
I'm always a little cautious about working with new networks but OfferMarket seems to have their stuff together. Nice platform, good tracking, lots of offers with both CPC & CPA payouts and good support. So far so good.
Nice to see a network doing something different. I like that I can run their offers on a CPC or CPA payout. Good offer selection with lots of verticals. I also like the fact that they built their network, shows me they are commited. Off to a good start.

Copyright © 2010-2020 Affpaying.com All rights reserved.