ModernAd Media
OFFERS

3

PAYOUT

3

TRACKING

3.33

SUPPORT

3.67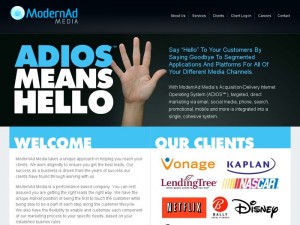 ModernAd Media is a performance based company. ModernAd Media pays the most competitive rates to our publishers in all of today's most popular verticals. Our experienced and knowledgeable sales team is dedicated to identifying, acquiring, testing and optimizing unique and original offers to ensure we provide our publishers those that return the highest eCPC's and eCPM's. ModernAd Media focuses on a variety of pricing models- CPM, CPC, CPL and CPA, guaranteeing our publishers achieve the kind of financial success that will foster a long-term relationship with us. ModernAd Media understands the importance of great offers and the keys to relationships in the industry, so just let us know how we can better service your company.
Affiliate Network Details
Number of Offers
CPA , CPL
Payment Frequency
Monthly
Payment Method
Check / ACH
Tracking Link
http://www.mamjmp.com/redir.aspx?CID=
Rating Distribution
Excellent

1

Very good

1

Average

0

Poor

0

Terrible

1
Offers

Payout

Tracking

Support
Modern Ad Media SUCKS! Gennet is the rudest person I have ever had as an Affiliate Manager.
I generated around $2K of commission with email submits a few months back. I was direct linking with CPV with legit traffic from TrafficVance and also ran some LPs.
After running traffic for 3 weeks and have a few really good days, Gennet tells me that the traffic is not backing out for them and that I need to stop promotion. Okay. I tried to talk with her about how I can improve traffic. I let her know that because it is CPV traffic, the conversion rates would probably be lower. (I don't think she knows what CPV is). She seemed disgusted that my EPC were only $0.02 and below. On my end, this was great because I was only paying $0.011 per click.
I was willing to take a pay cut on the offer, but she didn't want to do anything. She must be an angry individual for the way she treated me.
She was all pissy saying that her boss was going to be so mad at her...
When I asked how it was not backing out and what I should do on my end to increase conversions, she blocked me on AIM. (ARE YOU KIDDING ME!) I am willing to work and talk about how I can improve my conversions, but I need to know what is happening on the back end.
Then they removed all 15 or so email submits from my account and told me I can't promote them anymore.
After that, I didn't even want to promote with them anymore. This was beyond unprofessional treatment. I have worked with over 75 different CPA networks over the last 3 years and have never been treated this low.
They pay net15, so after a month went by, I had not received a check for the $2K I did in commissions. I contacted Gennet and she sent me back an email saying, "did you send an invoice?"
I replied back and said no, I wasn't aware that I needed to send an invoice. Then she emailed back saying: "It was in the I/O..." - What a BITCH.
I went to login to my account to pull my stats, but they had banned my account and login. Now I couldn't pull my revenue numbers that I needed to give them to pay me. Luckily, I reconciled and saved all the data in a spreadsheet at the end of the month.
After I emailed them the numbers showing I did $2K in commissions, Gennet responded back and said that they lost money with my traffic. She said they could only pay me $400 and not the $2K I earned in email submit commissions.
WHAT?!?!?! I spent over $1K on advertising. Now they are going to pull this BS and I am going to lose money? I emailed back asking why no one told me this when I was actively sending paid traffic for 3 weeks? She said they didn't know. (yeah right...)
I argued some more threatening to talk shit at AdTech and post bad reviews like this one, but they didn't seem to care.
All in all, Modern Ad Media SUCKS. They are lying bitches!
I did get paid $400, but ultimately lost a lot of money and time.
STAY AWAY!
ModernAd Media is the best network i am currently working with. Gennet is my affiliate manager and she takes the time each day to suggest high converting offers and is always eager and willing to help. Go try them if you really want to make money.
@MenaTraffic They are legit. I have been an affiliate with ModernAd Network for a little over a month and a half. Their payouts are high and the staff is extra nice! I received my first payment on time. Check 'em out.

Copyright © 2010-2021 Affpaying.com All rights reserved.