MaxBounty
OFFERS

4.91

PAYOUT

4.96

TRACKING

4.94

SUPPORT

4.92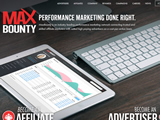 MaxBounty is a world leading performance-based affiliate network that specializes in maximizing the ROI of both affiliates and advertisers. Through unprecedented balance that we've been perfecting since 2004, we ensure both sides of the performance marketing spectrum are treated equally, fully dedicating ourselves to our clients' success and growth. Comprised of thousands of campaigns and tens of thousands of affiliates, MaxBounty has the necessary volume that the modern affiliate marketer desires. Find out why we're continually voted the #1 network by industry professionals, and signup to become an affiliate or advertiser today.
Affiliate Network Details
Commission Type
CPA, CPL, CPS
Referral Commission
5% for 12 months
Tracking Software
In-house proprietary platform
Tracking Link
http://www.mb102.com/lnk.asp
Rating Distribution
Excellent

234

Very good

6

Average

0

Poor

1

Terrible

1
Offers

Payout

Tracking

Support
Awesome network.I love the offers, and the site is easy to navigate.
I always get a prompt answer by my AM whenever I have questions.
Might as well throw in my referral link: http://tinyurl.com/n528mcn
MaxBounty is my all time favorite network.
Just received the earnings for my April month.
My payment proof attached.
Thank you guys, keep up the great work!
MaxBounty is a great network, I earned $88 two days little work.
You may join under my affiliate link and i'l help you to create PPC campaign and earn... I also do struggle to optimised campaign but i'll share knowledge what i have....
Skype- ravi.kumar0143
My Referral Link here to join MaxBounty: http://bit.ly/2pQhqjx
I have been working with Cpamatica for several months now, and I can honestly say than I'm very satisfied so far. And I keep making more money each month.
Their offers variety is huge, good conversion rate and, more important, stable. No shady practices so far. If you run any dating traffic, it's very likely that you have sent traffic to one of their offers..I have never had a problem with payments. Always on time like a clockwork, and if you can drive certain volume they can arrange more flexible terms.
My Referral Link here: http://bit.ly/signupcpamatica
Number of Offers: 614
Commission Type: CPA, CPI, CPS, CPL
Minimum Payment: $50
Payment Frequency: Weekly
Payment Method: Wire, PayPal, Payoneer, Webmoney
In my opinion, MaxBounty is a great network.
Got another payment, MaxBounty is a great network.
This is my proof of payment.
Hi i am waleed i have been with maxbounty 4 years and this is great network any one want help or make money with this network to contact me and have advanced level training available contact us
waleedqazi95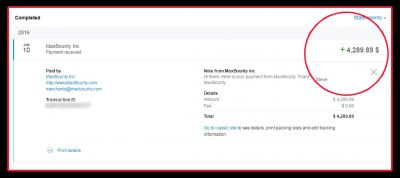 Working with MaxBounty has been a really amazing experience. Great offer selection with tons of direct offers, high payouts & timely payments. What are you waiting for? Join now & make stacks of $$$$$$$ :)
Got my second payment from MaxBounty. Excellent network with huge offers. Great communication and support. After all, I love this network. Thank you MaxBounty.
They pay and they are honest ! Period ! :)
My favorite CPA network. Just amazing.
Fantastic network to work with. Great offers, timely payment, effective and friendly support. Highly recommend this network!
Maxbounty is Great Network to earn . Very Reliable & Staff is very helping. Maxbounty makes every effort to keep their publishers happy. I joined them last month , on request they also gave me Payments early. Good Offer, Good Tracking System, Good Support.
Earned 1350 $ in just 20 days from this network.
MaxBounty is my FAVORITE affiliate network - On time WEEKLY payments, very professional managers, huge offer selection & higher payouts.
Thanks to the whole MaxBounty team!
i just got my first payment from maxbounty.. It's really The Number one cpa network.
Thanks maxbounty and thanks my AM kate Boone

Copyright © 2010-2019 Affpaying.com All rights reserved.