LosPollos
OFFERS

4.95

PAYOUT

4.91

TRACKING

4.96

SUPPORT

4.9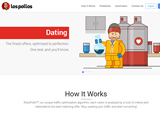 LOSPOLLOS

LosPollos is the premier affiliate program with a focus on SmartLinks, to efficiently monetize your mixed traffic from any GEO or device. Here at LosPollos, more than 1000 carefully selected advertisers, exclusive and in-house offers, and a proprietary algorithm are on the menu, so you can get the most out of your traffic with every single click.

*Monetize traffic from any GEO, niche, or device.
*In-house matching algorithm connects your user with the best matching offer - automatically!
*Weekly payouts - never any holds on your money, never any delays.
*Free your mind and leave the routine to our team - our SmartLink will do everything for you!

Our Special Recipe:

*Smartlinks for different verticals: Mainstream (sweepstakes), Crypto, Cams, Adult Games, Gambling, Dating, Casual Dating, Gay Dating, Push Monetization.
*Payments every week, with no holds. We support payments to WebMoney, PerfectMoney, Capitalist, Paxum, Bitcoin, and Wire.
*An innovative creative team cooking up landing pages for your niche in your user's native language, ensuring the highest conversions possible.
*Support that cares, working around the clock to support your campaign.
*Extra sauce: For partners with high volume and good quality traffic, we'll increase your rates!

Follow the news:

Telegram: https://t.me/lospolloscom
Instagram: https://www.instagram.com/lospollos_team/
Vkontakte: https://vk.com/lospolloscpa
Facebook: https://web.facebook.com/lospolloscom/
Have any questions or suggestions? Write!
For webmasters: support@lospollos.com
For advertisers: partners@lospollos.com

New here? We'll be happy to help you get started. Just get in touch!
Affiliate Network Details
Payment Frequency
Net-7, Weekly
Tracking Software
In-house proprietary platform
Rating Distribution
Excellent

174

Very good

1

Average

1

Poor

0

Terrible

0
Offers

Payout

Tracking

Support
It's a good network..... last 2 years i working on lospollos.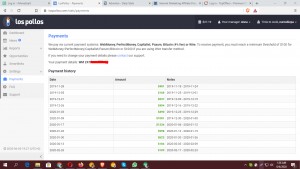 I have been working with LosPollos for quite some time now and never had any issues with their services or product.. Offers are always great and support team is always there when needed! A+++
Really happy with the results! I have tried Mainstream Smartlinks and both did very well. Great conversion with high payouts !
Honestly, could not wish for a better network! I always get the best offers and very pleased with conversion rate! Also, LosPollos has probably one o the best support teams out there!
Lospollos is one of the best CPA smartlink network in the world I will always recommend it everyday to anyone
Skype:cpaaslam1
Very pleased with the results and support LosPollos always delivers! Not only great at traffic but I am very happy that payments are always coming in regularly.
We are so happy we started using LosPollos. They have one of the best optimization systems with the best offers, high pay outs and incredible support team!
I have tried quite a few CPA Networks but truthfully, this is by far the best one, delivering high quality traffic and driving great results. Would not be fair not to mention excellent support service. LosPollos team is always there to help, they are quick and efficient!
lospollos is thea best network and the bes my affiliate :manager Eugenia
then i am very like the network this network super star.........................
If you are looking for a CPA network that will manage your traffic and automatically will increase your conversion rate - LosPollos all the way, no need to look further. I am actually seeing results I was looking for and if I ever need support, they are always happy to assist, very professional and quick
Hello boys,
Lospolls is one of the best CPA Network I've joined. They have good offers, very high payouts and excellent, quick, professional support.
Los Pollos is the best affilait network for beginner.support is very good. i am happy to work with lospollos.
i think Anna is very helpful maneger.
Thank Mr #Mohoshen sir that's because he help me a lot. Really he is a good manager.. I get better result from Lospollos thank you Lospollos.
I work alone but I get the best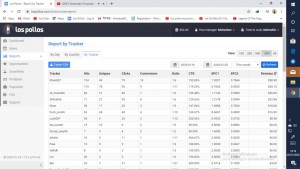 LosPollos is a really good network. I have Dating and Mainstream smartlinks at the moment and their offers are well converted. I get paid every Tuesday without any problem. The support team always helps me if I have any questions.
I am from Bangladesh,Incredible but true, what a conversion rate, Ann Manager is very smart,I am very pleased to have worked with Anna Mam,Thank you.

Copyright © 2010-2022 Affpaying.com All rights reserved.