LeadPUB
OFFERS

2.86

PAYOUT

2.57

TRACKING

2.86

SUPPORT

2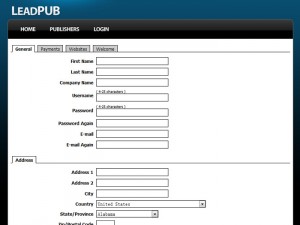 LeadPUB is a Pay for Performance advertising network delivering millions of impressions each month through our selective list of quality publishers. You only pay for results! We provide high quality traffic to our Advertisers through screened and approved Affiliates; and carry a vast number of both high converting Incentive and Non-Incentive Offers with some of the highest payouts in the industry, thus allowing our Advertisers and Affiliates to improve their ROI and maximize profitability. We carry the top offers you crave. LeadPUB is always updating and expanding our current selection, and we constantly monitor our offers for only the best conversion rates. We offer competitive rates and on time payments!
Affiliate Network Details
Commission Type
CPA , CPL
Tracking Software
Gain Corporation
Tracking Link
http://network.leadpub.com
Rating Distribution
Excellent

1

Very good

1

Average

2

Poor

0

Terrible

3
Offers

Payout

Tracking

Support
Nice unique offers! ON time pay! Very dependable network!
I am posting a good review. because I have never had a problem with them as of yet. I am posting some payment proofs here. Not a bad network worth a check out.
Can't believe this scamming network is still around. Shiftcode won't shut them down eventhough proof was presented that they don't pay! Never paid for leads earned a year ago. There is no response to emails no support at all. Do not join!!!!!!
Support never answers my emails.
1st 4 months I used their campaigns they paid me well before the 15th of the following month. No minimum.
But it has been well over 2 months that I receive no payment and no replies to my emails.
I am very upset, I want my money.
I complained a week ago that I never received a payment for offers that we ran. Now this week I cannot login any longer. Stay away from this affiliate until they start paying people.
If your looking for a professional staff, you won't find it here.
Hopefully by the end of this review my comment would have shed some light on the true nature of this affiliate, and save some people considering doing business with the the hassle in doing so.
First I would like to say, they do NOT always pay on time. To be honest, they are late on the current payment they owe us right now. They're support reminds me of a 16 year old boy thinking he is on a power trip, sitting behind his parents computer rushing to answer questions before he must be tucked in at night since he has to get up to go to school in the morning.
Honestly, when they are late on payments, and then when contacted about it, they are blatantly rude as could be about their publishers wondering about when payments will be made, it really reflects on the kind of business they are actually running. Wake up LeadPub, without your publishers you would be nothing!
As for their comment, and I quote, "LeadPUB is always updating and expanding our current selection". What a joke! They have new campaigns going active MAYBE biweekly. There are so many other affiliate networks adding new campaigns on a DAILY basis, at higher rates, and ALWAYS on time payments.
Personally, there will never be another LeadPub campaign on our website. We give our members quality campaigns, quality support, and quality payouts... it would be nice if big name affiliates would follow suit once in awhile instead of talking down upon their publishers. Way to go LeadPub, keep up the horrible job, you are doing a favor for the far more superior affiliate networks available to publishers :)

Copyright © 2010-2021 Affpaying.com All rights reserved.