LeadBolt
OFFERS

4.54

PAYOUT

4.6

TRACKING

4.58

SUPPORT

4.57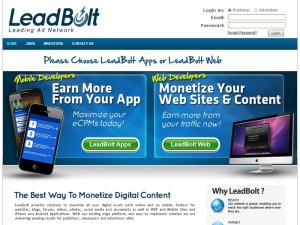 LeadBolt's content unlocking technologies are simple, easy to install and provide publishers with a revolutionary approach to making real money from their website traffic or website content! Once you have signed up you will have access to our publisher portal to instantly set up and run LeadBolt's technologies on your website. It takes just 3 steps with our publisher setup wizard. Tired of the minimal payouts your site is receiving from text ads or banner campaigns when your website has high visitor ratios? You can do better! LeadBolt's content unlocking technologies are transforming the internet for publishers by delivering real payouts for their real and original content. Most importantly, we understand the business of web marketing and our unique user matching technologies and exclusive programs will provide you one of the highest paying pay-per-conversion publisher programs.
Affiliate Network Details
Commission Type
CPA , CPL , Content Gateway / Locking
Referral Commission
10% for life
Tracking Software
In-house proprietary platform
Tracking Link
http://ad.leadbolt.net
Rating Distribution
Excellent

57

Very good

1

Average

1

Poor

1

Terrible

5
Offers

Payout

Tracking

Support
Good CPA !! I love
LeadBolt is way better then any content gateway network i've worked with, i'm converting 3X on my traffic, that's awesome! Highly Recommend!
I am pretty sure lead bolt is another mile stone after cpalead. i am pretty close with Mike and i can help you each way related to leadbolt . contact me if you can not reach mike . i will help you .
Mike is very busy so Emailing him is best option . you can post your query here . i would solve it ASAP. i do visit Affiliatepaying 100 time in day .
One word comes to mind when I describe Lead Bolt - AWESOME.
AWESOME offers
AWESOME team
AWESOME support
AWESOME network
Yes, I am happy with them. Its very rare that a network exceeds my expectations but Leadbolt have managed to do just that. They paid me when they promised, they get back to me when they promise and they help as they promised. They have really delivered on what they promised me and keep on performing. I highly recommend them.
Prompt payment. Good support. I am very happy with them. I can recommend them highly to everyone. Thank you Leadbolt for making me such good money.
I am earning so much more with Lead Bolt since I switched to them in June. A+++ definitely recommended
Yup I agree. Their gateway converts like crazee. They get 2 thumbs up and both my toes. Crazee good network and crazee good returns. The have my vote
2 thumbs up from me. I love their skins. The gateway converts like crazy for me. Go Leadbolt !!!!!!
I have had a very good experience working with Leadbolt. Support was always there for me whenever I needed help or had a question. The payouts are extremely good and I've always been paid on time and never had any suspicions of them like I have other networks. The tracking works in real-time and I have not had any issues.
They are a quality network and I would recommend Leadbolt to anyone wanting to make more money from their website.
These guys are awesome, best support. My affiliate manager is one of the best I've worked with and always keeps me in the loop. Also their payments get sent out on time ALWAYS, this network is D-E-F-I-N-I-T-E-L-Y worth looking at!
I have heard a lot of good about Leadbolt and I think it's worth the try.
Yeah, I'd definitely recomend them. Highest epcs I've seen from any of the gateway networks. Very helpful and always paid me on time.
LeadBolt is a reputable network, payments are always time. They have lots of exclusive offers that convert amazingly well for me. Great network!
Brilliant ontime payouts. Smashed my earnings record with them. Couldnt get any good money from my visitors until they came along. Really really happy. WOW!!!!!!!!!!!
Leadbolt have great converting offers, great support and always pay on time. I highly recommend them.

Copyright © 2010-2020 Affpaying.com All rights reserved.