LeadBolt
OFFERS

4.65

PAYOUT

4.71

TRACKING

4.7

SUPPORT

4.68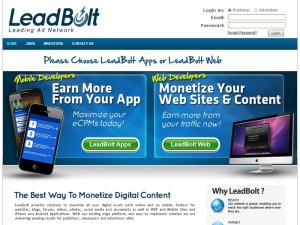 LeadBolt's content unlocking technologies are simple, easy to install and provide publishers with a revolutionary approach to making real money from their website traffic or website content! Once you have signed up you will have access to our publisher portal to instantly set up and run LeadBolt's technologies on your website. It takes just 3 steps with our publisher setup wizard. Tired of the minimal payouts your site is receiving from text ads or banner campaigns when your website has high visitor ratios? You can do better! LeadBolt's content unlocking technologies are transforming the internet for publishers by delivering real payouts for their real and original content. Most importantly, we understand the business of web marketing and our unique user matching technologies and exclusive programs will provide you one of the highest paying pay-per-conversion publisher programs.
[More]
Affiliate Network Details
Commission Type
CPA , CPL , Content Gateway / Locking
Referral Commission
10% for life
Tracking Software
In-house proprietary platform
Tracking Link
http://ad.leadbolt.net
Rating Distribution
Excellent

57

Very good

1

Average

1

Poor

1

Terrible

3
Offers

Payout

Tracking

Support
Even if you are just starting out I'd give them a go. They really know what they are doing and will help guide you through it all, not like some networks that expect you to know everything inside out and don't bother to offer help when you need it.
Leadbolt are one of the best networks around if not THE best. Payment is on time and working with them is just easy.
LEADBOLT ROCKS! It?s fantastic to talk to guys that actually know the industry, know their products and can talk to you about what really matters and how to get real results. Cant say how relieved I was after so many other networks that say they can deliver, but offer piss poor support and take ages to pay.
Fantastic network! Great variety of offers, fast payment and I AM MAKING MONEY!!!
Here is my payment for january. Thanks Leadbolt!!
Highly recommended!!
They are awesome. I have a great experience with them! Got about $400 last month! I would strongly recommend leadbolt to every CPA users!!
Lead Bolt is a topnotch CPA Network if you love early payments and a huge amount of offers to promote they have it. I have always been paid on time and their support is awesome. If you love to have great networks to work with I strongly recommend you join our team. You will not be sorry and your bank account will be fatter :)
I recommend them.. Great Network. i got my payment on them. they are legit.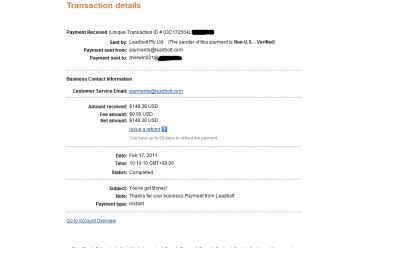 Yes, Leadbolt is great cpa network, with EPC in hight level, support and others are perfect. I am waiting for payment.
Definitely great cpa network. high recomended. thank you leadbolt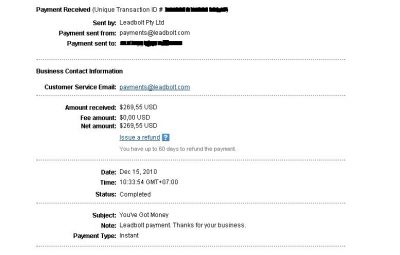 This is a great CPA network! Conversions and EPC are very outstanding..Never had this great success from other networks before.
Yes, good! I received their payment. Thank you Leadbolt.
I recommend them. They have a great network and brilliant people working there. The best network I have ever worked with and the most honest and reliable at paying which in this industry is vital.
Good CPA !! I love
LeadBolt is way better then any content gateway network i've worked with, i'm converting 3X on my traffic, that's awesome! Highly Recommend!

Copyright © 2010-2019 Affpaying.com All rights reserved.