Indoleads
OFFERS

4.71

PAYOUT

4.79

TRACKING

4.71

SUPPORT

4.93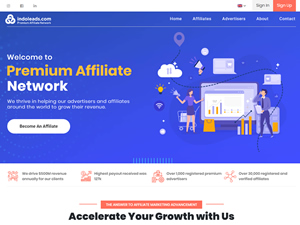 Indoleads.com is a global Affiliate Network from Asia. Now our community is about 30 000 affiliates with more than 30 different traffic sources. We work with major brands to boot their sales and help small brands to expand their business to more than 100 countries. Our clients are: Qatar Airways, Lazada Group, Emirates, Malaysia Airlines, Tokopedia, Gearbest and more than 500 offers. Every month total revenue of our clients obtained from our traffic more than 100 000 000 USD.

No hidden fees, no extra payments. Just Cost Per Action payment model.
[More]
Affiliate Network Details
Referral Commission
1%-50%
Tracking Software
Oneklix
Rating Distribution
Excellent

24

Very good

2

Average

2

Poor

0

Terrible

0
Offers

Payout

Tracking

Support
Very helpful and kind people. Many interesting offers.
Compared to other networks, Indoleads is great! Wish I knew about them earlier.
Great network. Awesome support with many good offers.
I joined Indoleads last year. The support definitely goes out of their way to help me and guide me through everything.
I love working with Indoleads and would definitely recommend them.
As an Indoleads affiliate, I get access to valuable offers and their commission rates are very competitive. Whenever I do run into a problem, all I need to do is let the support know and it will be resolved within 24 hours. The team are very helpful and it's always a pleasure to speak to them; which is a very rare and important trait to have as an affiliate network in my experience.
Have been using Indoleads for a few years already. I haven't experienced any issues with finding a suitable offer for my traffic or getting paid. They updated their reporting system and it's become more convenient to use, no problem with tracking. I haven't contact their support so no idea how fast they are, but I'm very close to my PM, so she always helps me.
Indoleads is excellent! They have an array of offers and campaigns. The affiliate manager is very competent and friendly.Platform is generally user friendly. Highly recommend Indoleads.
Indoleads is my favourite Network for travel offers. The support is great, my AM helps me a lot!
In my opinion Indoleads is a great network - because they have all the big brands that I can promote and make profit. It's always a higher chance of conversions from big names like Agoda, Aliexpress than from some obscure brands.
I experimented with affiliate marketing a few years ago to see what all the hype was about and I completely failed! It was only after I joined Indoleads was when I started seeing results. Turned out so well that now I'm doing this full time.
I've been a member of Indoleads for nearly two years now and can honestly say, if you can't make money with these guys, you can't make money anywhere. It's a constant income for me and I just keep seeing more and more coming in. In fact, yeah don't bother joining, less competition for me.
Premium affiliate network indeed. Trust me, I've tried the other networks and Indoleads just makes this all seem so simple. Great offers too!
Signed up with Indoleads back in 2018. A few things have changed since then. But overall, they have good service, helpful managers and very good offers.
Great offers with high commission rates. My niche is travel writing and Indoleads has almost an unlimited supply of travel advertisers and offers. They have plenty of other things too though. If you need help, the team will always be there for you. Could just Skype them and they'll respond super fast.
Indoleads is amazing! Customer service from them was prompt and friendly.I like their new interface, a lot easier to use than the last one, which shows that they're always improving themselves.

Copyright © 2010-2020 Affpaying.com All rights reserved.