Indoleads
OFFERS

4.7

PAYOUT

4.8

TRACKING

4.75

SUPPORT

5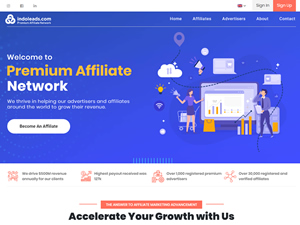 Indoleads.com is a global Affiliate Network from Asia. Now our community is about 30 000 affiliates with more than 30 different traffic sources. We work with major brands to boot their sales and help small brands to expand their business to more than 100 countries. Our clients are: Qatar Airways, Lazada Group, Emirates, Malaysia Airlines, Tokopedia, Gearbest and more than 500 offers. Every month total revenue of our clients obtained from our traffic more than 100 000 000 USD.

No hidden fees, no extra payments. Just Cost Per Action payment model.
[More]
Affiliate Network Details
Referral Commission
1%-50%
Tracking Software
Oneklix
Rating Distribution
Excellent

17

Very good

2

Average

1

Poor

0

Terrible

0
Offers

Payout

Tracking

Support
In my opinion Indoleads is a great network - because they have all the big brands that I can promote and make profit. It's always a higher chance of conversions from big names like Agoda, Aliexpress than from some obscure brands.
I experimented with affiliate marketing a few years ago to see what all the hype was about and I completely failed! It was only after I joined Indoleads was when I started seeing results. Turned out so well that now I'm doing this full time.
I've been a member of Indoleads for nearly two years now and can honestly say, if you can't make money with these guys, you can't make money anywhere. It's a constant income for me and I just keep seeing more and more coming in. In fact, yeah don't bother joining, less competition for me.
Premium affiliate network indeed. Trust me, I've tried the other networks and Indoleads just makes this all seem so simple. Great offers too!
Signed up with Indoleads back in 2018. A few things have changed since then. But overall, they have good service, helpful managers and very good offers.
Great offers with high commission rates. My niche is travel writing and Indoleads has almost an unlimited supply of travel advertisers and offers. They have plenty of other things too though. If you need help, the team will always be there for you. Could just Skype them and they'll respond super fast.
Indoleads is amazing! Customer service from them was prompt and friendly.I like their new interface, a lot easier to use than the last one, which shows that they're always improving themselves.
Maria just called me right after I sent her an email asking for help. Yes, they are that fast and helpful.They have great tools for publishers and if you need guidance, they would be there for you. Keep up the great work!
In my humble opinion, Indoleads is one of the best e-commerce affiliate networks available. I have been promoting their offers and most of them have been very profitable. I wouldn't say names but there were a few other networks that I have tried working with and that was a waste of my time. Indoleads has great support and great reportings as well.
Veronika is absolutely incredible to work with. She is the best affiliate manager ever. She will go above and beyond for you. Indoleads sure values their partners and It seems that hiring amazing managers is a priority.
Indoleads is brilliant! They have a wide selection of advertisers to promote for. I was told that they're currently upgrading their platform and cleaning out all the unnecessary functions. Looks like theyre always improving.
Haven't been using Indoleads for long but so far I've been impressed! I was told that their platform was outdated but I think they recently updated everything. Seems to be advanced and smooth to me. I'm excited to start earning with their help since I did see good offers available.
I've had a great relationship with Indoleads as they've been there for me from the start. An endless list of premium advertisers to promote and everything is done very clearly. I don't encounter many issues, however, if I do, the Indoleads team always comes to my rescue almost immediately. Looking forward to many more years collaborating with this company!
I've worked with plenty of other affiliate networks and Indoleads is the easiest to work with. Even when there is a technical issue, they rectify it swiftly and the affiliate manager is… NICE!
I have been trying out a few affiliate networks previously and stumbled across Indoleads. The offers I found and support I received are really good compared to the ones I used before. You can find great offers from well established merchants with easily earned commissions.

Copyright © 2010-2019 Affpaying.com All rights reserved.