GoodAff
OFFERS

5

PAYOUT

5

TRACKING

5

SUPPORT

5
Please, get to know GoodAff - a worldwide affiliate network that collaborates with a broad list of partners from all over the world, specializing in financial vertical.

What we do - we generate high quality traffic ourselves and we also offer independent webmasters (publishers) to use our network to advertise our partners and earn commission fees.

Looking for advertisers? Let`s work together! We're among the top affiliate networks in the markets we're in and we strive to expand and to be the best network to work with.

Why choose us over other networks? Our professional support team makes sure our partners` needs are met, issues solved, and I'm sure becoming a partner would be fast, easy and beneficial. Feel free to contact us for more details.
Affiliate Network Details
Commission Type
CPA, CPL, CPS
Tracking Software
In-house proprietary platform
Rating Distribution
Excellent

10

Very good

0

Average

0

Poor

0

Terrible

0
Offers

Payout

Tracking

Support
I am very satisfied with GoodAff network, excellent customer support, good remunerations and very good UX interface, simple but very efective for day to day using.
In the couple last weeks I have changed our campaings to be from GoodAff.
Tips are also provided from them to get maximum CR.
I recommend.
I run few campaigns in Kazakhstan, Russia, Ukraine and Vietnam! Conversion rates and commissions are pretty cool! I hadn't promoted payday loans (quick loans) before, but at the end of the day, the results are surprisingly good! Thanks for your support GoodAff team. From now - best vertical I could suggest!
Excellent network, love to work with them. Suggest everyone who wants to make money consistently.
Working with GoodAff has been a real pleasure! During all my years of working with different affiliate platforms, GoodAff is by far the most active platform. They are keeping a close eye on things and we always feel we can rely on them. Absolutely recommended!
Working with GoodAff for last few months. Offers are great, tracking with no problems, support team is in their level + they are very friendly. I had my preferred payment method and they managed it for me, so everything is negotiable. Good job guys!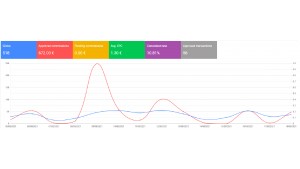 I have been working with GOODAFF for almost a year and I am very satisfied. As a webmaster, I am pleased with high payouts and a large number of offers. And big respect to the support. I definitely recommend
One of the best affiliate marketing, highly recommend
Amazing platform, recommend it! There are many offer and I receive payouts exactly when I have reached the limit, everything is on time!
101% recommend! Perhaps did not initially create confidence, seriousness, but at the end it's opposite - professional support team with experience helps and recommends how to improve my results and it works.
Now all my campaigns running through them and in different GEO's
I am working with GoodAff, they are a reputable place and enthusiastic support team.
You can find there many attractive offers with attractive prices to work with.

Copyright © 2010-2021 Affpaying.com All rights reserved.