FurtherMobi
OFFERS

4.94

PAYOUT

4.99

TRACKING

4.97

SUPPORT

4.97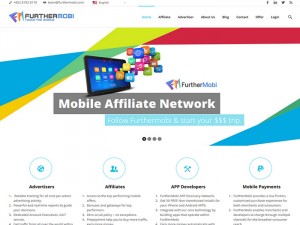 FurtherMobi provides you personalized service, daily optimizations and professional Account Managers, we are led by the most experienced online marketing specialists. We provide our customers with a combination of traffic knowledge, sales oriented methodology and strong online marketing tactics to succeed in your publishing or advertising performance. As the fast development of electronic production utilization, more and more people begin to reply on the mobile and search the information through the mobile browser. Furthermobi is one of the new trendy network to focus on the mobile internet users. We are an internationally performance marketing network company with creative cost effective solutions and brand placements on top websites across display, mobile, and social media. We are not only a network, the more we have is the responsibility to advertiser and publisher. Furthermobi is a creative tool to combine advertisers and publishers to the positive effect of increased promotion to products and massively enhanced sales. To make both advertiser and affiliate happy is our only goal. Choose us, choose success!
[More]
Affiliate Network Details
Commission Type
CPA, CPL, CPC
Payment Frequency
Prepayment, Weekly
Tracking Link
http://track.furthermobi.com
Affiliate Managers
Lisa Zhao

Grace Liu

Angel Zhao
Rating Distribution
Excellent

69

Very good

0

Average

1

Poor

0

Terrible

0
Offers

Payout

Tracking

Support
Is this network still operational? For some reason, I cannot signup. Any clues?
I appreciate any feedback, thank you in advance.
Eymard
Contact me and have nice week!
I promote CPI because it is my strength.If your company like it. Let's work with me now
Amazing network! They really take us affiliates' commission as their duty. And they endeavor to do every thing to help us with higher CTR.
Luckily, I have joined the network.
Sign up here: http://smarturl.it/furthermobi
Good supports, Fast payments, Great offers.
Forthermobi is the best mobi-network I have worked.
If you want to work with Futhermobi, i'll share you my methods.
http://goo.gl/trQYnH
My skype: hitachusaka
I have compared several networks, and found that Furthermobi really give a higher payout on average,that's good!
The best network that i used! Ctr is really great, good and hight payout offers, api statistics and more good tips.
Sign up link: http://goo.gl/xZMydg
In my experience of push offers,Furthermobi is one of the best affiliate network.The timely payment,the helpful AM,Hope they can get more good offers to let us to run
Furthermobi is the best network I have ever cooperated.They always offer me quick and on time payout, top payment. And customer service from them was prompt and friendly. Gonna send more traffic to their offers.
Hi Everyone,
This CPA Network is excellent. I have joined a couple of CPA networks. They are all good but i have been making money with this network for this few months.
Their support is really good and the payout is on time. Honestly, i have a late payment for my first time payout due to some lack of information provided by me.
I contacted them and they resolved my issue. You won't be regret to join this network.
Always paid on time as agreed.
High payouts beat any network I've worked.
Great communication and in-time support. Definitely recommended!
Offers added and expired almost daily is my favorite about them! What's more,
you can ask them for the offers you are looking for and they are always give a quick reply.
Love this network very much!
Yep, just like everyone else said. Offer is great, Payout great, support great. Everything is great! Hop on with these guys and you won't regret it, I promise.
FurtherMobi is a highly efficient and excellent network. Affiliate managers are super nice and always keeping in touch with us. Looking forward to work longer with FM.
FurtherMobi is the best affiliate network that I've ever worked with. weekly payment is never delayed. Plenty of top offers to choose from in almost all genres. I'd very much like to work with FM as long as possible. Look forward to make great money on the wechat offers. All 5 stars
I found furthermobi in China Ads. And the comment is very high. so i choose furthermob to work with. I am newbie in this CPA affiliates program. but i also earn my first money from furthermobi. i believed that furthermobi also can bring benfit to you.

Copyright © 2010-2020 Affpaying.com All rights reserved.