Feed Flare Media
OFFERS

2.8

PAYOUT

2.6

TRACKING

3.4

SUPPORT

2.4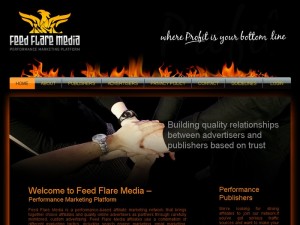 Feed Flare Media is a performance based affiliate marketing network that brings together choice affiliates and quality online advertisers as partners through carefully monitored, custom advertising. Feed Flare Media affiliates use a combination of different marketing tactics, including search engine marketing, email marketing, contextual advertising, incentive marketing and banner ads, social media (Facebook) and Media Buying. Feed Flare Media Affiliate Network is run by Collin De Ruyck. Currently right now there are around 40 or so offers live inside the network and yes, they are mostly health product related offers. Not junky ones though, offers that are going to be sticking around a while that are all FTC Compliant and allow duo flog landing pages. Feed Flare Media Affiliate Network even has 8 health offers that are compliant to run on Google Adwords! It was very nice to see that kind of quality in the network right off the hop.
Affiliate Network Details
Commission Type
CPA , CPL
Rating Distribution
Excellent

0

Very good

2

Average

1

Poor

0

Terrible

2
Offers

Payout

Tracking

Support
$500 minimum payment i never got to know about until i asked for my money...hopefully it will be ok...
Beware from this scam network. No reply, no payment, Totally scam. Don't do work of this fraud network. One was theedunetwork and second is this one. Both are big scammer.
They shave alot. Offers expire so fast.
I commission this month over $ 300 +, I do not know when to be paid, if there is any news, I will tell you.
Just wanted to see if any of you guys had any experience with Feed Flare Media. Are they good to deal with?
Thanks
Peter X

Copyright © 2010-2022 Affpaying.com All rights reserved.