OFFERS

4.62

PAYOUT

4.66

TRACKING

4.69

SUPPORT

4.66
The ExclusiveCPA Network is the premier online affiliate network, catering to all types of publishers and merchants. ExclusiveCPA LLC is a WI-USA based affiliate marketing solution company formed in 2008. Our mission is to serve the highest quality, most exclusive affiliate marketing campaigns possible. Our team is dedicated to providing our customers with the EXCLUSIVE experience. ExclusiveCPA LLC is the owner and operator of a set of in-house campaigns, all geared toward collecting quality customer data. Get the most exclusive treatment as an Affiliate with ExclusiveCPA! As stated above, our relationships with the big name advertisers allows us to get the best campaings, ensure accureate tracking by avoiding the middle man, and the highest rates in the industry.
Affiliate Network Details
Commission Type
CPA , CPL , CPS
Tracking Software
Gain Corporation
Tracking Link
http://track.exclusivecpa.com
Affiliate Managers
Dan Steidl

Josh Kobs

Bryan Muehlbach

Brandon Kerkhoff
Rating Distribution
Excellent

26

Very good

1

Average

0

Poor

1

Terrible

1
Offers

Payout

Tracking

Support
Very dedicated team, new offers on a daily base, perfect for incentive traffic. Also, it's fun working with them. :)
Excellent network! they have more offers and higher rates on their offers than other networks. exclusivecpa offers weekly payments too even for starters so you can get paid faster! sign up today you won't be disappointed!
I signed up to ExclusiveCPA 1 month ago, and I am very impressed. Lots of nice converting offers, great support and on time payments!
I love this network! High-paying offers, exclusive offers, and great support!!!!!
This guy is a PRO at what he does. I'm on weekly payments, ALWAYS on time, EVERY time. New offers that convert extremely well are added daily. Perfect for both incentive and non incentive publishers. It's hard to not find him online on AIM, he's almost always there!
Received most recent weekly payment today Mar, 2012 Apr 16, 2012 12:00 AM ACH $454.52
If you own a GPT or other incentive site this is the network you will look at first when adding offers.
Good Support + Good Offers + Payment always on time = Thank u very much !!
Very dependable network with unique offers and on time pay!
This network is the best out there! I have always been paid on time or before. Their payouts on offers cannot be beat. Their offers are always the best to approve. Answers to questions are always very fast. My AM keeps in touch to let me know about new offers, etc. Exclusive CPA is the network I would recommend first to anyone.
This is one of my fastest earning networks! Weekly payments if you bring enough traffic and they are always on time! The admin is always on AIM and there's always new offers. 5 Stars!
Wrote a review a while ago keeping it current, ExclusiveCPA still bringing the goods, Decent pay, varied offers, dedicated support. There are 2 many networks out there ran by rookies stick with quality, and those that have been doing this a while
Exclusivecpa is one of the best networks I've worked with and they got a ton of offers for you to choose from. They will work with you to ensure that you get the best payouts on any offers you are running. Support is always available through instant messenger and email. You wont have any issues with payment as I've always been paid on time for over 2+ years now.
I got my payment, This is good network but I think they pay with net45.
We've been affiliates since they started, which must be at least 3 years by now. They add offers daily and pay on time (Net15), sometimes earlier. Good support. Easy to use platform.
Exclusive CPA always pays on time, they answer any questions I need, and are available on a daily basis. They add new offers very frequently, and I know that if they're coming from Exclusive CPA they're going to convert well. I make sure to check this network on a daily basis, I would highly recommend them to anyone in this industry.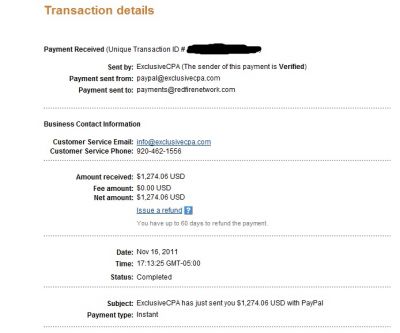 As I've said, ExclusiveCPA is a top quality network. I don't do much volume compared to other pubs, but they still take care of me each month. Heck, they paid me 6 days early this month.
A+ Network
Early payment this month – thanks Guys!

Copyright © 2010-2020 Affpaying.com All rights reserved.