OFFERS

4.62

PAYOUT

4.66

TRACKING

4.69

SUPPORT

4.66
The ExclusiveCPA Network is the premier online affiliate network, catering to all types of publishers and merchants. ExclusiveCPA LLC is a WI-USA based affiliate marketing solution company formed in 2008. Our mission is to serve the highest quality, most exclusive affiliate marketing campaigns possible. Our team is dedicated to providing our customers with the EXCLUSIVE experience. ExclusiveCPA LLC is the owner and operator of a set of in-house campaigns, all geared toward collecting quality customer data. Get the most exclusive treatment as an Affiliate with ExclusiveCPA! As stated above, our relationships with the big name advertisers allows us to get the best campaings, ensure accureate tracking by avoiding the middle man, and the highest rates in the industry.
[More]
Affiliate Network Details
Commission Type
CPA , CPL , CPS
Tracking Software
Gain Corporation
Tracking Link
http://track.exclusivecpa.com
Affiliate Managers
Dan Steidl

Josh Kobs

Bryan Muehlbach

Brandon Kerkhoff
Rating Distribution
Excellent

26

Very good

1

Average

0

Poor

1

Terrible

1
Offers

Payout

Tracking

Support
We've been affiliates since they started, which must be at least 3 years by now. They add offers daily and pay on time (Net15), sometimes earlier. Good support. Easy to use platform.
Exclusive CPA always pays on time, they answer any questions I need, and are available on a daily basis. They add new offers very frequently, and I know that if they're coming from Exclusive CPA they're going to convert well. I make sure to check this network on a daily basis, I would highly recommend them to anyone in this industry.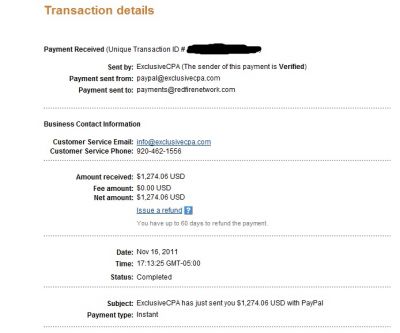 Another payment just received today unexpectedly. Thank you for your early payment.
I have been with ExclusiveCPA for few month now, and I am really impressed with their offer selections and support. They pay really high rate and the offers converts very well. The support is also the best you can image from a network that really work hard for you. My manager, Bryan is always there to help whenever I need some favor for rate adjustment or help members to get the trial offers to credit. I even received an Amazon Giftcard unexpectedly. Thank you very much for your hard work.
ExclusiveCPA is one of the best affiliate networks around. I have worked with them for the past 3 years. They have a wide range of offers, high payouts, outstanding customer service, and ON-TIME payments. I never have to worry about payments with this network (something I can't say about most other networks). I would definitely recommend working with them!

Copyright © 2010-2020 Affpaying.com All rights reserved.