EvaDav
QUALITY

4.93

VOLUME

4.94

PLATFORM

4.99

SUPPORT

4.9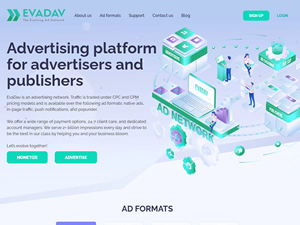 EvaDav is a client-oriented native advertising network, providing cutting-edge solutions both to advertisers and publishers who are integrated into a single platform. It provides the best performance for the advertisers and embraces one of the most perspective markets of advertising formats – native advertising and push notifications.

Advantages of your cooperation with EvaDav:

- only verified advertisers
- wide selection of landing pages for any kind of traffic
- development of custom LP's according to individual webmaster's requests
- integration with plenty of trackers, such as Binom, Keitaro, BeMob, PeerClick
- personal account manager available 24/7
- it takes you 10 minutes to register and start off

Weekly stable payouts
Minimum payout - $25
Revenue Share model - the terms are more favorable than any CPA offer
CPA model available on private terms
Additional opportunity to make a profit on Traffic back
Referral program
Advertising Network Details
Minimum Payment
$5 for WebMoney and Paxum, $100 for other payment systems
Payment Method
PayPal, WebMoney, Paxum, Bank Wire Transfer, Bitcoin, Tether (USDT)
Ad Format
Popunder (top ad format), Social Bar (new and total blast!), In-Page Push, Native, Video pre-rolls, Banner
Cost Model
CPA, CPM, CPI, CPL, RTB, CPC
Payment Method
WebMoney, Paxum, PayPal, Bank Wire Transfer, Capitalist, Banking Cards (constantly expanding)
Daily Impression
1 billion
Top Vertical
VPNs, Utilities, Subscriptions, Sweepstakes, Dating, Gambling, Adult paysites, Cams
Rating Distribution
Excellent

141

Very good

5

Average

0

Poor

0

Terrible

0
Quality

Volume

Platform

Support
Targeting & Optimization
Self-serve Platform

GEO Targeting

Device Targeting

OS Targeting

ISP/Carrier Targeting

Broswer Targeting

IP Targeting

Website Targeting

Language Targeting

Time Targeting

Category Targeting

Demographic Targeting

Retargeting

Black/White List

Frequency Capping

Token

Anti-Fraud

Adult Ads

Gambling Ads

Personal Account Manager
The grid is top-end, and allows you to merge traffic to different countries, and tier-1 works for me, and tier-3)
At the moment, Evadav, in my opinion, is one of the best networks for draining traffic. Here you have a cool personal account, and it's convenient to track the statistics. In general, everything has been done in good faith and it is clear that people are trying to further develop the service only. It is also convenient that the money is always credited to the account exactly once a week, so you will not be left without funds.
I work in different areas and always look for ways to optimize traffic. Now I'm steadily draining, so the income of less than 2 thousand has not fallen for a long time. Further, I will only increase momentum, since there are all opportunities for this.
Over the past six months, my income has not fallen below 2 thousand. And among the advantages of the network, one can clearly distinguish the fact that they deposit funds into the account once a week! Then I plan to transfer all traffic here.
Native push notifications are getting better and better for me lately. YES, and the conditions for them completely suit me, so I continue to work. I have an average income of about 2400, and this is quite enough, as it seems to me.
Evadav values his reputation, so when working with them, I am at least confident that they will pay once a week. Doesn't shave the net from the word at all, so you get all the money that you actually earned from them.
A bunch of pushes with pops goes with a bang, but the main thing is to choose the right GEO for yourself in this case. I merge only those countries that, according to statistics, have gone the best during this time. I hope that I will reach 4k income by the end.
The withdrawal of money in Evadava is always very fast, and funds are withdrawn to the account conditionally once a week. And no matter how much you earn, the money will definitely go to your account.
I hope that the network will continue to develop further as well. Pops have been upgraded, premiums have been introduced, which makes it possible to increase the efficiency of traffic purchased from them! I invest quite a lot of money, but the return is always much higher, so I stay in the black!
I am constantly testing different directions, looking for options that are getting better and better. Previously, I only used pushes for draining, but now I have begun to actively use the native as well. Yes, each direction has its own characteristics, of course, but in general, if you know what you are doing, then you can easily earn 2k in solo.
The arbitrageurs are doing a great job, so I can thank Evadav for this approach. It can be seen that reputation is important for them and therefore they follow employees who should always give out high-quality traffic.
We work in a large team, and we have to constantly scale up and look for ways to develop. Now in Evadava the conditions are created for this, and it is possible to scale further and further. Plus, the manager also tells us the direction where we can increase efficiency.
I merge exclusively on pops, and I see that the traffic is gradually only growing. Moreover, even one can easily earn both 2 and 3k. Moreover, for this it will be necessary to merge quite actively, well, there, follow everything, configure it. then the efficiency is much higher.
Now Evadava accepts different traffic, in fact, it is possible to merge from different sources. It is possible to earn quite good money even in solo. conditionally 1.5-2 thousand can be easily obtained. And moreover, the network has never shaved, so all the money always goes to the account.
Pops are really top-notch now, plus they also introduced new chips here. In general, Evadav is constantly developing, and this is also a plus for them, because they do not stand still! I'll be sure to post more here.

Copyright © 2010-2023 Affpaying.com All rights reserved.