EvaDav
QUALITY

4.93

VOLUME

4.94

PLATFORM

4.99

SUPPORT

4.9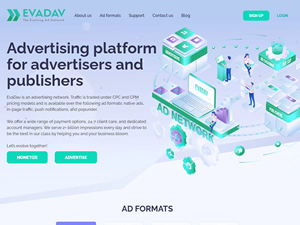 EvaDav is a client-oriented native advertising network, providing cutting-edge solutions both to advertisers and publishers who are integrated into a single platform. It provides the best performance for the advertisers and embraces one of the most perspective markets of advertising formats – native advertising and push notifications.

Advantages of your cooperation with EvaDav:

- only verified advertisers
- wide selection of landing pages for any kind of traffic
- development of custom LP's according to individual webmaster's requests
- integration with plenty of trackers, such as Binom, Keitaro, BeMob, PeerClick
- personal account manager available 24/7
- it takes you 10 minutes to register and start off

Weekly stable payouts
Minimum payout - $25
Revenue Share model - the terms are more favorable than any CPA offer
CPA model available on private terms
Additional opportunity to make a profit on Traffic back
Referral program
Advertising Network Details
Minimum Payment
$5 for WebMoney and Paxum, $100 for other payment systems
Payment Method
PayPal, WebMoney, Paxum, Bank Wire Transfer, Bitcoin, Tether (USDT)
Ad Format
Popunder (top ad format), Social Bar (new and total blast!), In-Page Push, Native, Video pre-rolls, Banner
Cost Model
CPA, CPM, CPI, CPL, RTB, CPC
Payment Method
WebMoney, Paxum, PayPal, Bank Wire Transfer, Capitalist, Banking Cards (constantly expanding)
Daily Impression
1 billion
Top Vertical
VPNs, Utilities, Subscriptions, Sweepstakes, Dating, Gambling, Adult paysites, Cams
Rating Distribution
Excellent

141

Very good

5

Average

0

Poor

0

Terrible

0
Quality

Volume

Platform

Support
Targeting & Optimization
Self-serve Platform

GEO Targeting

Device Targeting

OS Targeting

ISP/Carrier Targeting

Broswer Targeting

IP Targeting

Website Targeting

Language Targeting

Time Targeting

Category Targeting

Demographic Targeting

Retargeting

Black/White List

Frequency Capping

Token

Anti-Fraud

Adult Ads

Gambling Ads

Personal Account Manager
I really liked this advertising network. I can say that here I was really able to get the traffic I needed. At least, it really turned out to set everything up in such a way as to get the maximum return, at the same time - for a pretty good price. In this regard, I can't really say anything yet, everything works perfectly.
EvaDav's robust geographical targeting options enable advertisers to reach audiences in specific regions, catering to localized marketing strategies. Yet, the platform would benefit from expanded language support to better accommodate international users.
In Evadav, support responds literally in 5-10 minutes, this is one of the main advantages, I think. You know for sure that you will always get an answer from them. And if we talk about traffic, they accept a very diverse traffic, there are a lot of formats, the same inpage goes great.
I have been cooperating with this company for quite a long time and I can say that I was quite satisfied with the terms of cooperation. I've had to use various options to get the job done, but this ad network is by far one of the best options. The office is very comfortable, everything can be controlled, and everything is quite convenient.
While EvaDav's innovative features, such as push notifications, provide advertisers with unique engagement opportunities, the platform could benefit from more attentive and responsive customer support to ensure a smoother user experience.
I am very pleased that I chose this particular ad network for work. At least here you can really get high-quality traffic. In this regard, this ad network is really pleasing. In addition, there are adequate prices for traffic. It is due to this that you can get pretty good results.
As a publisher, I've found Evadav to be an excellent solution for monetizing my website. Their platform provides a wide range of ad formats, including push notifications and Popunder, which have significantly increased my overall revenue. Additionally, their intuitive dashboard makes it easy for me to manage and track the performance of my ad placements. The support team at Evadav has also been very responsive and helpful whenever I encountered any issues. I would definitely recommend Evadav to other publishers seeking a reliable monetization partner.
I've had a great experience using Evadav to drive targeted traffic to various affiliate programs across multiple verticals. Their platform offers a diverse range of ad formats and advanced targeting options, which have allowed me to optimize my campaigns and achieve impressive results.
Evadav's advertising platform has proven to be an invaluable resource in promoting various affiliate programs across multiple verticals. Their wide selection of ad formats, combined with advanced targeting options, has allowed me to attract high-quality traffic and achieve impressive conversion rates. The analytics and reporting tools provided by Evadav have also been instrumental in helping me optimize my campaigns for success. I wholeheartedly recommend Evadav to advertisers looking for a top-notch advertising network.
As a business operating in the software and technology sector, we've employed this ad network to effectively promote our products and solutions. The high-caliber traffic and precise targeting capabilities have enabled us to engage with our ideal audience and achieve remarkable results. The platform is user-friendly, and the dedicated support team has been consistently available to address any issues or provide valuable insights. I strongly advocate this ad network for advertisers within the software and technology industry.
I manage a lifestyle blog and have collaborated with this ad network to monetize my site efficiently. The ad formats are well-integrated with my content and preserve a positive user experience for my readers. The in-depth analytics offered in the dashboard have been crucial in helping me fine-tune my ad placements and maximize my revenue. In addition, their responsive support team has been a great resource whenever I've required assistance. I wholeheartedly endorse this ad network for publishers operating lifestyle blogs.
As an advertiser in the health and wellness niche, I've been extremely satisfied with the performance of this ad network. The advanced targeting capabilities have allowed me to hone in on my desired audience with precision, resulting in increased conversion rates. The platform's interface is user-friendly, and their attentive support team has provided invaluable guidance throughout my campaigns. I strongly recommend this ad network for advertisers seeking a robust solution for their health and wellness promotions.
I enjoy working with EvaDav due to their high-quality traffic and innovative ad formats. Their platform is user-friendly, and they provide excellent customer support. Thanks to EvaDav, I was able to significantly increase the profits from my website and attract more interested users. I highly recommend EvaDav for the successful monetization of your business.
I've been using this ad network to promote my nutra offers, and I must say I'm thrilled with the results! The traffic quality is outstanding, and campaign setup and optimization are smooth and effortless. I will undoubtedly continue my collaboration with them and highly recommend it to others.
I have been working with EvaDav for several months now, and I can say that they are one of the best advertising networks I have worked with. They provide excellent services, including diverse ad formats, high-quality traffic, and fast withdrawals. Their team of professionals is always ready to help and offer the best solutions for your business. I recommend EvaDav to anyone looking to successfully monetize their website.

Copyright © 2010-2023 Affpaying.com All rights reserved.