CPAlead
OFFERS

4.89

PAYOUT

4.86

TRACKING

4.87

SUPPORT

4.86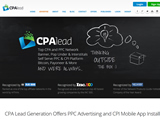 CPAlead is the world's LARGEST Incentive CPA Network and inventors of the Content Gateway technology in the CPA space. We have the most traffic means we have the most leverage to get you the best offers at the best payouts. Often imitated, never duplicated.

People all over the world choose CPAlead. Our trusted CPA network offers the largest selection of incentive based surveys to leverage your content and make money on the Web.
Affiliate Network Details
Commission Type
CPA, CPL, Content Locking
Tracking Software
In-house proprietary platform
Tracking Link
http://valueaffiliate.net/content_locker.php
Affiliate Managers
Justin Lamb

Milind Gupta

Troy Krzyston

Payment Support
Rating Distribution
Excellent

138

Very good

12

Average

0

Poor

0

Terrible

1
Offers

Payout

Tracking

Support
We have been working with CPALead since the start of 2010 and have developed a great relationship. Our network carries 200+ offers that accept soft incent traffic and CPALead's traffic to these offers has delivered great results for most all clients, producing exceptional volume and, on a whole, the highest quality of traffic possible from an incentive-based platform. They are the clear leaders in the content-unlocking subset, and continue to evolve and take their traffic quality to new levels by weeding out any bad traffic sources.
Make sure to ignore any "reviews" from others claiming their accounts were closed for "no reason" or saying they were scammed by CPALead - these users all were promoting illegal content using the content unlocker, violating federal copyright laws in the process. CPALead is on-point in removing these users from their network, for the betterment of the entire industry and for the legal protection of their advertisers.
Our account rep, Jay, has always been great to work with and incredibly responsive. Thumbs-up!
I just got paid $200 from CPAlead (Early Payment). :D
They are always a leader in the content locking industry. :P
CPA Lead ROCKS. I can tell you this: They treat their affiliates well, pay like clockwork and have an absolutely insane number of survey and e-mail submits offers. Jeremy Hayden is the best Affiliate Manager I've ever dealt with. He is always available, and gets the job done quickly and professionally. I rate this network A+.
CPA Lead is pretty good so far. They have paid me on time every month since Feb. 1st. My AM is always online and very friendly. I don't really have anything to complain about.
I use CPA Lead and they are by far my favorite content locking network. I love their interface and tracking! With my traffic they do better than anyone else as far as conversions go. And my rep Jeremy is way on top of all that over there.
I just received my second payout from CPA Lead, going to promote their offers more widely. Now, I am on my way to the top and my financial freedom dream is coming true! Many thanks to all the staff at CPA Lead. Jeremy and Troy... I'm so thankful for all your help in making it a memorable day. :)
I use the network and have never had any trouble with payment, they do pay and always pay on time, which is the main reason I signed up for it. AM support is also very friendly and they helped me every time I had a problem.
CPA Lead is reliable and dependable, they are a great network.
CPALead.com is actually my favorite network to work with right now as an affiliate and I highly recommend them. Easy communication, my AM is always on and responds fast, payments made on time, etc. I have especially enjoyed working with CPALead.com.
CPA Lead works great for me!!! To this day I have earned around $1,400 on CPA Lead since i started playing for around 3 months ago. They do pay by paypal which is great for me, a definite PLUS!!!
CPA Lead is definitely one of my new favorite affiliate networks.
5.0 out of 5 stars!
I have been using CpaLead for two years and I have found that they are the best incentivized cpa networks among all. I'm making around $75 a day with them and their payment is clockwork. I have always been paid on time and their support is almost the best in the industry. I really recommend CpaLead because they are very reliable and trustworthy.
Yay! 358 clicks = $106, huge conversions, sweet sweet sweet profits for me. I have received many payments from them always on time and mostly early. There is none better than cpalead.com. ;)
I agree with all comments above. CPA Lead is one of the most unique affiliate networks around. Good support and payout are not bad as compare to other similar networks. The best content gateway in this industry, PERIOD!
Cpalead is the best. I have been with them for a few months now and I'm very happy with my current daily earnings. Great group of people over there! Get accepted instantly today!
Been making money with them since I started. Over the years I've had a lot of great experiences working with these guys: good payout, great offers and the whole staff always up to help you out. CPALead is great company to join.

Copyright © 2010-2020 Affpaying.com All rights reserved.