CPAGrip
OFFERS

4.89

PAYOUT

4.93

TRACKING

4.92

SUPPORT

4.9
CPAGrip is a premier incentive affiliate network offering ground breaking technology and industry leading direct and exclusive offers for publishers. If you like money, you'll like CPAGrip. Period. With 24/7 support, weekly payments and the best industry wide offers, come see what CPAGrip can do for your online business. Content unlocking, file locking and video locking will never be the same.
Affiliate Network Details
Commission Type
CPA, CPL, CPS
Tracking Software
In-house proprietary platform
Tracking Link
http://www.cpagrip.com/show.php
Rating Distribution
Excellent

251

Very good

25

Average

0

Poor

0

Terrible

0
Offers

Payout

Tracking

Support
Great network. Nice lockers, offers, payouts and support.
Perfect for desktop and also mobile.
Payment received
CPAGrip is my favorite network. These guys always respond on time, pay on time and do their job professionally. Definitely recommended.
Attached my payment proof here.
Nice network to be honest. Nice network and good offers but the dashboard and features are a little bit old and dated if you gonna compare to lots of other cpa but other than that all very nice.
CPAGRIP is the best cpa network !
join now and earn money
i can help you after join here : https://goo.gl/WmJeE7
CPAGrip is a very good network. They have a large variation of offers. Very fast and never late payment.
100% recommendable!!
Using Facebook Ads and SEO to run content lockers. If you want, sign up under my ref (Affiliate: #6405) or if you already a member of CPAGrip, ask John to move you under this user #6405. Can help you to reach 100$ a day easily without any spending :)
Or for earners from high league can teach you how to make money from facebook and keep your account unbanned using cloaking.
Just ask John to move yourself to under my ref #6405 e.g. (Hey John, Please move me under #6405) and after that add me on skype AdamSmithCP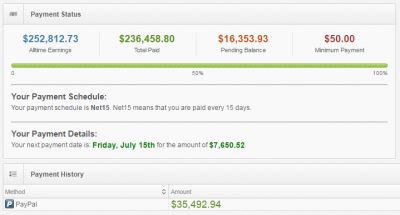 CpaGrip is the best CPA Network for US Traffic out there.
I've been working with CPAGrip for a few weeks. and i've made $500 already. with a cr rate monthly at 13-15% and EPC $0.20-$0.35
Very nice result
Join CPAGrip, because i've been working with other big networks like. AWM ($20.000 Paid from AWM) $2000 From MGCash. but CPAGrip does a great job comparing to those networks.
Join here: http://bit.ly/1X3qEYw
A screenshot of some of my earnings in 4 days.
CPAgrip is the best CPA Netword !
Join now and earn money
contact me at - alexxender05@gmail.com (After join)
Join now - https://goo.gl/WmJeE7
CPAGrip #1 Network, Highest Payouts, Highest EPC & CR. Compared to networks like, MGCash, Adludum. Adworkmedia.
Join Cpagrip and earn money –
Join now – http://bit.ly/1X3qEYw
Here some screenshot
Cpagrip is the best cpa network. I started work in Cpagrip. I got so much relax because we know that without money we can't be feel relaxed. Actually I need to give thanks to Cpagrip for awesome opportunity. And at the last I wish you all a happy life. If someone want to register under my referral link, I will appreciate it and thank him in advance :)
Join now : http://bit.ly/20znyJo
Thanks.
Received payment today. Good network, good offers and good payouts.
CpaGrip is the best CPA Network :)
I am working for cpagrip last one month and i have earned 300$.
Very nice result
Join Cpagrip and earn money -
Join now - https://goo.gl/WmJeE7
Here some screenshot
Highly recommended for everyone!
Amazing network with get payouts, really easy to use and also EXCELLENT SUPPORT!
If you need help to start, register under me http://bit.ly/1ZUEXMr and leave your skype ;) I will make sure to contact you.
Best content locking network enough said.
Here is the screenshot of my latest earnings.
CPAGrip is one of the best CPA network you can find and work with them to get higher payout and great earning. I'm happy with them. If someone want to register under my referral link, I will appreciate it and thank him in advance :)
https://goo.gl/C7SKrp

Copyright © 2010-2021 Affpaying.com All rights reserved.