CPA Earn is one of the leading performance-based advertising networks that joins together strong affiliates and superb online advertisers through strategically monitored advertising. Why work with CPA Earn over other networks? It's simple, CPAEarn delivers... We deliver optimal customer service and has the skill to prove it. We work with you to build your marketing campaign, manage and recruit affiliates and track the results all from one simple platform.
Affiliate Network Details
Commission Type
CPA , CPL , CPS
Tracking Link
http://jump.cpaearn.com
Rating Distribution
Excellent

11

Very good

15

Average

4

Poor

3

Terrible

5
Offers

Payout

Tracking

Support
Hello Mr James
I Havee been waiting for my payment of december kindly please look in to the issue and make the payment for my i Invoice #355
Don't pay for November and December. This networks is having issue.
To reports, Mr. James does not respond, earnings will not pay $ 259!
Why did the moderator delete my comments on this site do not like the truth? My proof I've uploaded!
Hello Mr James thanks for the payment :) and sorry i was confused about payments by seeing in billing history Thanks for my Payment :)
Hello any one got payments of Nov & DEC I am unable to reach james from email no response from him but in my billing history it shows they have sent the payment dont know whats happening please if any one got let me know
Mr james if you see this message kindly please respond me and payme
Hi Everybody,
Anyone have gotten payment of October and November?
I don't receive my payment for two this month.
that is bad.
Thanks, Smith
Smith Robin
Marketing Manager
AffiliateGood.Net
smithrobin683 x AIM
i didnt get my payment.
and James did not give me any response.
I do not know why i didnt get my payment, if James sent payments to me, I will come back to leave a Message.
Thank you James !
I've got my payment ...
Let's rock !
I have got my Oct's payment
any news about october payments?i didnt get it so far.
i got my payment too ! i told you guys ! cpa earn it's not scam . James it's a good person but they have some problems, you must to understand !
I got it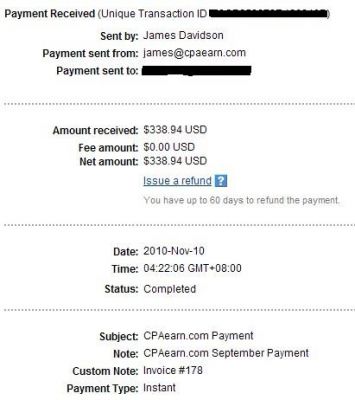 Lets hope james will pay us all for september earnings and cpaearn its not scam . Any news about payments?
A written e-mail sends the money to me on a Thursday or a Friday!

Copyright © 2010-2022 Affpaying.com All rights reserved.