Convert2Media
OFFERS

4.91

PAYOUT

4.89

TRACKING

4.91

SUPPORT

4.93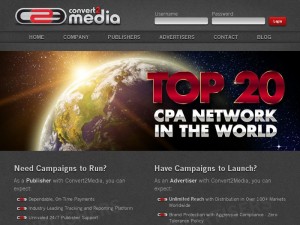 Convert2Media is a division of Convert2Media LLC and is the heart of Convert2Media's Performance Marketing Network. With an emphasis on the highest quality customer service in the Industry, C2M has positioned themselves as leader in the Lead Generation Industry providing thousands of high-quality leads to advertisers daily and only charging on performance.

Convert2Media realizes that publishers have multiple options when choosing a CPA network to work with. However, we also realize that not all networks are created equal. Publishers can easily be confused and grow frustrated when the majority of CPA networks claim to have the "top payout", "best service", and "exclusive offers".
[More]
Affiliate Network Details
Commission Type
CPA, CPL, CPI, Pay per call
Tracking Link
http://clickztrax.com/?a=
Rating Distribution
Excellent

93

Very good

1

Average

0

Poor

0

Terrible

1
Offers

Payout

Tracking

Support
C2M is pretty solid. I always get paid out on time :)
Great affiliate support and a great tracking system. I wouldn't recommend any other CPA network, Convert2Media is the best!!!
C2M is one of the few honest, reliable and responsive cpa networks out there. Loads of great offers and awesome affiliate managers. They are always online and ready to help with everything! I seriously highly recommend C2M!
Convert2Media is on my TOP list, and working with them has been great and outstanding. Excellent affiliate support, on time payments and large selection of offers - one of the best out there!!!
Gotta love this group - 5 years of domination and no defaults! C2M delivers where start ups dream of being!! Check out the new incent division of c2m Mobooka.com
Convert2media is the best network that I have ever used to earn. They are the best in the industry and have no match at all. The are always there to support you 24/7.Matt Hoyler is the best Affiliate Manager who is any time ready to help me out of problems. C2M always pay on time and even before time when asked them especially.
If you are legit and don't deal in fraud, then must join this network.
Payment Payment Payment Payment....!!!
I had an issue recently with C2M that has been resolved. There was a heated moment where I took everything out on Ryan Hurry and I was in the wrong.
I want to apologize personally to everyone over at C2M and Ryan Thanks man.
Sam
Convert2Media is one of the very-very few networks that I work with, whom I Trust & Rely for my Business needs. I have been working with them since 2008 & I personally know the Team there. Mike Kerry & Steve Howe are great people to work with :) There Payment is always on time, Affiliate Managers have excellent Affiliate Marketing Knowledge & C2M is really a cool & nice company to deal with. I give them 10/10 in my review
Regards,
Sandeep Chouhan
SSM Media Group
A+ network. I've never found a broken link, or an offer with a redirect. The Cake tracking is excellent.
They have EPC lists, and top offers for the day, which is super helpful in building new campaigns.
They approve offers quickly and have great affiliate managers who are very knowledgeable about every aspect of affiliate marketing.
I have found NO FAULTS, with C2M. One of the best in the space, hands down.
Just Received My commission.. Great Network.. i would Recommend you if you are serious Affiliate.
Great helpful AM's! Convert2Media is favorite network right now! :)
C2M take care of every Affiliate accepted in Network.. Awesome network to work with.. I,m happy to see In time Payment email...if you wanna learn more about industry then join Convert2media.
Convert2Media is a great company to work with. I have been with these guys for two years, zero complaints and the best support out there. Thanks C2M!
I am an affiliate there and highly recommend this network.
-Eq

Copyright © 2010-2020 Affpaying.com All rights reserved.