Affiligrand
OFFERS

4.98

PAYOUT

4.98

TRACKING

4.98

SUPPORT

4.98
Affiligrand Digital Ads Network - a global performance marketing network. We're looking to increase our portfolio of our partners and I thought it might be great to get in touch and explore ways of working. In case you don't know much about Affiligrand, we're a leading full-service digital marketing performance mobile company, Web & Mobile, with an extremely wide portfolio of web and mobile products which enable us to incrementally improve your ROI. We work only with mobile campaigns mostly on CPI basis (Incent/Non Incent – iOS/Android), also CPE, CPA. We are looking forward to each partner who wants to become a part of our company!!! We will be happy to connect and discuss further opportunities.
Affiliate Network Details
Commission Type
CPA, CPE, CPI
Rating Distribution
Excellent

48

Very good

0

Average

0

Poor

0

Terrible

0
Offers

Payout

Tracking

Support
I received many payments with affiligrand, but this one looks so nice. lol
one more from me. lol
That is amazing mobile network, super good support....I like their offers and receive money from these guys, every fuc.. month. My special THANKS to Eugene for many hours that he spent to help me!
One of my last payments attached.
just another payment from affiligrand
Thanks for profitable cooperation. Eugene is my manager and I appreciate quality of support. Great network and only positive impressions. I can recommend this network for partnership.
One year together. Thank you for all. Great network, good offers, high payouts, lovely support. Highly recommend these guys for business.
Thank you for your partnership!
Thank you for your payment!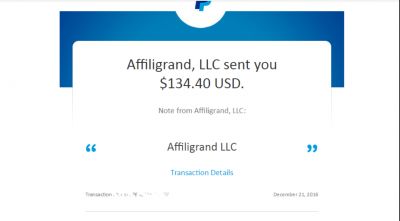 Many thanks for Max. Great guy and manager. Awesome network with good caps and payouts. My payment term is net 30-40 with Affiligrand and its amazing result for me if compare with other networks. Highly recommend this network if you are looking mobile offers.
P.S. really fast approvals, no need to wait few hours to get some campaign, its TRUE!
Awesome network. Thank you for your support and timely payment. I can recommend this network for cooperation. Regards
My first payment. I saw positive feedbacks and decided to try to make money with these guys. What can I say, at the moment everything is cool, good support, really good. Fast approvals, for me its very important when no need to wait for approval more around 1-2 hours....10-15 mins and done. POs for Android CPI campaigns are good for me. 5 stars for Affiligrand.
The offers, payout, support…is very good. Also, they always pay on time.
you can earn more money when you have great traffic source.
Affiligrand is my best networks.
together more than 1 year, everything is good. using this network for android incentive traffic. support 5*. regards.
The offers, payout, support...is very good. Also, they always pay on time. Affiligrand is my best networks.
hey
I'm working with affiligrand more than 10 months. Top network for me.
Working with Eugene, great support, fast approvals. As you can see on my screenshot, I have good results with this network. So, 5 stars and many thanks to my manager.
New payment from my boys
Eugene on Fire lol
Thanks a lot

Copyright © 2010-2019 Affpaying.com All rights reserved.