AffiliateVIA
OFFERS

4.39

PAYOUT

4.22

TRACKING

4.5

SUPPORT

4.71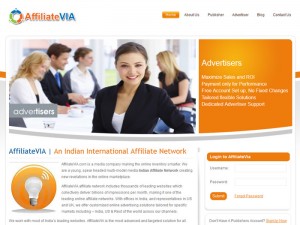 AffiliateVIA is one the fast growing Online Advertising Network that allows the advertisers to reach targeted and qualified customers through thousands of individual Publishers. AffiliateVIA is a leader in performance based web marketing by offering CPA (Cost per Action), CPM (Cost per 1000 Impressions), CPC (Cost per Click) and PPV (Pay per View) Video ads. Difference between other Affiliate Networks and AffiliateVIA: - Global Leader in Online Advertising affiliates Marketing. - Full Service Online Marketing Solutions for Advertisers and Affiliates. - Advertisers expand your reach and find new customers. - Advertisers can join AffiliateVIA and Increase your online advertising Sale. - Affiliates can join and get access to lots of different online campaigns from all the niches. - Affiliates earn commissions daily and get paid through PayPal and check.
Affiliate Network Details
Commission Type
CPA , CPL , CPS , CPC
Rating Distribution
Excellent

122

Very good

40

Average

7

Poor

1

Terrible

5
Offers

Payout

Tracking

Support
Affiliatevia is an awesome network to be apart of, Offers are great and converts very well and have an exceptional team who provide quick support and yes payments are always intime. Thanks, for the great network and support!
I have a good experience with affiliate via. They have a good response from any other affiliate network. My account manager fatema gave a full support for my earning and affiliate work. It is a best network, so you can 100% go for this site.
Hello frnds
affiliate is a very genuine projects i never seen before. my account manager fathima mukadam's encouragement and support was very inspiring i got my payment
I worked for almost all content locking networks, so I can say with certainty that the best of the best is Affiliatevia.com
On time payments, in fact I get paid earlier all the time. Affiliatevia have better support than any other network I worked with, Sean always have time to chat with me on aim or skype no matter if he need to motivate me or to give me some good advices.
Thanks to affiliatevia team.
Special thanks to Jugal g
Dear All,
I am with affiliate since last 9 months where according to support I am very thankful to Purnima who gave a great support whenever I faced a problem regarding offers or tracking link issues. in the sense payments are getting on time for that i am very much thankful to the affiliate and my manager Purnima.
Totally Affiliate via is the best paying network..... according to my knowledge....
Affiliate via is agood network network. Affiliate network support is very Good, specially Thanks to Purnima puajra
My experience with Affiliatevia has been awesome. but may month to july month my pymnt very bad & very bad perform Affiliatevia team . i am not happy Affiliatevia team .
thank u
Piyush mishra
Regelious India
Affiliatevia is good network payments are on time, and also with good support & thanks to affiliate team and my manage Purnima
We are working since last 2 years with affiliate via .Good offers and timely Mrs Purnima She is updating daily offers and she is a good affiliate manager. Thanks to affiliate via .
Affiliatevia is good network…. payments are on time, and also with good support & thanks to affiliate team and my manager Jugal savalia
Thank You...
Affiliatevia is good network.... payments are on time, and also with good support.....
hi friends, here am very happy to text you that i got my fourth payment in both of my accounts thanks to affiliate team and my manager poornima madam,,,
am very strongly recommand that affilaitevia is a gud network pls choose for the best ......
Affiliate via is very good network. Support is superb and payment is always received on proper time. My account manager Sangeeta Mahadik. She is updating daily offers and she is a good affiliate manager. Thanking you all for your kind support and co-operation
Thanks Regards
Ubaid.
Hi Friends, This is Deepak Kumar Neeli, I am very happy with the network where i am enjoying the work, and getting payouts on time without much trouble. and getting good support from the network managers. and Special thanks to Purnima for giving support in critical times.
Thank you
Regards
Deepak Kumar Neeli
Kavya IT Solutions
Affiliatevia is very good network thanks to Jugal Savaliya and all Affiliatevia team
Thank U

Copyright © 2010-2020 Affpaying.com All rights reserved.