AdWork Media
OFFERS

4.95

PAYOUT

4.98

TRACKING

4.97

SUPPORT

4.96
AdWork Media is an innovative CPA affiliate network featuring many publisher tools including a Content Locker and the first ever Product Locker! Our 200+ incent/non-incent offer base is comprised of top converting campaigns in a variety of niches. AdWork Media's platform and Gateway Lockers are built on a 100% custom in-house platform that allows us to continuously improve the publisher experience.

Custom Publisher Platform

Publishers can manage their performance with access to multiple reports types and features like manual pixel placement, postback tracking, campaign/reporting API, automatic geo-redirection, and optimized banner rotators.

Monthly Performance Bonuses

We believe in rewarding hard work, which is why publishers are eligible for up to 7 bonuses per month that can be activated at any time. Receive up to 20% of commission bonuses.


Gateway Content/Product Lockers

AdWork Media's Gateway Lockers are unlike any others in the industry. Control over 40 customizable options including advanced theme options or use our preset configurations and themes to create stylish lockers in seconds. AdWork Media Content/Product Lockers consistently covert with above average EPCs and help our publishers earn more from their web traffic.

Signup at AdWork Media and use the Promo Code: AffPayingRocks after your account has been approved for a 1 hour - 15% bonus period. Refer your friends for 3% lifetime commissions.
[More]
Affiliate Network Details
Commission Type
CPA, CPL, CPS, Content Gateway, Product Locking
Referral Commission
3% Lifetime Earnings
Tracking Software
In-house proprietary platform and Custom content locking
Tracking Link
http://www.adworkmedia.com/go.php
Affiliate Managers
Dennis Weiss

Dave Mackler
Rating Distribution
Excellent

682

Very good

16

Average

1

Poor

0

Terrible

1
Offers

Payout

Tracking

Support
i use adworkmedia for almost 2 years without problems, they have great support that is willing to help and they payout on time always.
on this review i am writing my payment proofs.
Very good affiliate network!
The support is perfect, if you have any questions they will help you soon.
The payment shedule is net30. So your balance will be paid at end of month.
I like awm and i am trying to get more leads.
Dennis is freaking amazing... Best network EVER!
This is my all-time favorite network! Fast payments, sometimes even early if I pay the fees (which isn\'t bad at all) and great crediting rates! I think this is my fourth or fifth payment from them. Not the highest but I wanted the money for something haha.
decent network to work with.. good that they don't charge money for paypal payments.
Great affilate!AdworkMedia the best
Denis takes everything to a personal level while still remaining extremely proffesional.
If you have a problem, Denis will sort it out in record time.
Great flexible payouts and a bunch of good offers including a lot of INTL ones which is rare to find.
GREAT owner, GREAT affilate website, HIGHLY RECOMMEND to anyone seeking a good affilate.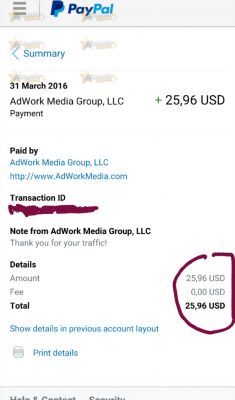 Overall 55555 03/24/2016 Thumb up 2 Thumb down 0
Offers:5Payout:5Tracking:5Support:5
Hello Guys!!
Qurexhi is here i want to tell you about AdWork Media.
AdWork Media is the world #1 cpa network with alot of offers where you can earn 500$ daily easily ..
if u want AdWork Media Full approved account then contact me in skype:
waleedqazi95
one approved account rate is 80$ 100% approved just contact me i will help you how to make alot of money from AdWork Media.
I am very satisfied with AdWorkMedia. If you are not member – join ASAP using http://bit.ly/21rkFz2 can help you get fast approval.
Being senior member for about nearly 4 years now, they always paid fast and always on time. Awesome perks using the network. You can request custom payout(increase on the payout for each conversation) for any offer and usually it is always granted.
They have incent and non-incent offers, many tools, lockers and plugins ready to use.
I am member at dozen other networks, but overall this one is the best one I ever used until now(and hope they will continue to be great).
Best Network to ever work with. Dennis has always answered my support and the campaign payouts are awesome!
Payments received Today
thanks for the payment
Adworkmedia is my first & only CPA network , i got my 1st $ on internet with them , they have a lot of offers and top quality , they are not like others network specialized on one niche or offer type , Adworkmedia have anything you want : content locking , offer wall , direct , CPI, Pin-submit ..etc , they have their own tracking platform & you even don't need a tracking software , the payments are in time if you need urgent payments just ask your affiliate manager .
The support is the best , you really feel the guys want you to earn more , they ask you about your performance and if you want specific niche or country . Thank you Dennis , Thank you David .. you are the best guys .. much love.
Now this time i earn a lot of money
I use AWM for long time and here is my last payment proofs, their company really awesome.
Great CPA network, always pay on time and great support also great converting offers!
You gotta sign up!
http://bit.ly/1Tp14db
Contact-me for more info Skype :ioan suldac
My last payments!
AdWorkMedia is pretty good thanks

Copyright © 2010-2019 Affpaying.com All rights reserved.