AdWerksMedia
OFFERS

4.75

PAYOUT

4.75

TRACKING

4.75

SUPPORT

4.75
AdWerksMedia LLC is a top performing CPA advertiser and publisher network with over ten years of experience in online marketing and publishing. Formerly known as AdPathNetwork, and incent friendly, AdWerkMedia LLC provides hundreds of the industry's best converting campaigns as well as network brand exclusives like: PrizeWerks, RiddleWerks, QuizWerks, Pro-Riddles, TrakJump, MyFastFreeies, and others. Known for reliability, AdWerksMedia pays publishers on a NET 30 (or early), No Minimum Threshold basis. Maximizing your ROI is easier than ever with simple navigation and easy-to-use publisher interface tools and reports. A fast Campaign Auto Insert feature is also available for Shiftcode script owners as well as an export feature for other script users. AdWerksMedia has the knowledge, experience, and abilities to help publishers maximize their earning potential!
Affiliate Network Details
Commission Type
CPA , CPL , CPS , CPC
Minimum Payment
No Minimum
Tracking Software
Gain Corporation
Tracking Link
http://pubs.adwerksmedia.com
Rating Distribution
Excellent

15

Very good

0

Average

0

Poor

0

Terrible

1
Offers

Payout

Tracking

Support
Not only is she now closed, with NO offers for anyone, but after waiting months to be paid I get an email marking those as paid yet ZERO amount was sent to my pay pal.
Refuses to answer emails etc.
An awesome network with great support! New offers added on a regular basis. I have always been paid EARLY from this network.
Thank you for another early payment!!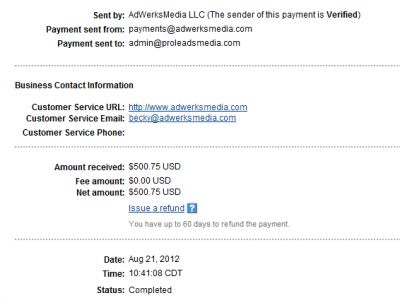 Love the network and the owner! On time pay, MANY top crediting offers!
I cant say enough about Becky and Adwerks. Payments are always on time. Her offers are top notch. She strives to only put up offers that actually convert. Thus saving our members and us the headach of non-converting offers. In fact, payments are always early.
WTG adwerks on an awesome network!
This network is plain out great!
Once I got started with AdwerksMedia, I called them regarding some doubts I had.
I was with Becky for quite a while on the phone, she was extremely helpful and took the time to answer all the doubts I had.
I called them one more time after that, and Kim answered the phone (my aff Manager). Again, Kim was as amazing as Becky... always there to help me on any doubts I had!
So here is what I like and do not like about this network:
LIKE:
- They answer the phone! Every time I tried contacting them via phone call... all calls were answered.
- They did not pay me on time. YEP! They always paid me earlier!!
- They are always there for you if you need any help or need a campaign rate increase!
- Their campaigns credit very well!
- The campaign rates are wonderful!
Don't Like:
- What is there not to like?
Bottom line Becky and Kim are 2 sweethearts, and this network is beyond amazing!
And it's very much appreciate it!
i started to use adwerks in the last week of august, i did not expect to reach the $50 minimum in such a short time and with running so many other networks but i was totally proved wrong and received a payment yesterday for about $90 which was earned in only a week. very nice network, great pay for offers and surveys and a pleasure to work with. in my opinion this is one of the best networks
I've worked with Becky for several years, she's one of my favorite people and a great owner! Payments are always on time and the support is top notch!
Adwerks is ran by one of the best and most professional people in the industry today!
Always have great converting offers and ALWAYS get early payments!
Awesome Network, one of the most professional and reliable I have seen!
5 stars across the board!
Another early payment!! Thanks Becky!!
Becky is a pleasure to work with. She is very easy to get in contact with & offers superior support! Wide variety of high converting offers & on time even early payments!!
I highly recommend Adwerks!
Becky is extremely nice. She paid me early (no questions asked) without deductions of any earnings. Rates are high period. I love the fact that I dont have to do any rate requests with her. HIGH HIGH CONVERSIONS!
I have always been paid on time (Most times Early) Admin is very helpful and a great person. I have been with this Affiliate Network for about 7 months now. She is Great and I love her. Below is one of my many payments received from her.
Great admin - Always on time if not early payments! Top notch payments
Becky is one of the good ones out there. Doesnt play games. Personal relationship with her pubs. Always pays early. FANTASTIC support and always available. I doubt you will find a more honest network than AdWerks.

Copyright © 2010-2020 Affpaying.com All rights reserved.