Advertromedia
OFFERS

4.76

PAYOUT

4.43

TRACKING

4.71

SUPPORT

4.76
The idea for Advertromedia was born while working with content-heavy websites that needed to be made more attractive visually. Premium in-image advertisements are hard to come by, and the time and effort needed to look for quality ads that compliment the text on every page can be a hassle. We understood that there is a need for an automated process that can save time, and generate valuable incremental revenue.
[More]
Affiliate Network Details
Commission Type
CPA, CPL, CPS
Rating Distribution
Excellent

18

Very good

2

Average

0

Poor

0

Terrible

1
Offers

Payout

Tracking

Support
excellent network with great offers and they do pay on time best payout and top converting offers at there platform.
i would suggest newbie too work with them and they will help you and suggest you best offers too start with.
I get 2 conversions in January, Advertromedia should pay me $ 400 in February, but they do not give me any payment or invoice in my account.
Every time I ask this to the manager, they just give me a false promise to wait patiently and they promise to send my payment, but until this moment I did not receive any payment from them. Perhaps, now Advertromedia has changed, they even offer bi-weekly payments, and it's just their tricks to deceive their affiliates. I've sent an email to the support team, even they did not respond. Now this network can not be trusted anymore be careful of network scam like this.
I've worked with number of CPA different networks since getting started in affiliate marketing but I have to say that after working with Advertro for a bit over month, they are by far my favorite network. My AM has been extremely helpful right from the start, and I've seen my revenues grow exponentially since running traffic with them. They have a great selection of high converting offers with multiple offer pages to test. I am currently running pretty much all my traffic with them and will continue to do so. I would highly recommend advertro, especially for anyone gambling casino binary etc................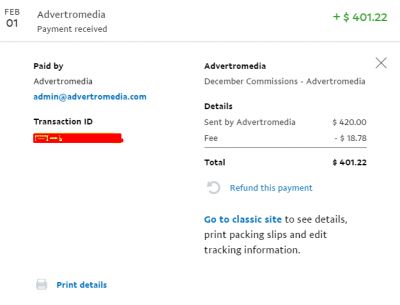 I am working with this company from a past 5 months it is a great experience.
Got so many offers of payday finance solar convert so well.Quick response by my affiliate manger and so many converting offer.
Thanks advertro
I have been with this company from 6 months got lots of campaigns.
There campaigns convert well and payout are pretty cool....... I have received all my payments on time,
Now i have shifted to net15 pay scale.......
Thanks a lot to tanny for her support and for getting me attractive offers.........
Enjoying working with themmm............
Advertro is the best affiliate network that I have joined. My affiliate manager has always been very friendly and helpful. Whenever I have questions or concerns they take care of providing me with the help I need. Thanks Advertro and keep up the great work!happy too receiveeee... my commission
I have worked with Advertro for 5months now and i am extremely satisfied with the results. Advertro ensures faster payment of earnings, accurate tracking and an excellent support for our affiliates. My AM is fantastic – quick to reply, always helpful, and she has been very proactive about suggesting offers that will work well for my methods of offer promotion. Thanks for an excellent network!
Its been 4 month working with advertromedia its one of the growing network.
Best offers with great payout on time payments.Supporting team who is always there too help you at anytime.
I am been working with company almost from 3 months i received all my payments , i do get offers from all verticals thanks to Tanny she is very helping and cooperative thanks thanks...... Advertro
Here is my 1st payment from advertro thanks too adverto it was great experience working with you guys. Lot of converting offers and great payout enjoyed running offers.....
I have been with Lot of CPA Networks, and I must say, I am very very satisfied with Adworkmedia network!
wowww.... received my first payment with advertro its been awesome working with this company
Thanksss........
Advertro is an honest paying website and is a good starting ground for anyone that wants to get started making money as soon as possible. Keep up the good work!thanks a lot....
I really like advertromedia Really appreciated .. The support is awesome.. They are always honest.. No Shavings.. Been with them for 2 months….
My experience with advertromedia has been trouble free I highly recommend them. I have tried several.tanny is friendly and helpful,payout is FAST,offers convert well and there are many to choose from Whether you are a newbie just starting out or a CPA expert you will not find better than advertromedia.

Copyright © 2010-2020 Affpaying.com All rights reserved.