AdsMain
OFFERS

4.95

PAYOUT

4.99

TRACKING

4.96

SUPPORT

4.99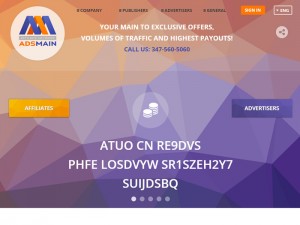 AdsMain Network provides affiliates with full-service management platform dedicated to optimizing revenue generation for both its Advertisers and Publishers!

Our goal is to address your growing marketing needs yielding the best value return on investment possible. All internet advertising is conducted exclusively on a pay for performance basis eliminating any sort of risk or ad waste.

Our CPA platform offers a complete solution for publishers to generate huge revenue from their websites by providing premium CPA offers on the web while assisting them in tracking their performance with fast online reporting.
[More]
Affiliate Network Details
Commission Type
CPA , CPL , CPS
Tracking Link
http://tracking.adsmain.com/aff_c?
Affiliate Managers
George Evigan

Vlad Troy

Daria Barda

Daria Kobzeva

Nastya Minkovskaya

Aleksa Prokofieva

Nikita Pivtorak
Rating Distribution
Excellent

163

Very good

3

Average

0

Poor

0

Terrible

0
Offers

Payout

Tracking

Support
I have been working with adsmain for a month .I have already received one payment ,it was on time. support is excellent. i will do continuous cooperation with adsmain.
Nice offers and payouts! Great people to work with, support is a solid.
I'm so glad I found Adsmain, they just make earning simple. Payments always come on time. I always do business through them! Thanks Adsmain!!
Once Again i got my Net15 payment ....
Very nice network and Outstanding Staff.
thanks Vlad Troy
I tried different CPA networks, but now using AdsMain only - great network with many high converting offers.
I love them because they pays correctly. I never missed a single payment.
Awesome network that is what I can say about them. You never have to worry about payment, they are always happy to help. I only hope they will have more offers with weekly payments
I would recommend them...
AdsMain is a reputable affiliate network. I have worked with them for a long time and never had any problem.
Highest commissions and they always pay on time. Really impressed...
Better network, great support, five stars for all
and proof of payment of the first
Highly recommended affiliate network. Good range of offers, although more would be great, and payments have always been made regularly.
5 stars all the way! Worked with them for a while. Keep up the good work adsmain!
I like Adsmain, payment very quickly, friendly staff and very helpful to my needs
Long live Adsmain I love this network!!!
Got payment! I am so happy to be working with these guys...
Thanks!!!
I am very impressed with Adsmain. Best offers! Pay on time. Love working with them!
I look forward to working with this company team for a long time.
Only positive words can be said about Adsmain. Managers are awesome, payouts are on time. The only minus is low amount of offers - so I wish you to have much more 1000+.
Grow and never give up!
Many offers with great payouts!!! Pay on time, they are always happy to help increase my revenues.
This company is amazing
Already received many payments from this network. Satisfied with their work. Hope to work with you for long time.
This is really great network and great manager Vlad Troy.
I signed up to AdsMain 3 month ago, and I am very impressed. Lots of nice converting offers, great support and on time payments!
Recommend you wont be disappointed!

Copyright © 2010-2019 Affpaying.com All rights reserved.