AdsMain
OFFERS

4.95

PAYOUT

4.99

TRACKING

4.96

SUPPORT

4.99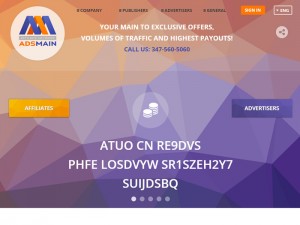 AdsMain Network provides affiliates with full-service management platform dedicated to optimizing revenue generation for both its Advertisers and Publishers!

Our goal is to address your growing marketing needs yielding the best value return on investment possible. All internet advertising is conducted exclusively on a pay for performance basis eliminating any sort of risk or ad waste.

Our CPA platform offers a complete solution for publishers to generate huge revenue from their websites by providing premium CPA offers on the web while assisting them in tracking their performance with fast online reporting.
[More]
Affiliate Network Details
Commission Type
CPA , CPL , CPS
Tracking Link
http://tracking.adsmain.com/aff_c?
Affiliate Managers
George Evigan

Vlad Troy

Daria Barda

Daria Kobzeva

Nastya Minkovskaya

Aleksa Prokofieva

Nikita Pivtorak
Rating Distribution
Excellent

163

Very good

3

Average

0

Poor

0

Terrible

0
Offers

Payout

Tracking

Support
This is best network with super support, Good conversion, High Rate and alright payment.
i had work AM' : kseniadsmain, she's very good, fast support and fast request offers
this my ref :
http://goo.gl/D53VIT
i can help you when work with them
My skype : jacki.trung1
This a great network, great support and good quality, and reliability, managers are friendly and enthusiastic.
Thank you, Ksenia and Adsmain! Hope to continue our cooperation.
AdsMain is a self serviced network with best working conditions. Tracking they use is very simple and reliable. I am happy that year ago I decided to become affiliate of AdsMain. Managers are really helpful, they are always online and always reply. Payments are on time. Many offers and good prices even for advanced marketer.
I received first payout from AdsMain. On time and with no problems.
Thank Adsmain.
Many good dating offers they have. I like to promote dating offers and adsmain have very many.
Pay in time, support well and always good offers for Raj
I am a complete newbie in CPA & affiliate marketing. Adsmain team helped me, suggested me campaigns based on my websites and traffic. I am based in India, they even suggested me offers for India based audience. I receive regular skype calls from my manager with help and new offers. Thanks to Adsmain i started earning good money.
Less than an hour after I contacted the manager, I already had ads running on my website. Very pleased with the CPI rates too.
Everything is made fast, manager send me my direct links to skype and I start sending traffic just during few hours.
My best wishes to them!
AdsMain is a very good network, my manager Vlad alwyas helped and gave fresh offers. He is always online in skype and reply fast.
Payments are on time every month on my pp account. I personally don't like networks on hasoffers, but i always love when managers take care of their affiliates.
Thank you. Wish to have more aff networks like AdsMain.
My first payment,better network, great support.
Thank you AdsMain !!
Awesome company!
Adsmain team try to do their job more comfortable for publishers every day. If I have some problems, my AM always help me very fast. good luck adsmain.
Three months ago I found an AdsMain. Good team, good support. I've never had problems with AdsMain. I'm sure that a lot of people share this opinion with me. I promote mobile offers and there is great number offers to choose. Max Bosack is my manager, he helped me a lot. Max, as i already asked, please set bigger caps and we both will get more money. Good luck AdsMain!
After 4 months, I should say: " Nice job guys!!!". AdsMain affiliate network is good. I recommend this affiliate network all publishers who sell mobile,insurance offers(nice commision). Good luck AdsMain!
ADSMAIN is definitely 5 star network. They always help you and reply very fast. Last month I asked to set private payout for me for 3 offers I run and they did - thank you Mr Troy!
The only thing I faced is that HO tracking was not always perfect. We solved everything by importing conversions directly from client.
I wish adsmain team good luck and success!

Copyright © 2010-2019 Affpaying.com All rights reserved.