AdsMain
OFFERS

4.95

PAYOUT

4.99

TRACKING

4.96

SUPPORT

4.99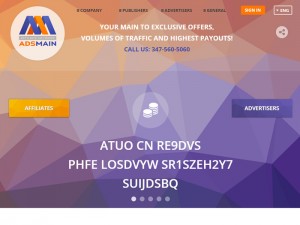 AdsMain Network provides affiliates with full-service management platform dedicated to optimizing revenue generation for both its Advertisers and Publishers!

Our goal is to address your growing marketing needs yielding the best value return on investment possible. All internet advertising is conducted exclusively on a pay for performance basis eliminating any sort of risk or ad waste.

Our CPA platform offers a complete solution for publishers to generate huge revenue from their websites by providing premium CPA offers on the web while assisting them in tracking their performance with fast online reporting.
[More]
Affiliate Network Details
Commission Type
CPA , CPL , CPS
Tracking Link
http://tracking.adsmain.com/aff_c?
Affiliate Managers
George Evigan

Vlad Troy

Daria Barda

Daria Kobzeva

Nastya Minkovskaya

Aleksa Prokofieva

Nikita Pivtorak
Rating Distribution
Excellent

163

Very good

3

Average

0

Poor

0

Terrible

0
Offers

Payout

Tracking

Support
Many thank to Adsmain! I am new to internet advertising. They help me setup my advertising and i earned my profit. Many thank! Leave in peace!
Got my net15 payment. Great network to work with.
Received my August check. Network has a good future if support is good. AdsMain support is GREAT!
I work for 3 months with them and now have good relationships with my manager. He always available via AIM and answers email quickly. So you never nervous about your payment.
Thank you!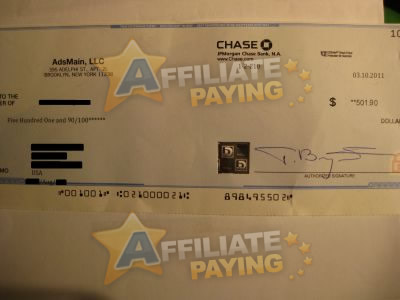 What i like in AdsMain is support and on-time payments. Everything else is MY JOB!
Special thanks to George!
AdsMain is my choice! I have been with them for some time already. They are very good on support, got offers I need and pay on time.
I have no issues with this network they are one of the few good ones.
Wish them growth and success and more beauty offers for me)))
Thanks Andrew,Today I received my paymen!Thanks.So happy to work with you!
Today I received a payment, a good network, I will continue to send traffic to this network
Received my first cheque from AdsMain. Start working with them in July and very very happy now. Thank you very much. I will try to earn more and more %) gl!
Hello,
Many thanks to AdsMain and personally to my AM Andrew Rush. High offer prices, prompt support and scheduled payout. Referred 17 publishers and received my first ref payout($77) - thank you!
You are great! I wish I will work with you for a long while.
All the best,
Liza
This guys are awesome. Great support. Great offers. Received 5 payments already. Hope they will be the same always! Wish you all the best! Peace!
Adsmain is really great.I have worked with them for about 3 months,they respond quickly.
The offers payout are much higher than other networks.Conversion rate is also higher.Andrew is a great AM! Pay me on time with PayPal for my first commission,they accept affiliates all over the world!I am from China,and work with them happily.
Adsmain is a good network to work with! Manager helped me a lot. Now I have created good campaign with them and successfully run 5 offers. Hope we will have long partnership.
Thank you,
Orlando
I like adsmain, I like their support and good offer prices. I wish they have more loan offers. Thanks!
AdsMain is a good network! Today I received my June check from them. It was for $616, sent on 3rd of August. One more reliable network we can work with. Many thanks to my manager Andrew.
Received 2 payments from them. First time they sent me check and promised to send PayPal payments after I cash my first check from them. They kept their word - my June payment was made by PayPal.
During 3 months of work I had no problems with them: nice support, many offers(wish to have more), good prices.
I recommend AdsMain!

Copyright © 2010-2019 Affpaying.com All rights reserved.