Adscend Media
OFFERS

4.86

PAYOUT

4.94

TRACKING

4.91

SUPPORT

4.92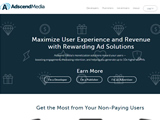 Adscend Media (Incentive Friendly) is not your typical affiliate network. While every network makes claims of having the highest rates, the best offers, the best support, and on-time payments - that is only our starting point. We go the extra mile to provide our publishers with a unique service, and we have developed monetization tools that empower affiliates - of any experience level - to produce consistent earnings.

At Adscend Media we cater to publishers across the spectrum of experience, and to publishers in a wide range of verticals, using a wide range of marketing techniques. We maintain an inventory of hundreds of offers, and we take low margins to ensure that you receive high commissions. Adscend Media has content gateway as well.
[More]
Affiliate Network Details
Commission Type
CPA , CPL , CPS , Content Gateway / Locking
Tracking Software
In-house proprietary platform
Tracking Link
http://adscendmedia.com/click.php
Affiliate Managers
Jeremy Bash

Fehzan Ali

Shane Hanna

Ilyssa Cohen
Rating Distribution
Excellent

168

Very good

8

Average

0

Poor

1

Terrible

0
Offers

Payout

Tracking

Support
www.AdscendMedia.com is probably the best Affiliate Network out there that never is late with it's payments, never is late with it's statistics, never let's you go empty handed.
The have a unique Content Locking Gateway which is highly customizable at your own likings, you can choose which offers to promote and which to disable or just let them spin automatically, change it's background change it's shape etc...
And if there is something that you need help with and can't find it on the net the support team is always more than happy to help you out live. Sometimes they even do the job for you.
I would recommend Adscend to anyone that asked. I find their reports easy to read which means I always know exactly what I am earning and where from. They have never missed a payout day and their staff are always willing to help!
I started with them 6 months ago maybe a little more. I have always had friendly am's and never got paid late.The Gateway Is Amazing Very Easy.
Simply the best affiliate network. They have so much better support than any of the other CPA sites and have much higher paying offers than most. Their gateway code is very customizable. My only complaint is the fact that it is quite difficult to get a GPT site set up with their network unless you buy a specific and expensive script.
Adscend Media has nice quick incentive offers for gpt's and raffles and such. Great support and timely payouts too. Highly recommended!
Adscend Media is the best affiliate network I've ever used. This website provides a lot of different offers. Their payout is great, I've never had a late or slow payment. The account managers are always active and very helpful.
Muhammad Zaid Fuddin Bin Aminudin
Mar 19 2011
Adscendmedia is my first CPA site that im applying and got approved fast! They have so much offer and easy to monetize with their own technology of Content Gateaway, File/ Link Gateaway, API an Virtual Rewards and also the best of all, the Super URL! Their AM will help you with all the matter concerning about offer, marketing and payment.
For me as an international publisher is their payout method that accept Paypal, ACH and also check with a minimum payment of $50!
IF you are a newbie and would like to earn with CPA, you must signup with Adscend Media and skyrocket your earning!
Adscend Media is one of the best affiliate network I ever work with. They have lots of offers supported almost all countries. They have active account managers anytime you need and a very dedicated support. Payments are always on time and no delays. Great satisfaction is to be with Adscend Media.
AdscendMedia is a great affiliate network, supporting almost all countries worldwide with various offers/surveys to choose from. Payments are always made on time, on a 30net basis, never missed a payment :)
Adsend Media is a very good and reliable network which provides quality offers in their surveys. They always make timely payments through paypal and their offers pay better than most of their competitors. I use their content gateway for downloads in my software website and I am very satisfied with them. Personally I would highly recommend Adscend Media to all publishers especially those who provide unique products or content to their website visitors.
I've been into CPA marketing for well over a year now. Back then when I just started out, I tried applying to a couple of networks. Most of them just auto-rejected my application within a day. But after reading about ASM from a few forums, I decived to apply and I followed up with one of their AM's Jessica Newton over AIM. I had quite an elaborate conversation with her and at the end of it, I was assured that my application would be looked into quickly. Within a day, my application got approved, and there was no looking back after that. I'd say that ASM is one of the best networks I've come across yet.
Whenever I had my doubts or any questions, I just contacted my AM via AIM, who coincidently was Jessica,and she clarified my queries within minutes, however stupid those queries might have been. The support from the staff is excellent and I've never found the need to actually e-mail them anytime because the AM's are available on chat, almost at all hours of the day. The variety of offers available keep increasing by the day, and the payout/offer is pretty good compared to what other networks are paying out. Their layout is very user friendly and they provide affiliates with a large number of additional features like Link Gateway, Content Gateway/GEO-Targeted Links, API for Freebie sites etc. They even have offer tracking based on links, country, gateway etc which help us is choosing which sites to promote better. The developments on the website interface over the past couple of months have been a huge jump from the interface they had before, but I got accustomed to it within a day.
The monthly payments arrive like clockwork, even if its on a sunday. They have never been even a day late regarding any of my payments to date and I'd like to thank ASM's excellent support and commitment to their affliates for this. The quality of the tracking has been on the rise and is almost on par with most of the big names in the CPA business. It may not be the best out there, but give it a few more months and I'm certain that it's going to be one of the big guns.
-A Satisfied Affiliate
Hey everyone, over he years iv gone through alot of different networks most of them have bad support,low pay, and some dont even pay you!
On a better note, Adscend Media has been around for the longest and it always has the best / highest paying offers compared to any other network! Iv even checked this out myself! They always pay on time, support is amazing, if there's a problem they will discuss all matters thoroughly!
So For Anyone Looking For the Best CPA Network in the business look no further, its Adscend!
Come sign-up today! :-D
Thanks!
We heard it is the best network and terrible work and offers its services and is awaiting approval
Good luck to all
cooooooooooool
Awesome site have been paid by them twice in the past. They are really the most trustworthy cpa company in the business, and they have been in the business for quite some time in comparison to most others. Their strong following is a direct result of their loyalty and trustworthiness to their publishers.
They do not use hype to build their company because they don't have to. 5/5
adscend media is my favorite network ,and I highly recommend to all, Till now i received three payouts from adscend media, going to promote their offers more widely. Now, I am on my way to the top and my financial freedom dream is coming true! Many thanks to all my ADM guys.their customer support at best,they always maintain good Quality offers nd conversion rate of ADM is very good if compares with opponents ,one more thing is adm pays on time, i observed with many networks they dont pay on time but adm pays timely last day of every month..thanks guys for nice network,once again i suggest adm for those who work hard and expect good results.

Copyright © 2010-2019 Affpaying.com All rights reserved.