Adscend Media
OFFERS

4.86

PAYOUT

4.94

TRACKING

4.91

SUPPORT

4.92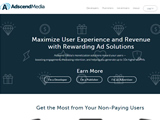 Adscend Media (Incentive Friendly) is not your typical affiliate network. While every network makes claims of having the highest rates, the best offers, the best support, and on-time payments - that is only our starting point. We go the extra mile to provide our publishers with a unique service, and we have developed monetization tools that empower affiliates - of any experience level - to produce consistent earnings.

At Adscend Media we cater to publishers across the spectrum of experience, and to publishers in a wide range of verticals, using a wide range of marketing techniques. We maintain an inventory of hundreds of offers, and we take low margins to ensure that you receive high commissions. Adscend Media has content gateway as well.
[More]
Affiliate Network Details
Commission Type
CPA , CPL , CPS , Content Gateway / Locking
Tracking Software
In-house proprietary platform
Tracking Link
http://adscendmedia.com/click.php
Affiliate Managers
Jeremy Bash

Fehzan Ali

Shane Hanna

Ilyssa Cohen
Rating Distribution
Excellent

168

Very good

8

Average

0

Poor

1

Terrible

0
Offers

Payout

Tracking

Support
I\'ve been working for 7 months with AdscendMedia, they pay on time. Nice affiliate manager Mayrena, always helps, and everytthing is smooth. Thanks
I must say adscendmedia is the best content locking cpa network which I have come across.They truly are the best they paid me each and everytime without any delays,there support is super awesome there offers are super converting and very high paying and there tracking system is truly the best .I would recommend adscendmedia to each and every cpa marketer out there .
Adscendmedia is truly best network and this networks really rocks
a++++++ for adscedmedia
Nice network but i was banned due to an infraction.
Ansar Ahmed
Another payment from adscendmedia, here is the proof.
Adscend Media is a very good CPA network. I'm with a few others, but I honestly like Adscend Media much better. As I'm only a starter, I haven't made an exciting amount yet, but I have made the most with Adscend Media than other networks. My AM is Michael, and he is the most greatest AM ever. I've had other AM's with different networks, and they never reply to any emails. However, Michael replies as fast as lightning. He also touches base with you after, when you ask for help the day before. He is very friendly.
Adscend Media will be my #1 CPA network.
Join Adscend Media. You cannot go wrong at all.
Also, even when I needed payout ASAP - I contacted Michael, he contacted the payment person, and they sent me $150 from my balance because I needed it for a server payment. Ask another CPA network to do that, and they may ignore you as some do.
Great job Adscend Media!
Great network. I have been a publisher of Adscend Media for around two years and never had a problem.
ADM is the one of the best affiliate network ..thanks guys !
Great site! Today marks the first month i'm with them and i've tested a lot of CPA networks and they have come out on top :) Thanks adscend!
Adscend Media is one of the few networks I would actually trust. They have a wide variety of offers, good payouts and really great support.
To be honest, Adscend has been the best Affiliate Network I have ever worked with. There are tons of new offes everyday, tracking system very satisfying for my need and support is great, whatever you need they are there to do their best. If you are wondering about payment then you can be 100% is guaranteed. I have been over a year with and always get paid on time.
Best CPA Network Ever, AdscendMedia Rock!
Got paid today by Adscend Media, they have great AM's that are almost always on and active! Tons of offers that payout great.
Payment Proof: http://screensnapr.com/v/pZRvHi.png
Well, i tried many networks.But all i can say Adscendmedia Rocks!! and one of my Favourite network.. Payout is really Good.Got money everytime on time.If you are good with them they are really cool with you.
I have made good money there.
So i will say its Epic Network :)
A+++ for Adscendmedia :)
Adscend Media rocks. Great offers, amazing support and on time payments. They really deserve an A+++.
Adscend Media basically paid for my engagement and a five months holiday after this summer. This is an amazing network that can REALLY make dreams come true. Fehzan and Candice worked closely with me even though I was a small timer and got me earning amazingly.
THANK YOU SO MUCH GUYS!

Copyright © 2010-2019 Affpaying.com All rights reserved.