Adscend Media
OFFERS

4.86

PAYOUT

4.94

TRACKING

4.91

SUPPORT

4.92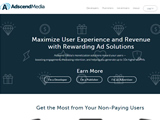 Adscend Media (Incentive Friendly) is not your typical affiliate network. While every network makes claims of having the highest rates, the best offers, the best support, and on-time payments - that is only our starting point. We go the extra mile to provide our publishers with a unique service, and we have developed monetization tools that empower affiliates - of any experience level - to produce consistent earnings.

At Adscend Media we cater to publishers across the spectrum of experience, and to publishers in a wide range of verticals, using a wide range of marketing techniques. We maintain an inventory of hundreds of offers, and we take low margins to ensure that you receive high commissions. Adscend Media has content gateway as well.
[More]
Affiliate Network Details
Commission Type
CPA , CPL , CPS , Content Gateway / Locking
Tracking Software
In-house proprietary platform
Tracking Link
http://adscendmedia.com/click.php
Affiliate Managers
Jeremy Bash

Fehzan Ali

Shane Hanna

Ilyssa Cohen
Rating Distribution
Excellent

168

Very good

8

Average

0

Poor

1

Terrible

0
Offers

Payout

Tracking

Support
Another Payment, here are my July earnings!
Same again; great support, great offers, always paid.
Amazing network, great payouts, great support!
Here is my June payout!
Solid network. Never miss a single payment with them and Jeremy is simply the best guy to work with.
After a few months in the affiliate marketing industry, I found Adscend Media as one of the most reliable and trustworthy content unlock affiliate networks on the market. They offer a lot of high quality offers with the best commission rates and I have always been paid on time! The affiliate support is always fast at responding to any matters!
I just loved to work with this network and so far I have not found any problems with them.
Thank you Adscend Media!
Great CPA network! Thanks Fehzan and Jeremy!
Adscend Media is awesome! They have great technology and awesome affiliate managers. Anyone looking for a content unlock network should definitely go with them!
I absolutley love this network, they have the best offers! No wonder other networks use their offers :D
I have one problem though, when i try and go to the site it says:
This web page is not available
Google Chrome cannot reach the website. This is typically caused by network issues, but can also be the result of a misconfigured firewall or proxy server.
But if i go on someone else's internet it works?
Please can you help me :)
Very solid network, I've worked with them for more than 10 months and they always paid promptly. Cheers 5 stars.
Really good site but only worst thing about this network is that they always pay 1 month late. So my May earning they will pay me end of June. Other then that always been getting paid for past 1-2 years.
One of the best affiliate networks I have worked with. Very professional and right on time when it comes to payment. Very satisfied customer. Keep it up..!!!
This is SURewardsGPT Owner. And practically to be honest, Adscend Media is one of the best so far. We are very happy to have business with Adscend media. Payment is guaranteed without delay.
Thanks.
Best regards,
SURewardsGPT
Great network, paid right on time. My AM, Michael, is excellent.
Thanks for the on time payment. keep up the good work!!
Adscend Media is a legitimate network. Great people and pay on time. Never had issues with them.
I always get payments on time from ADM.
A++++

Copyright © 2010-2019 Affpaying.com All rights reserved.