OFFERS

4.5

PAYOUT

4.38

TRACKING

4.38

SUPPORT

4.25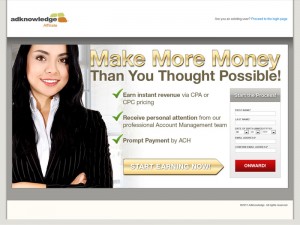 Adknowledge Affiliate (formerly Hydra Group) operates a premium cost-per-action (CPA) performance marketing network, enabling campaign monetization via its internal media distribution groups. High quality publishing partners can deliver their customer acquisition campaigns in search, email, web display and social media. We limit membership in Adknowledge Affiliate to an exclusive group of high volume, high quality publishing partners. We do it in order to be able to bring more exclusive, high revenue generating campaigns from leading brands, as well as a higher level of personal service to our publishers — and assure quality for our advertisers. Think you've got what it takes?
[More]
Affiliate Network Details
Commission Type
CPA , CPL , CPS , CPC
Tracking Software
In-house proprietary platform
Tracking Link
http://www.lynxtrack.com/click/
Rating Distribution
Excellent

13

Very good

0

Average

1

Poor

0

Terrible

2
Offers

Payout

Tracking

Support
Great network! ON time payment and great support!
Thanks Adknowledge! Keep up the good work!
Hello,
We used adknowledge for a very short time, right before payday, they accused our traffic of being fake or auto generated and took our money... Now we are in over 700USD with them. As we pay to get the emails sent. I would stay very very far away from Adknowledge... We have internal tracking and could not find such proof. All traffic looks good.
Now we are going to be forced to take legal action against them.
Adknowledge has a huge amount of offers available and my account manager does a great job of helping keep my payouts up. They pay like clockwork as well. Very satisfied customer!
Adknowledge is one of the most reputable affiliate networks out there. They have quite a lot of good offers and their support is one of the best I have ever had. A+++++
I love Adknowledge. Great offers, great support, great tracking, great interface, there's nothing else I can ask for!
This affiliate network is perfect and paid me within two weeks.
http://i.imgur.com/5AsA7.jpg
Hydra just keeps going downhill...all of their top notch AMs have left...including my fav Barb Mayo who always took care of me. She knows my business inside and out, and was always available to help me. It's just not the same place anymore. My new AM doesn't know which way is up, and I hear they have a bunch of rookies over there. I don't see them lasting to be quite honest....I feel bad for Adknowledge for wasting their money. We all know it's not just about the offers..everyone has offers...it's about what your AM brings to the table. With that said, I will be moving my traffic!
Super network and i haven't lost all touch with them after the adknowledge buy out. I thought they we switch my AM but they didn't. Thanks
accept GPT site ?
Incintive traffic ?
Hydra is a great network, they have their own exclusive offers and offer the best payouts in the industry. I highly recommend it to anyone who is looking to join a reliable CPA network.
I'm still working with Hydra, and so far, they are still the best CPA network I've ever dealt with. Outstanding unique offers combined with outstanding AM support are the reasons I keep using Hydra. I'm really satisfied with what this network has to offer. I really do make some good money with them, but still have a lot of room for improvement. Great job Hydra, I love you guys and would recommend your network to any new affiliates. Keep up the good work!!
I think the best way is give them a call after you submit your application and tell them your plans to drive traffic.
I hope that helps...
Hydra acquired by Adknowledge.
http://www.adknowledge.com/usa/press.php?release=062110
https://www.hydragroup.com/press/10/adknowledge-acquires-hydra-leading-cpa-affiliate-network.html
What's your opinion on this? Is it good news for publishers?
I use Hydra daily. They have large selection of exclusive offers, very helpful affiliate managers, on time payments and I have made over $50k with them. They also typically paid more per offer compared to other networks. Hydra is a quite honest network. They are one of my top sites I use. You can't go wrong with Hydra.
Hydra network is cool. They've been around for a while, always pay on time and have some great offers.

Copyright © 2010-2020 Affpaying.com All rights reserved.