AffiliateVIA
OFFERS

4.39

PAYOUT

4.22

TRACKING

4.5

SUPPORT

4.71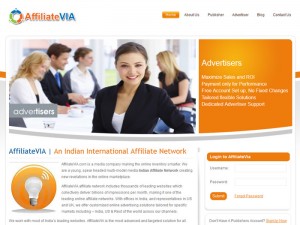 AffiliateVIA is one the fast growing Online Advertising Network that allows the advertisers to reach targeted and qualified customers through thousands of individual Publishers. AffiliateVIA is a leader in performance based web marketing by offering CPA (Cost per Action), CPM (Cost per 1000 Impressions), CPC (Cost per Click) and PPV (Pay per View) Video ads. Difference between other Affiliate Networks and AffiliateVIA: - Global Leader in Online Advertising affiliates Marketing. - Full Service Online Marketing Solutions for Advertisers and Affiliates. - Advertisers expand your reach and find new customers. - Advertisers can join AffiliateVIA and Increase your online advertising Sale. - Affiliates can join and get access to lots of different online campaigns from all the niches. - Affiliates earn commissions daily and get paid through PayPal and check.
[More]
Affiliate Network Details
Commission Type
CPA , CPL , CPS , CPC
Rating Distribution
Excellent

122

Very good

40

Average

7

Poor

1

Terrible

5
Offers

Payout

Tracking

Support
Hello Friends,
this is the 3th payment I have got from Affiliatevia.Great feelings
great network i have seen yet thanks affiliate via and Jugal Savaliya ji
I have no words to say about ur services and payouts. ur services truly much better other than any affilation site guidance and information system is too good. m very thankful to Mr. Jugal Savaliya My affilate manager. Thanx
hellow...friends...this is a very good networkin india... i have got 70,000 rupees as my first payment.. my payment proofs are shown below..
I m just get my first payment from AffiliateVia! it is really a highly paid network, the best part that they actually pay, my special thanks to sangeeta madam for continued support....
Hello all
Wishing you a very very HAPPY DIWALI!!!
I received my 10th payment before Diwali
good support, great offers and highly paid network But last some days it's offers and payout goes to very low so please I request that maintain also again.
Thanks a lot Affiliate via & Team
Special thanks to Madhuri g........
Maheshwari Prasad Tripathi
Nov 04 2013
I got my Payment before diwali . Thanks to entire support team.Special thanks to Madhuri mam & Amruta mam.
Happy Diwali.
HI,
I HAVE GOT MY PAYMENT Before Diwali, GOOD SUPPORTING AFFILIATEVIA TEAM THANKS TO ALL SPECIALLY Sangeeta Mahadik.
Wish you the Best of luck & HAPPY DIWALI
Affiliate via is an excellent network. Affiliate network support is very nice, especially Mrs Sangeeta Mahadik . Sangeethajjii updating daily about the offers. She is a good affiliate manager. I receive my 5st payment we had great time from affiliatevia. Realy I would like to sincerely thanking you all for your kind support and co-operation. Hope for the best in future special thanks to Sangeetaji . Amrutaji,
Thanks to team affiliatevia.
Regards.
Kavtha moolya
Dear Friends,
I am working with affiliatevia.com last 12 months.. . I received my all payments in promise time.
Sangeeta ji is very very co-operative and helpful.
This time i received my payment on 31/10/2013.I never expect this thing from any affiliate but this is done by affiliatevia.
I surprised very much. . .
Once again very much thanks Sangeeta ji.
I just recieved my Payment from affiliatevia. Though took some time but finally got the payment. Thus can reffer affiliate via to others as well.
The BEST Network I worked with. Fast payments, highly converting offers. Aff Managers are always available to for you. Incredible network. The staff is always on top of everything unlike different companies I have worked.
We currently working with many other sites but our main income is from affiliatevia, because we mainly push offers more in affiliatevia than others because they are 200% Reliable as state bank.
Thanks to entire support team.Special thanks to Komal madam, Mayuri madam & Amruta madam, they are like our
family members .Acutually no word to explain them. Thanks for your support. We definitely see you guys transforming the Affiliate Via to the Best Network in the industry
If you are a new to this affiliate marketing affiliatevia is the best network to start they give you A-Z support .
If you like to start affiliate marketing sign up using below link
http://goo.gl/iBkU7W
Wish you all the best.
I m just get my first payment from AffiliateVia!
it is really a highly paid network, the best part that they actually pay ,my special thanks to komal madam for continued support..
this is really a good paying network,i thank full to support team for providing me offer update and timely payment
I get my payment from AffiliateVia! Looking forward to scale up promoting Affiliatevia offers because they are the best in Indian Industry.Special thanks to Amruta mam and Jugal Savaliya sir
Great network to work with. Thanks to Komalji,Amrutaji and Jaimesh sir for their support. Kindly increase the daily caps.

Copyright © 2010-2020 Affpaying.com All rights reserved.