AffiliateVIA
OFFERS

4.39

PAYOUT

4.22

TRACKING

4.5

SUPPORT

4.71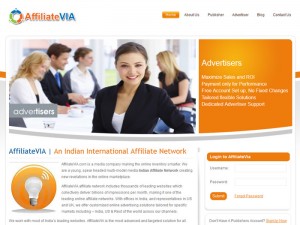 AffiliateVIA is one the fast growing Online Advertising Network that allows the advertisers to reach targeted and qualified customers through thousands of individual Publishers. AffiliateVIA is a leader in performance based web marketing by offering CPA (Cost per Action), CPM (Cost per 1000 Impressions), CPC (Cost per Click) and PPV (Pay per View) Video ads. Difference between other Affiliate Networks and AffiliateVIA: - Global Leader in Online Advertising affiliates Marketing. - Full Service Online Marketing Solutions for Advertisers and Affiliates. - Advertisers expand your reach and find new customers. - Advertisers can join AffiliateVIA and Increase your online advertising Sale. - Affiliates can join and get access to lots of different online campaigns from all the niches. - Affiliates earn commissions daily and get paid through PayPal and check.
[More]
Affiliate Network Details
Commission Type
CPA , CPL , CPS , CPC
Rating Distribution
Excellent

122

Very good

40

Average

7

Poor

1

Terrible

5
Offers

Payout

Tracking

Support
hi my self SANTOSH .
i am very much happy working with AFFILIATEVIA .I always get a good support from my affiliate manager POORNIMA .thanks to my manager and affiliate team . here is my payment proof. all of my friends i recommended to affiliatevia for standard and reliable payments .
thank u
pls find the attachment file for my first payment ..............
Hello frnds i got my second payment and i thankful to affiliatvia team and i specially thank to purnima mam for supporting me each and every time and thanks to affiliatevia team its a Great Network
this is awasome. good company in this world. and all stuff affiliatevia.team
good one jugal ji
AffiliateVia is really a superb company... :) I am working with the from last 2 years. The support is superb and payment is always received on proper time.. :) I really recommend this company..
Hello friends I got my 1st payment.Affiliate via is an excellent network. Affiliate support is very nice.Good offers,Good co-operation.Especially thanks to Mrs sangeetha mam.She is updating daily about the offers.
affiliatevia is good network i receive my 3rd payment i thanks to mam Purnima good sport i also thanks mam pallavi amurta madhuri
I have been working with affiliatevia.com since 2012. Its really a amazing network with great team of affiliate managers. I must say it is one of the good pay masters. I would like to thanks to the support and my affiliate manager Purnima Pujara who has given me the chance to grow in this industry. She has been doing excellent co-operation to guide me all the time. Special thanks to her for being supportive :)
Im whole heartedly thankful to affiliatevia for their support and for the payments which they give in time. AffiliateVIA is the best indian network which pays in time and gives total support to their affiliates. Im thankful to the affiliate managers and team of affiliateVIA especially my account manager "PURNIMA PUJARTHY" mam for her support.
My Ratings to AffiliateVIA:
Support ***** 5 stars
Offers***** 5 stars
Payout ***** 5 stars
Tracking***** 5 stars
And a special rating for my account manager Purnima mam **********………Infinity ratings for her valuable support, thanks purnima mam for your support.
Affiliatevia is very good network.I receive my 2nd payment we had great time from affiliatevia i am geetingh very good support my account maneger Purnima madam she is very good She is a good affiliate manager I would like to sincerely thanking you all for your kind support and co-operation
Hope for the best in future special thanks to Purnima mam
Thanku so much Affilate Via
Avinash Rao
9336475992
hi friends,
I recieved my second payment from affiliatevia.The best network site and payments are at right time.A Special Thanx to manager Jugal Savaliya for support.
The BEST Network I worked with. Fast payments, highly converting offers. Aff Managers are always available to for you. Incredible network. The staff is always on top of everything unlike different companies I have worked.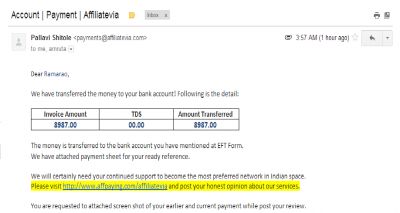 This is 3rd payment Affiliate via is an excellent network. Affiliate network support is very Good, specially Thanks for juggal sir&Team
HELLO FRIEND
ITS A EXCELLENT AND VERY GOOD NETWORK I HAVE NEVER SEEN IT ALL THE TIME THE MANAGERS ARE AVAILABLE AND HELPFUL AND THEY RELEASE PAYMENTS IN TIME AND I THANKFUL TO WHOLE AFFILIATEVIA NETWORK TEAM AND I ESPECIALLY THANKFUL TO PURNIMA MAM ALL THE TIME PURNIMA MAM HELPED ME A LOT.AND I HAVE UPLOADED MY PAYMENT SNAPSHOT GO THROUGH IT GUYS..
THANKS TO PURNIMA MAM AND WHOLE AFFILIATEVIA TEAM
Very bad network ever I seen. It is fraud network.
ya absolutely some of commenter here are their manager to increase their popularity.
If you are advertiser as well as publisher then please be aware.
Affiliatevia is a good payout on time and supporting team is soo good. they support any time in 24 *7 hours.

Copyright © 2010-2020 Affpaying.com All rights reserved.