OFFERS

4.93

PAYOUT

5

TRACKING

4.43

SUPPORT

4.57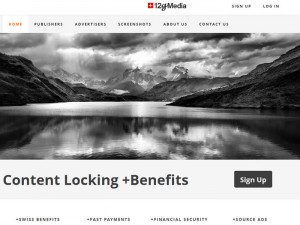 12gMedia is the world's first truly international Content Locking Network and the most exclusive Content Locking Network. With a wealth of executive experience in the tech space and banking industry, 12gMedia was able to launch with a fully international platform that has advertising inventory in hundreds of countries around the world. What's more, 12gMedia is proud that no other content locking network has been able to match payouts in head to head comparisons. Having finished beta testing, 12gMedia launched in mid July of 2013 and currently averages EPC's that are 15-18% higher than industry standards and performs bi-weekly tests to ensure that this remains at all times. Beyond that, 12gMedia is headquartered in Switzerland with offices in Hong Kong and provides all publishers a 100% guarantee of full privacy. There are absolutely no security risks to publishers or concerns that their information will be disclosed where it should not be. 12gMedia is a subsidiary of AdShop Media which is fully owned and backed by a private Swiss Investment Group that holds over $321 Million in capital investments within it's portfolio. 12gMedia sees the space in an entirely new light and believes that Content Locking and CPA advertising in general will break into the mainstream within the next 3-5 years. Through strategic relationships with many Fortune 500 companies, 12gMedia intends to deliver an entirely new experience to publishers. Long gone are the days of "scrubbing" or what 12gMedia refers to 'theft'. Long gone are the days where publishers are treated second hand. Each year, 12gMedia hosts semi-annual meetings for publishers in Zurich, Switzerland and Hong Kong where affiliates are invited to an all expense paid trip where they will meet with the 12gMedia executive team to discuss strategies, opportunities and business direction. By staying connected to publishers, 12gMedia knows that the future can be brighter. After all, who better to suggest future development projects than publishers themselves. In close, 12gMedia promises many things but above all, the message and promise to publishers is that "you will earn more revenue with 12gMedia than anywhere else" and you'll never have to worry about being scrubbed or having your information exposed. 12gMedia welcomes all publishers to apply and asks for patience while applications are reviewed. With the official launch, there is limited space but 12gMedia promises to review each and every application within 48 hours and to reply within 72 hours. If you're ready to demand more, 12gMedia is for you.
[More]
Affiliate Network Details
Commission Type
CPA, CPL, CPS
Tracking Software
HasOffers & Our Own Custom Content Locking
Rating Distribution
Excellent

12

Very good

2

Average

0

Poor

0

Terrible

0
Offers

Payout

Tracking

Support
Thanks 12gmedia for sending my third weekly payment :)
specially thanks for Val and Anas for great support .
Screenshot is here :
Great network and i really enjoying working with these guys. They have good exclusive offer for niches and their payout is awesome.
12g is network with great supporting staff. Got my fist payment today .
Offers is really high paying than other PPD networks .
Highly recomended network
I've been with 12g from 4 months, and so far it has been a very positive experience. This is by far one of the best networks I've worked with. They have best offers collection, highest payouts than ***** .
Val is always their to help me :)
12gmedia is my favorite network. My AM Val always help me a lot with my niches and guided me right way to monetize my traffic. I want to give 5 star with bottom of heart.. :)
I have been with 12gmedia from past 3 months and got payment on net-0 basis everytime but from past I got payment on weekly basis. I ask my AM (Val)about these payment and she says we change your frequecy to weekly.
really A++++ network ever I worked with :)
Thanks guys for your all support and payments .
Going to upload Earning screenshot :)
Specially thanks to Val :)
Yes 12media is legit.
Today I request Mats for the early payment before net-0 term becuase of some personal issue.
I told my problem to Mats and he did not ask anything other than my account email to check the Amount Due balance and paypal email.
I got monry within 2 minutes after giving these info to him.
thanks Mats you are superb .
my wishes is with.
thanks once again :)
This is amazing network, highest paying offers.
I just started today!
Thanks!
Well i really don't need to write review about any network but as per network request i upload my earning screenshot whicj I earned from 12gMedia.
Yes they have highest payout offers with great CR in the market.
Love this network and AM too (Val)
This network is so amazing! The staff is super friendly and easy to talk to! The owner mats is very friendly and offers support all the time! The offers are very high paying I ran a short term campaign with them for about 4 days before they payout and I was seeing nice CR but now it's just amazing! Payouts are delivered as promised - very quickly too! Overall I'd like to say I see this network going far in the CPA industry.
Sign up today!
My first payment, thanks 12gmedia.
p/s: I can not contact the support team by email, admin can not contact by skype
I received my first payout from 12gmedia. They are very supportive and good.
Would love to work with them forever.
I got My first commission from 12gmedia. Good Offer,Great Support.
Very User Friendly Tracking and Reporting System.
All the best 12gmedia
thanks
12gmedia is great cpa/content locker network..great support,payment and epc.. just their tracking and reporting system should be improved..

Copyright © 2010-2020 Affpaying.com All rights reserved.