MaxBounty
OFFERS

4.92

PAYOUT

4.96

TRACKING

4.94

SUPPORT

4.92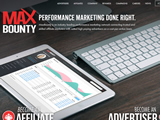 MaxBounty is a world leading performance-based affiliate network that specializes in maximizing the ROI of both affiliates and advertisers. Through unprecedented balance that we've been perfecting since 2004, we ensure both sides of the performance marketing spectrum are treated equally, fully dedicating ourselves to our clients' success and growth. Comprised of thousands of campaigns and tens of thousands of affiliates, MaxBounty has the necessary volume that the modern affiliate marketer desires.

Find out why we're continually voted the #1 network by industry professionals, and signup to become an affiliate or advertiser today.
[More]
Affiliate Network Details
Commission Type
CPA, CPL, CPS
Referral Commission
5% for 12 months
Tracking Software
In-house proprietary platform
Tracking Link
http://www.mb102.com/lnk.asp
Rating Distribution
Excellent

240

Very good

6

Average

0

Poor

1

Terrible

1
Offers

Payout

Tracking

Support
I agree with MaxBounty is a great cpa network. They are my main source of income among several networks. Very trustworthy and well worth signing up.
MaxBounty is one of the top CPA affiliate networks out there. Very, very solid. I use them on a few of my sites and so far have been extremely pleased. I love my affiliate manager at MaxBounty, she is very helpful and always give me the best payouts! My income has dramatically increased after switching from ClickBank to MaxBounty! Highly recommended!
MaxBounty is the greatest of all programs!!!
I'm doing business with a lot of networks, like everyone else says, MaxBounty is the best! They treat me like a "super affiliate", awesome support managers, huge numbers of offers, payments on time and good payouts. What else do you need??? Definitely a network you want to be with!!!
I very much enjoy working with MaxBounty as well. They have some pretty good offers and great support, my affiliate manager is pretty cool and very helpful. I highly recommend them to anyone.
Max Bounty is an excellent CPA network to join. They have plenty of offers in a huge range of niches and accept all kinds of traffic depending on the offer you are promoting. I use MaxBounty mainly for Facebook and PPV traffic.
My affiliate manager at Max Bounty is Jessica Bertrand, she is really awesome and always willing to help in any way she can.
Definitely my favorite of all the CPA networks out there!
Yeah MaxBounty is the best! Been working with them for 2 years never had an issue, there payments are always on time. I can say without a doubt that they are by far the best company out there to work with. I honestly can't imagine why people would look any further than MaxBounty.
MaxBounty is trust worthy and always pay. I have never had any problems with them. I'm under AM Adam Harrison, who has been very helpful. For me, they are the best networks you want to be working with!
I just submitted my application and was wondering how long it usually takes to get approved by MaxBounty? ;)
Thanks,
Seb
Top notch network! These guys really know their shit and are really helpful in offering advice on how to build, optimize and scale campaigns. Great network with great offers and they pay me always on time! I love this network!
MaxBounty is the source of my main CPA income right now. They have some nice converting offers and they pay on time via PayPal. Also the affiliate managers are very helpful.
I would definitely go with maxbounty.com because their huge number of offers, higher payouts compared to other networks, and awesome customer support. Highly recommended to anyone who is serious about internet marketing.
I have worked with MaxBounty for about 3 years now and this is one of the best CPA networks that every affiliate marketer has to join. They do pay on time and have a good number of offers to promote. Their affiliate managers are very friendly, and they helped me out every time I had a problem. They are reliable and trustworthy - Strongly recommended for them.
Hello everyone. I am writing this to let everyone know that MaxBounty is the #1 affiliate network that I have EVER worked with. Every question I've ever had has been answered within 1 day, and your affiliate manager is just about always available for you. They also have the HIGHEST payouts i have ever seen. All of my payments have been on time, and they have great selection of offers to promote. And I mean a GREAT selection. If you're not an affiliate with MaxBounty, Click here to SignUp free. I wish you all good luck using MaxBounty! - http://www.maxbounty.com/index.cfm?referer=61295
My experience with them has been positive, they always paid on time. Good guys over there, no crap offers either. All of there staff has always been extremely helpful as well. I can't say enough good things about them. MaxBounty is a great network to work with if you are planning on doing affiliate marketing.

Copyright © 2010-2019 Affpaying.com All rights reserved.