Lambushka.media
OFFERS

4.42

PAYOUT

4.84

TRACKING

4.58

SUPPORT

4.68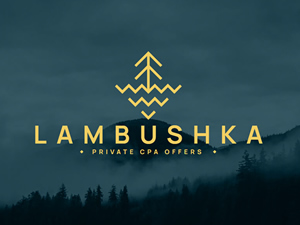 What's up, guys?

Looking for profitable high-converting single offers from credible advertisers?

In this case you can't lose a minute, because we have something really interesting.

I shall keep this quick:

1) Private CPA offers from trustworthy advertisers

2) Basic vertical – install. Dating (soi, doi), gambling and other options are also available and discussed in private

3) Weekly payment frequency (Net 7)

4) Minimal payout – 70$

5) Basic withdrawal options – Payoneer, PayPal, WMZ. Other methods are discussed in private.

Get in touch with our managers to discuss all business opportunities. They will expect you daily.

See you on Lambushka.media!
Affiliate Network Details
Commission Type
CPA, CPL, CPI
Payment Frequency
Weekly (Net-7)
Tracking Software
In-house proprietary platform
Rating Distribution
Excellent

10

Very good

9

Average

0

Poor

0

Terrible

0
Offers

Payout

Tracking

Support
A friend of mine advised me to run few tests on this Network. IMHO – good rates (especially if you work in the field of TIER1 traffic) for install and dating offers, but their CR is as high as regular media buyers get used to, so you should be prepared to send significant amount of traffic, even for a test in order to see the full potential of Lambushka offers.
Anyway, for an experienced mediabuyer this network is really good. Also don't forhet that if you want to achieve nice result with it's offers you'll have to step into the TIER1 zone…

Nice result for Latam GEO! I tested all adult offers available but finally picked offer for adult nutra. The result was truly good and I decided to increase traffic. Then I noticed that the manager raised the rates specially for me as a bonus for significant traffic boost from me. I must confess I was surprised and happy. I've recently received the 2nd payment and look forward to continue working with Lambushka. Definitely cool network, publisher-oriented network. Recommend trying!
Actually, I can agree with the reviewers who claim that adult offers are quite beneficial – CPL options are definitely fairly effective – maybe their CPA is not the highest, but CR is appropriate (I'm using bought traffic as well as chat traffic). I'm also planning to test their CPI offers, especially extensions – later I'll add a new review about it…
For now, if we're talking about adult soi – good enough. Furthermore, I'd like to acknowledge the work of AM – he immediately reached me after registration and helped to choose the most suitable offer according to my traffic.
I give 4 stars instead of 5 mainly because the number of offers is not big at all and the rates are not the best, as I mentioned above
Pretty good adult dating smartlinks. In addition to Net7 and good support this can be a very profitable solution. AMs also deserve the credit – support is polite and fast. They also don't mind chat traffic, as well as any social media, which is an essential point for me
Nevertheless, first payout is implemented in terms of Net15, bear it in mind. As my manager said – it is time-tested period for any newcomer. Among the other CPA networks – quite interesting league, IMHO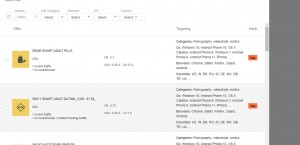 For now - not bad at all.
I tried this network a while back to monetize social traffic and frankly, the result was rather controversial – there were several single adult dating offers and 2 adult smartlinks. I decided to run a smartlink test and tried both. That time I wasn't impressed.
Eventually, I took a decision to give it one more try, because the offer's list has been significantly changed…Overall, the current revenue, as well as CTR, is much more suitable, there seems to be a lot of new offers in rotation of the link.
Well, a word or two about the payouts. Net15 with the possibility of Net7 (as my manager mentioned – it can be set after successful traffic quality check-up). 2 payments have already been sent without delays, the 3rd is approved and in process. Good so far.
Started working with these fellows a few month ago after resumption of work in the field of mediabuying. Frankly, had a quite bad experience with several quite popular CPA projects and finally decided to try again.
I was looking for a relatively new CPA network on the market, found this one and decided to give it a try. Well, what can I say…The number of offers is not very big, but you can ask their manager to find something suitable according to your needs (be ready to provide data about your sources and volumes). In addition to good support I also cannot remember a single issue connected with any payout (I don't include small delays like one-two days delays – tht's not a problem for me). Net 15, regular and stable.

Fairly good. Use their direct link to monetize purchased traffic, CR is appropriate, especially when it comes to install and extension. They also accept social media, but I prefer extensions, honestly…
No problems with payouts, at first they give you net10 or net15, but after several payments and positive traffic check ups they can change it to Net7, at least in my case it happens so.
By the way, be ready that they carefully check sources
Pretty good, as for me...Maybe not the biggest network with tons of offers, but definitely quite convenient to work with. Support is superb, manager always responds on time and try to choose the best offer according to your traffic specificity. Recommend trying.
I was looking for a network that can accept dating traffic and came across this one. Definitely, not the worst. Their smartlink aloows to use various geos, so I decided to give it a try. Eventually, the revenue is acceptable. Overall - above the average. Relatively small number of offers is compensated by good 24-7 support
I use social media traffic, especially dating (pof,badoo,meetme and others), so I was looking for network with dating offers. I come across Lambushka a few month ago and from the first sight was not very pleased with it (dashboard was quite strange), but the manager contacted me and created adult dating smartlink. Since that day I've been working with this link - quite convenient, it has WW coverage and allows not to worry about targeting issues.
They have weekly payment, but for the first time they will send you money twice a month in order to check you. If you send traffic regularly - you can ask for Net7.
In general terms - good CPA network made for mediabuyers
Actually not bad if you're looking for adult dating. Apart from single offers there are several adult dating smartlinks with WW coverage, perform pretty well with social media traffic
Basically, definitely can be given a try...
Nice CPA network. Although the number of offers is not very large, there are still good install offers for Mac traffic with Net7 paying scheme.
Quite responsive support, my manager asked me which offers and verticals I would like to work with and promised that adv team would add this offer soon. Well, let's see!
This is one of the best affiliate network that I have come across. They have very good offers that you can choose from, and which are easy to convert. No much strict requirements when it comes to be accepted into the program, they have also various payments methods, and they make quick and timely payments. support is superb. I highly recommend Lambushka
Really effective when it comes to US traffic monetization. They have interesting install offers for this GEO with high rates. Good rates + weekly payment allow to reach fat profit within a short period of time. But bear in mind that they check traffic and sources quite thoroughly.
I've been working with Lambushka for more than 6 month and got paid around 18 times.
In general terms – quite stable network when it comes to payouts, of course some small delays take place but for me it is not really important. Anyway, keep in mind that the majority of their most profitable offers are install, so this network is great for download traffic. If you have any other – try to talk with the manager – as I understand they have a big base of offers and if your volumes are high they can give you access to the offer close to your expectations. At least I asked for offer for flash player for TIER1 MAC anf they introduced it within a week.
I don't have any claim on support, it is quite helpful and always respond quite quickly.
Sometimes it is not very convenient to check for new releases, because you need to create new ad placement on your dashboard if you want to see the offer list, but actually this drawback is not crucial absolutely. Besides, you can always ask your manager to tell you about the latest updates.
Overall – give it a try if you're looking for flat-rate traffic

Copyright © 2010-2021 Affpaying.com All rights reserved.