OFFERS

4.81

PAYOUT

4.85

TRACKING

4.84

SUPPORT

4.84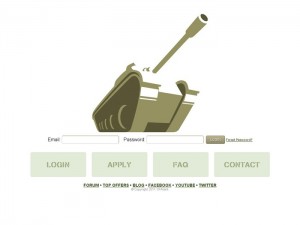 CPATank INC - Follow The Leader

CPATank is a private affiliate haven where affiliates can go to network and coordinate in a rigorous military structured environment implemented to increase motivation and success.

Fraternal fellowship with other members of your affiliate marketing platoon in our Private Forum (seperated in 4 categories based on affiliates revenue so you know the affiliates you are collaborating with are on your level) makes problem solving and sharing of resources a breeze. Exclusive technology, guaranteed payments, and over 1,000 direct offers and 3,000 total offers make it obvious why CPATank was the fastest, most explosive and most dynamic and most immitated network of the past year and beyond.

The Tank is seperated into TWO DIVISIONS to further empower affiliates:

CPATank Premier Media:

The Premier Media Division is headed by affiliate marketing optimization specialist Adam Zare and is the recently launched "Mainstream Division" of CPATank. If you are looking for the most organized and absolutely highest paying offers for PPV/Contextual (TrafficVance, directCPV, etc), Paid Social (POF, FB, etc), Paid Search (Adwords, Bing, etc), Media Buying, Display, SEO or Email Traffic, Premier Media has the researched highest payouts anywhere.

A simple "please match this payout" to any of our experienced and helpful AM's will get your payout matched on any offer that you feel is not the absolute highest payout you have ever seen.

Premier Media offers More Managers, More Methods, and More Creatives to help you BANK WITH TANK!

CPATank Private Media:

The Private Media Division is headed by "The General" Vito G Glazers whose leadership has lead to millions of dollars in on time payouts to affiliates. Private Media offers are open to setting up non traditional traffic sources that other networks can not process. Payments are guaranteed as long as details are disclosed upfront and unlike competitors there is never any scrubbing on any offers. You get paid on time for your risky traffic 100% of the time. Anonymous accounts and daily payouts are also available for larger affiliates. Our top affiliates earn $20,000 a day on Private Media deals and are always paid within 24 hours.

Private Media offers more methods, money money, and more ways to BANK WITH TANK!

Our management team and financial services are unmatched by any network.

Daily, weekly and biweekly payments with no hold are available to help you finance and grow your campaigns with CPATank. Tank also offers a free escrow service for affiliates wishing to engage in Joint Ventures (we will set up an account for your venture and divide the earnings for you on payday so one party is not relying on the other to pay).

We appreciate our domestic and international affiliates equally. We never reference your revenue when offering support, all affiliates are treated equally with respect.

PLEDGE YOUR ALLEGIANCE AND ENLIST WITH CPATANK NOW!
Affiliate Network Details
Commission Type
CPA , CPL , CPS
Referral Commission
Increased Privaleges
Tracking Software
CAKE Marketing
Tracking Link
http://tktrklnk.com
Rating Distribution
Excellent

192

Very good

8

Average

2

Poor

1

Terrible

4
Offers

Payout

Tracking

Support
These guys DEFINENTLY know what they are doing. GREAT support and high payouts plus no shaving.
A+ Network
First of all, sorry for my bad English.
Got paid on time all the time. I have tried lots of networks but CPATank has the best affiliate support in the industry.
Vito knows what he is doing and he will really help you to make more money. He will tell you exactly how to optimize you campaigns, how to choose offers and finally maximize your profit. You can never get these from other networks.
Here is the pic of last payment. You may don't know Chinese but I believe you can understand the pic.
Got paid as I was Expected. Vito makes sure he pays you and he is always available on Skype or Aim to help you with any issues you might have. I love how they send email updates to keep everyone updated. Congratulations CPA Tank on your new office. Now I can go Shopping on Christmas Eve thanks to CPA Tank!
While the other networks are a 50-yard dash, CPA Tank is the marathon.
Give yourself a gift this Holiday, Bank with the Tank.
CPATank is for sure the best CPA marketing network I've ever dealt with so far. All their offers, payouts and support are pretty good as compared to other networks. You'll never regret dealing with Vito.
If you want to make more money, get higher payouts and get paid on time, don't wait to join CPATank. They're one of the most reliable CPA marketing companys online and have a great buzz going for them and its easy to see why.
Tank has been one of my favorite CPA networks and I have been with them since they launced around November 2009. They pay for loyalty and their support is great too. I highly recommend working with them.
They paid me on time every time and My AM at Tank has always given me very good support!
Wonderful support and offers. Simply the best!
i like cpatank. I do not know how to be a member of cpatank. I've read everything in the faq and follow the instructions. maybe they don't allow from my country?
another payment from vito
really great admin
hope i increased my bucks with him
CPATank just keeps getting better. Vito and John opened an exclusive forum this week where Tankers have been sharing methods, tools and experiences - there's nothing like "real-world, real-time" information to help you learn how to make more $$$ in this game.
More offers have been added for this month and payouts are through the roof - give yourself a gift this holiday and join the Tank forces ... see ya in the bunker!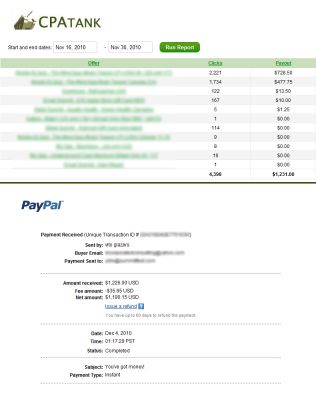 Is CPAtank accept international affiliates I have sign up before 3 Weeks still no reply please approve me fast
CPATank is rocking these days. They have so many different offers you can promote and also have great support if you have any questions.
Rating: 5 of 5 Stars
Nothing to say but advise you to join this network :)
My best month in a long time thanks to CPA Tank! Boooom!
I've only just started with this network and all i can say I'm loving it already. Great support and response, never feel left out and most importantly they pay on time. Got mine recently, so very happy so far. Early at this stage but I feel theres many more good things to come from this network. Will keep you updated. :)
Another on time payment, in time for black friday shopping! CPATank rocks!

Copyright © 2010-2020 Affpaying.com All rights reserved.