Axon Media Group is comprised of experienced social media buyers, email marketers and search engine marketers. We've generated millions of customers for our Advertisers and millions of dollars for our Publishers. We'll show you what campaigns and traffic sources are working for us internally and help you optimize. We'll also consistently recommend new traffic sources and introduce you to new methodologies and strategies. We're currently looking to add high volume, high quality Publishers to our network.

Axon Media Group has exclusive or direct offers in every major vertical. We're adding new offers everyday. We guarantee the highest payouts in the industry. If you can find a higher payout at another network, we'll match it. We also offer prepayments and weekly payments for select high volume partners. We have the strongest referral program in the industry at 6.0% life time and offer the most lucrative cash based incentive programs and contests.
Affiliate Network Details
Commission Type
CPA , CPL , CPS
Referral Commission
6% for life
Tracking Link
http://tracking.amgct.com
Rating Distribution
Excellent

126

Very good

5

Average

0

Poor

0

Terrible

1
Offers

Payout

Tracking

Support
Very solid network. Have been working with Axon for months now and never a problem. They've turned us on to exclusive offers in our primary vertical. I highly recommend Axon.
Axonmediagroup is Network great. Nathan is great support ,
This is my commission for april :)
Fantastic network. We've been running credit and different loan campaigns for about six months and have had excellent results. These guys will definitely work with you to optimize your investment and they provide excellent suggestions as well. Highly recommended!
Nathan is good. Alsway got payment from him.
Good network and high payout
Highly recommended
On-time payment every time, great offers, highly recommended
Wow I got 3rd payout ,Axon Media good networks, I happy work with Axon. This is my commission for Apr. Thank you very muck, Have a good day.
Just get my first payment from Nathan.
Great network, pay on time.
keep it up, Nathan.
BEST NETWORK....JUST GOT PAID MY MARCH COMMISSION.....THX Mr Nathan......
I always receive prompt payment,this is my commission in March .
thanks Nathan !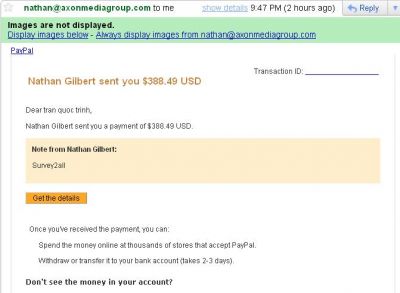 Nathan is good.I just get my payment from him.
Good network, good payout.
keep going Nathan!!!!!!
Thanks Nathan
Nathan is great support. Axon Media good networks, I happy work with Axon. This is my commission for Mar. Thank you very muck, Have a good day.
Just got my 2nd payment.
Nice network, Time payout,Great Support.
Keep in touch.
Good People Join via my link - 100% Approve
publishers.axonmediagroup.com/signup/1259
Thanks Nathan
Just got my 3th payment.
Nice network, Great payout.
Keep working Nathan.
this is my commission for february . thanks Nathan!
i just got paid!! they always pay on the and nathan is always there to help!! you don't know what u missing if u aint working with the network

Copyright © 2010-2022 Affpaying.com All rights reserved.