Adscend Media
OFFERS

4.86

PAYOUT

4.94

TRACKING

4.91

SUPPORT

4.92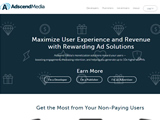 Adscend Media (Incentive Friendly) is not your typical affiliate network. While every network makes claims of having the highest rates, the best offers, the best support, and on-time payments - that is only our starting point. We go the extra mile to provide our publishers with a unique service, and we have developed monetization tools that empower affiliates - of any experience level - to produce consistent earnings.

At Adscend Media we cater to publishers across the spectrum of experience, and to publishers in a wide range of verticals, using a wide range of marketing techniques. We maintain an inventory of hundreds of offers, and we take low margins to ensure that you receive high commissions. Adscend Media has content gateway as well.
[More]
Affiliate Network Details
Commission Type
CPA , CPL , CPS , Content Gateway / Locking
Tracking Software
In-house proprietary platform
Tracking Link
http://adscendmedia.com/click.php
Affiliate Managers
Jeremy Bash

Fehzan Ali

Shane Hanna

Ilyssa Cohen
Rating Distribution
Excellent

168

Very good

8

Average

0

Poor

1

Terrible

0
Offers

Payout

Tracking

Support
I love adscendmedia.com because it pays correctly. I never missed a single payment. There offers are very simple and give me a decent payout. Their site have a wide variety of offers for all ages of people and highest payouts for offers.
I have worked both on content gateway and file gateway and i have got some good payments from them. Their customer support is very good and helpful. I have got 4 payments and waiting for 5. My Affiliate manager is very helpful. Totally I rate 5/5 for adscendmedia.
I will continue working on Adscend Media.
Adscendmedia is by far the best cpa network. They have best offers and they always pay on time. This shows that they value their affiliates.
Moreover Jeremy and Fehzan are always there to help you with new ideas. All my queries gets addressed and looked after.
I had a great experience with Adscendmedia till now.
Thank You Adscendmedia :)
I have had the privilege of partnering with Adscend Media for over a year now as a publisher. Unlike many CPA Affiliate Networks who make promises and fail to deliver, Adscend Media fulfills all of its commitments. On time payments and great approving offers with the highest payouts are just a few of the ways Adscend Media does this. I have been very pleased with Adscend Media and look forward to a long business relationship with them.
Have been with adscend since early February and all I can say is wow! The entire team is helpful and quick to respond (even on Sundays!)
Excellent rates, powerful technology, a fresh approach to the CPA industry, and excellent support! Plus a bunch of excellent customization tools.
Adscend Media network is a trustworthy CPA network for anyone looking to monetize their traffic
I am with Adsend Media for about more than a year. Heard about Adscend Media from forums. Thought I will give it a try. I am really glad that I thought that. Now I earn a pocket full of money from Adscend Media. The best thing I love about them is the support. The affiliate manager and the techs reply any question or support very quickly. And they are very friendly. And second is their email submit offers. So many of them. And They never miss a payment or there is no delay ever. I totally love this network. I wish for them to grow more.
One of the Best Cpa Network !
For starter i want to say that Adscend Media was my second way for online revenue , but that thing changed when i saw the simplicity and those new offers that just keep on coming every single day !
No need to say , Adscend Media always payed me on time .
One last thing , I was a bit surprise that AM didn't appear on top 10 of Affiliatepaying , should be no. 1 .
Adscend Media haves the best tools for publishers and best staff members always there to help you earn !
Being an Internet Marketer for only a year or so I've already had my fair share of bad experiences with CPA networks. This is not the case with AdscendMedia. I thought I had it good with other networks till I decided to split test my campaigns and compared the EPC's and conversion rates. I was stunned on what a few extra %'s can do to my monthly paycheck. But money is not the main reason why this network deserves recognition... It's their outstanding support. I have NEVER in my life experienced such exceptional quality of support. Let me give you a few examples:
1.Emailing your Affiliate Manager at 10:05 on a Saturday night and getting a response within 10 minutes. I don't know weather this was a fluke or just a dedicated manager helping publishers in their spare time, but it sure was welcomed and appreciated.
2.I needed a custom offer tailored specific to one of my sites. The very own co-founder of the company had a contract with an advertiser in less than 20 min. We spent the following days (working into LATE hours, I am talking 3-4 AM here lol) designing the landing page and discussing the best approach in promoting the offer. I was stunned and amazed.
I appreciate everything they have done. As a fresh marketer I don't earn much, but the payments have always been on time and I never received any "push more or get out" emails from their staff. (yes, I've had networks tell me that before)
Any fresh marketers who are looking for a new home and want to share ideas I encourage you to join them. If you would like some tips and pointers here is my personal email: dkinc.sales[at]gmail.com
Drop me a line anytime :)
Regards
Dave Kosiba
Adscend Media is a great CPA network to have in your arsenal. I started with them about 2 months ago. I have always been paid on time and their payouts per offer is the highest that I have seen yet. They have a variety of offers and the affiliate managers are always on hand to help you with whatever problem you may be having. The have many ways to monetize your efforts. Their file gateway is great for monetizing ebook downloads, well at least that's what I use it for. I use their other gateway to lock my video pages. It's similar to that of CPA Lead, but it's easier to manage. If you're looking for a CPA network, but don't know where to start, I suggest you start here, at Adscend Media.
Adscend Media is a pretty good CPA website. I worked with them for more than a year now and payments are made on time and support is pretty fast too.
What I like most is their password protection system which works really well for me as I didnt see in any other CPA site before.
I didn't hear about Adscend Media before and I was hesitant in joining them because I didn't hear any reviews on this network. For curiosity's sake, I signed up to the network to look around.
Unlike any other CPA sites, Adscend Media didn't call me for verifications whatsoever. I was amazed as they approved my application the next day without any interviews or verifications! As I started browsing around the site, I saw that the rates differ from other CPA networks. Adscend Media has lower rates than others with the same offers.
What I like most on this site are the campaign tools that they have. There are vast variety of great tools that you can use including wordpress lock, in which a script will block the screen when a link is clicked on your Wordpress blog and the content gateway where a visitor should sign up on a certain CPA offer he chooses before he can get to your contents. They also serve as a gateway to redirect traffic to your download after getting a simple email submit or other offers.
I received all payments on time (net30), and they have a large variety of offers. Minimum payout is $50, which really isn't bad at all, especially for people who have trouble saving up the money they make instead of buying every little thing they see!
I'd also like to point out that I was a complete newbie to this stuff when I signed up for Adscend Media, so this is a good start for most beginners.
I really like this network because my hardwork using videos and article came up to be profitable each time. They also allows you to use your own gateway if you have one and don't care much about where your traffic came from as long as you are converting. I was getting $5-$30/day using video marketing towards a gateway. This network ROCKS! Adscend deserves an A from me.
Short and simple:Best professional affilate company on net. Their rates are amazing!
I love using their file/link gateway which other network don't have.
Lots of options and they have new offers every week! It has been all pleasure working for Adscend Media.
I earn on adscendmedia for two months something people earn in my country for a year! Realy its changed my life.
Adscend Media is fantastic.
Always ready to help when you have a question and never miss a payment. The tools they provide you will help you earn money right away.
Thank you for being great Adscend Media!
Adscend Media is one of the best affiliate company's i have worked with in the industry. They have paid me dead on the dates they said they would and i have never had a problem with them. I would recommend Adscend Media to all publishers looking for top qulaity affiliate networks. Also to add that Adscend Media have provided me with some of the most top paying surveys that have very high conversion rates. Thanks.
I have been with Adscend since I started promoting CPA. I have tried other companies, but now have every come close to the amount of offers and support offered with Adscend. They have never once been late on a payment. One time, payday fell on a holiday weekend and I had expected to receive my payment a day or two late that month, but they actually paid out early for everyone which was a huge bonus!

Copyright © 2010-2019 Affpaying.com All rights reserved.