Adscend Media
OFFERS

4.86

PAYOUT

4.94

TRACKING

4.91

SUPPORT

4.92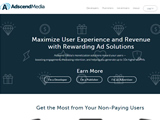 Adscend Media (Incentive Friendly) is not your typical affiliate network. While every network makes claims of having the highest rates, the best offers, the best support, and on-time payments - that is only our starting point. We go the extra mile to provide our publishers with a unique service, and we have developed monetization tools that empower affiliates - of any experience level - to produce consistent earnings.

At Adscend Media we cater to publishers across the spectrum of experience, and to publishers in a wide range of verticals, using a wide range of marketing techniques. We maintain an inventory of hundreds of offers, and we take low margins to ensure that you receive high commissions. Adscend Media has content gateway as well.
[More]
Affiliate Network Details
Commission Type
CPA , CPL , CPS , Content Gateway / Locking
Tracking Software
In-house proprietary platform
Tracking Link
http://adscendmedia.com/click.php
Affiliate Managers
Jeremy Bash

Fehzan Ali

Shane Hanna

Ilyssa Cohen
Rating Distribution
Excellent

168

Very good

8

Average

0

Poor

1

Terrible

0
Offers

Payout

Tracking

Support
Adscend Media is my favorite network, they have really good offers and a superior block system. Have been with them for about 8 months now and they have always paid me on time.
Excellent network to work with. Strongly recommended.
As far I've seen AdscendMedia is one of the best companies on CPA Network. It has tremendous offers and pay very well for every completed survey. I've received some payments and all what can I say is that they are simply the best, support is great and the way of payment suits to everyone.
They are fast and the payment comes in real time. So I sincerely recommend you to join at AdscendMedia if you want to earn money.
Ive been with Adcend Media for about a year and a half and have never had a problem.
I rarely have needed support but when I did, the questions were answered promptly and concisely. Jeremy is also on some internet marketing forums and has answered many cpa related questions there.
The content gateway is super user friendly and they have always paid on time. I highly recommend them for beginners and experienced Imer's alike.
looking for a solid trusted cpa network? Try adscend and you wont regret it. fehz and jeremy are always around to give any assistance you might need. Will you need help? prolly not the platform is very easy to use with adscendmedia.
give it a try today and you wont go back
After looking high and low for a content network to work with which can provide extensive tools to match advertisement to that of my content I stumbled across Adscend Media and have since never looked back. The thing with Adscend Media is, its completely and utterly easy to use (amazing user interface) along with superior affiliate manager service all hand to hand with well served ads based on your content.
I have been personally using the ad gateway which allows me to choose the best converting ads to make sure the readers of my various sites are not irritated by irrelevant advertisement but actually are intrigued and do check out what the ads have to offer.
To cut this review short, I would urge you to try Adscend Media today, you wont look back.
Long Live Adscend Media!
Never missed a payment, never struggled or hesitated to answer a question, and never shunned anyone who followed the rules and tried. Adscendmedia is the best affiliate network out there because they care about their publishers like a mother who cares about her children.
I've tried many different affiliate networks, but AdscendMedia tops them all! Their amazing file gateway allows me to make a great amount of cash when I upload files and they pay quickly. My affiliate manager is helpful and handles all of my problems without hesitation! Greatest affiliate network I have ever joined!
Adscend Media is a great cpa network. I have been working with them over 6 month and got paid near about 50K. I like their support so much. They mail me time to time. Answer my question so quickly. If get any problem notify me so quickly.
I really enjoy their network to earn money.
I started with them 1 months ago maybe a little more. I have always had friendly am's and never got paid late.The Gateway Is Amazing Very Easy.
Adscend Media is one of the best affiliate network I ever work with. They have lots of offers supported almost all countries. They have active account managers anytime you need and a very dedicated support. Payments are always on time and no delays. Great satisfaction is to be with Adscend Media.
Reply
I have been doing CPA offers for about 2 years now, and have to say that Adscend is one of my favorite networks. Mayrena, my manager, is always nice and replies quickly whenever I have any questions. On top of that, payments are always on time and for the correct amount. As far as the offer selection, they have many country specific offers, so if you can target by country, you will make some good money with these folks.
*Note: You will see a lot of networks on affiliatepaying that have many pages of good comments and high ratings, but NONE of them offer payment proofs. Stay away from such scam networks. I fell into one of those traps last year.
Here is one of my payment proofs from Adscend which proves that they are a trusted company to do business with. Though the payments I get from other networks are usually much bigger, you have to understand that this is only from a gateway page I set up to help people fix their cars, and I did not advertise it, at all.
for me personaly it's best CPA network!!!
Well My dear fellow, I started in CPA since few month backs, I just started from CPA*LEAD, I was Earning there 100 bucks to 150 bucks/ Month, but after few months though 2-3 months, they frozen my account, then I made the account of adscendmedia and I was thinking that adscendmedia sucks I hadn\'t earned money 2-5 days, I thought that I made mistake to join it, but though after few days I starting earning and earn 23 bucks at first month and 43 bucks at second month total 66 bucks within 2 months and I got paid from them. next month I earned 63$, Which it Was big money for me from beginning of adscendmedia, after 3-4 months I again made an account on CPA**LEAD and they again frozen my account. Now its again begin of Adscendmedia and Now I\'m earning 2-4 buck a day. Adscendmedia We can trust you and We can surely say the best CPA network on Internet. legit + simple:)
Great company, great support, great offers list!
One of the best CPA company i worked with. I already received a payment and I'm waiting for the next one. I recommend to everybody!
Definitely a great affiliate program. Good selection of offers and fair payouts - not the absolute highest around, but they don't appear to shave. Lots of decent international offers to fill up your foreign traffic inventory. What's best is that they pay and they pay on time - unlike other affiliate networks, they've never given me any problems when it's time for me to get paid. Recommended.
They have great offers , and great email submits, if you make a little selection you can earn good money with them , never missed a payout. Great network

Copyright © 2010-2019 Affpaying.com All rights reserved.