Adscend Media
OFFERS

4.86

PAYOUT

4.94

TRACKING

4.91

SUPPORT

4.92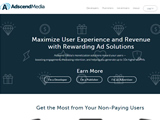 Adscend Media (Incentive Friendly) is not your typical affiliate network. While every network makes claims of having the highest rates, the best offers, the best support, and on-time payments - that is only our starting point. We go the extra mile to provide our publishers with a unique service, and we have developed monetization tools that empower affiliates - of any experience level - to produce consistent earnings.

At Adscend Media we cater to publishers across the spectrum of experience, and to publishers in a wide range of verticals, using a wide range of marketing techniques. We maintain an inventory of hundreds of offers, and we take low margins to ensure that you receive high commissions. Adscend Media has content gateway as well.
[More]
Affiliate Network Details
Commission Type
CPA , CPL , CPS , Content Gateway / Locking
Tracking Software
In-house proprietary platform
Tracking Link
http://adscendmedia.com/click.php
Affiliate Managers
Jeremy Bash

Fehzan Ali

Shane Hanna

Ilyssa Cohen
Rating Distribution
Excellent

168

Very good

8

Average

0

Poor

1

Terrible

0
Offers

Payout

Tracking

Support
This is by far one of the best networks I've worked with. Their support team is really prompt to answer your questions and concerns. They send great, quality traffic and we never have any issues with them. The staff is awesome, especially my rep who I will keep secretive! I want the rep all to myself haha! Definitely work with them if you get the opportunity! They have great offers, great payouts, quality traffic.
Adscend Media is the best incentive CPA network in the industry. Payment is always on time. Recommended to every one.
My favorite network right now. Great offers and great people to work with. Jeremy is always responsive and helpful. <3
I am fully impressed so i want to say that in every field of affiliate marketing Adscendmedia is great.
No payments issues from their side.
No other networks can provide facilities and convenience like Adscendmedia.
I'll recommend to join Adscendmedia network always.
thanks a lot....!!!
Anyone can join it through my referral link.If your website and its content will be deserve good quality, then Staff will approve you and i'll help you out also.
http://bit.ly/UEfAhF
Guys, Adscend is the best network out there, allways pays on time and has a great AM-s. If someone wants to sign up use my referral http://bit.ly/ZUxLUQ
Honestly, the best network I have come across. Great offers and always pay on time!
Pays on time, always willing to help. Great Network.
Adscend is the best affiliate network that I have joined. My affiliate manager has always been very friendly and helpful. Whenever I have questions or concerns they take care of providing me with the help I need. Thanks Adscend and keep up the great work!
5 stars.
Adscend Media is great. I've worked with them for several years and have nothing but positive things to say. Thanks Fehzan!
The adscendmedia its JUST PERFECT. Payments on time, and PERFECT support, from affiliate menager Shane :)
And yea, the converting of offers there, its just PERFECT.
It changed my life.
Payments always on time! Excellent network!
Awesome network indeed, just got my payment today. Wish they offered weekly payments as monthly takes too long.
I have been with Adscendmedia since April 2011 and Im very satisfied with the network. I have earned quite a lot especially last month as well as this month. Best network ever. Period!
Awesome CPA company, been with them over a year (I think), and they seem reliable and hard-working.
After this many positive reviews, how could you go wrong?
Here's a link to sign up (full disclosure: its a ref link)
http://adscendmedia.com/apply.php?refer=12693
Anyone who signs up under me, and is serious about making a living online can PM me, and i'll teach you my methods.
Great network to deal with, on time payments and great support, my AM is always willing to help!
Here is my payment proof.

Copyright © 2010-2019 Affpaying.com All rights reserved.