Adscend Media
OFFERS

4.86

PAYOUT

4.94

TRACKING

4.91

SUPPORT

4.92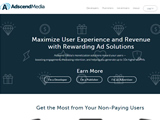 Adscend Media (Incentive Friendly) is not your typical affiliate network. While every network makes claims of having the highest rates, the best offers, the best support, and on-time payments - that is only our starting point. We go the extra mile to provide our publishers with a unique service, and we have developed monetization tools that empower affiliates - of any experience level - to produce consistent earnings.

At Adscend Media we cater to publishers across the spectrum of experience, and to publishers in a wide range of verticals, using a wide range of marketing techniques. We maintain an inventory of hundreds of offers, and we take low margins to ensure that you receive high commissions. Adscend Media has content gateway as well.
[More]
Affiliate Network Details
Commission Type
CPA , CPL , CPS , Content Gateway / Locking
Tracking Software
In-house proprietary platform
Tracking Link
http://adscendmedia.com/click.php
Affiliate Managers
Jeremy Bash

Fehzan Ali

Shane Hanna

Ilyssa Cohen
Rating Distribution
Excellent

168

Very good

8

Average

0

Poor

1

Terrible

0
Offers

Payout

Tracking

Support
I tried to work and I liked Adscend. Application was longer and took more than other networks for CPA but it is a very good company.
If you want to try all of CPA networks for content locking then you should consider this as one you test too!
Good network. What is there not to like about Adscend! Offers and payouts are ok. support is very good
There is lots of talk about how Adscend Media is too strict and will hurt you. I think people need to check their traffic before complaining. Im very happy with firm rules if it means I get good results
Adscend does exactly that results.
I had the pleasure of running on adscend media. Good network! Fehzan Ala and Jeremy Bash are doing a good job of trying to build a very good company.
keep it up guys
i applied for the network i got approved.
good people to work with or tho if your going
to run a ppd website make sure you know what your getting
in to we had over 1100$ in reversals because we let a GPT
website user us as a content locker. - Reason for Reversal
"Proxy's & IP Change's."
Support A+
NETWORK A+
good site watch out for proxy's and reversals. only thing i can say
is when i contacted AdscendShane he was there. we talked. he told me what happened i will still use there network. love the usability of there website.
Just a great network iv enjoyed working with them.
A great team of friendly people.
After 2 days working with them i have to say it is a very good Network.
I think after a lot of optimizing i can reach 100 $/day.
I like Adscend Media. Thats a very good advertising network
best incentive network in the game
AdscendMedia is the best network available to join, iv been with them for over 2 years now and not a single problem and always pay on-time.
They are just simply perfect and should be No.1
My first payment from adscend.. also my first time in cpa program.. alhamdulillah.. thanks adscend.. :)
Great EPC, amazing support, and payments are always on time. I am now moved to bi-weekly.
I'm making around $4000 a month in CPA.
Feel free to sign up with my referral link and I'll hook you up with some money making tips: http://bit.ly/17qD6YD. If you get approved you can add me on Skype so we can talk if you want.
If you register through me & hit me up at [email protected] I will give you some rarely-known money making tips since there is incentive for me to help you make money from earning referral commissions from you! =) Many of my referrals make a steady $40+/day.
This is my first payment received from Adscend Media!!
THUMBS UP!!
I got my 2nd payment, trusted and great network
Always received payment on time. My January 2013 payment screenshot.

Copyright © 2010-2019 Affpaying.com All rights reserved.