Adscend Media
OFFERS

4.86

PAYOUT

4.94

TRACKING

4.91

SUPPORT

4.92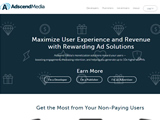 Adscend Media (Incentive Friendly) is not your typical affiliate network. While every network makes claims of having the highest rates, the best offers, the best support, and on-time payments - that is only our starting point. We go the extra mile to provide our publishers with a unique service, and we have developed monetization tools that empower affiliates - of any experience level - to produce consistent earnings.

At Adscend Media we cater to publishers across the spectrum of experience, and to publishers in a wide range of verticals, using a wide range of marketing techniques. We maintain an inventory of hundreds of offers, and we take low margins to ensure that you receive high commissions. Adscend Media has content gateway as well.
[More]
Affiliate Network Details
Commission Type
CPA , CPL , CPS , Content Gateway / Locking
Tracking Software
In-house proprietary platform
Tracking Link
http://adscendmedia.com/click.php
Affiliate Managers
Jeremy Bash

Fehzan Ali

Shane Hanna

Ilyssa Cohen
Rating Distribution
Excellent

168

Very good

8

Average

0

Poor

1

Terrible

0
Offers

Payout

Tracking

Support
Very great network.
Just received another payment from them. They are the best company i ever seen.
They have great support, offers and anything elese.
Join there i suggest to you if you need money
Their network is amazing and top of the line. Fehzan is a very intelligent and helpful person. Any questions I have is answered and provides quality support. Could not have asked for a better network.
On my way to pushing 1k+ a week with them.
AdscendMedia is one of the best cpa networks
I've been very happy with Adscend Media. They always send payments on time, send timely offer updates and my AM has always been very helpful!
Beth
AdscendMedia is one of the best cpa networks, they have great supports, great offers and pays in time :)
I recive 4 Payments now without any problem/
The Adscend Media network is by far one of the best CPA networks I have ever tried in the whole industry. Top converting offers and Unbeatable payouts. Give it a shot.
Adscend Media runs the best incentive affiliate offers around! They are reliable and trustworthy company, and the staff is knowledgeable & friendly to work with. Payments are always on time. What more can I say?!
hi :
i've got my 1st payment from adscendmedia 30 september , great network contains a bunch of awesome offers.
i recommend it for anyone seeking the success .
thanks .
My experience with Adscend Media has been nothing but exemplary. They have so many offers with the best payouts and I have always been paid on time! My rep is also very helpful and is always there to help me.
Adscend Media is a solid CPA network to work with and I would not hesitate to recommend them to others.
Adscend Media is my favorite CPA network right now. They have a really nice selection of offers and their offers convert like crazy. If you're looking for the best Cpalead alternative, apply here.
I recommend AdscendMedia. This is a must join if you're running an incentivized site. They have the most incentive offers I have seen so far, they also have a unique gateway tool which is pretty awesome. AdscendMedia.com is one of my top favorite CPA networks.
AdscendMedia is one of my favorite incentive affiliate networks out there. They are a reliable, paying network with tons of great incentivized campaigns. The best thing about AdscendMedia is their content gateway and file gateway, which only a few networks have. The Founder is often found on DigitalPoint forums, and is very helpful and friendly. Fehz is a great guy there and he will help you all the way so you can't go wrong. BTW, they pay through paypal which is a plus. Very Recommended!

Copyright © 2010-2019 Affpaying.com All rights reserved.