Adscend Media
OFFERS

4.86

PAYOUT

4.94

TRACKING

4.91

SUPPORT

4.92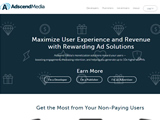 Adscend Media (Incentive Friendly) is not your typical affiliate network. While every network makes claims of having the highest rates, the best offers, the best support, and on-time payments - that is only our starting point. We go the extra mile to provide our publishers with a unique service, and we have developed monetization tools that empower affiliates - of any experience level - to produce consistent earnings.

At Adscend Media we cater to publishers across the spectrum of experience, and to publishers in a wide range of verticals, using a wide range of marketing techniques. We maintain an inventory of hundreds of offers, and we take low margins to ensure that you receive high commissions. Adscend Media has content gateway as well.
[More]
Affiliate Network Details
Commission Type
CPA , CPL , CPS , Content Gateway / Locking
Tracking Software
In-house proprietary platform
Tracking Link
http://adscendmedia.com/click.php
Affiliate Managers
Jeremy Bash

Fehzan Ali

Shane Hanna

Ilyssa Cohen
Rating Distribution
Excellent

168

Very good

8

Average

0

Poor

1

Terrible

0
Offers

Payout

Tracking

Support
I've been working with Adscend Media for a few months now and so far they are the best, I have tried other CPA networks, but it seems that I have a hard time earning with them, with Adscend Media I can easily convert whatever offer it is.
What can I say, they are one of the best, great support, offers, tracking and everything and they pay on time.
I love using their file/link gateway which other network don't have, works great for me. They also have great affiliate managers, so better try Adscendmedia now! whether your new to CPA or not. Thumbs up for Adscend Media!
they pay on time, and they have the best offert.. i'm happy to be here, in the best cpa affiliate network. thank you.
Adcend Media is a great network i am with them from last one year. Payments are always on time. Support is Awesome. Jeremy is a great guy really supportive and very friendly. For me they are one of the best in this Industry and no doubt they know what they are doing.
Join them and see the difference ... Good Luck ...
This is one of the best CPA network available. I have always been paid on time and in some case even earlier. The support is really great whenever you need help your AM is there to help. Keep on making the company better, Fehzan!
Adscend are a great network! They have great support, emails are usually answered within minutes, payments are fast and always on time, they even paid me early once due to my request at no extra fee.
I have earned over $50k in the last few months with them, and have been paid every $ of it.
Adscend FTW!
I love working with adscendmedia, I have tried different networks but I never such high payouts and support such as Adscendmedia does. They have always paid me on time and alway whenever there is somethign wrong or there is anything I need, the team is always there to help as much as they can.
Thank you Adscendmedia
I've never had any issues with Adscendmedia paying out late. They always pay out on time, rates are good, no lost clicks, and its pretty easy for me to get in contact with my Affiliate Manager. Best network by far.
I am very happy with AdscendMedia. Not only do they pay on time, but I am extremely happy with the level of service and variety of offers available to me. They have a direct link offers and many conversions at email submit. Net 7 and payout increases are common with well performing accounts. Give them a try!
I have been with Adscend Media for a little over a year now. They have been fantastic. Always pay on time. Another reason why I love Adscend is that they make it so easy to add incentive offers so effortlessly into the FSR incentive script. This allows me to update offers to my site effortlessly.
10/10 for Adscend. I intend to use them for a long time to come.
I have been using adscendmedia about 1 year now and I still love it 110%! Best offers and customization of gateway/API and so on! I have allready got paid 3 times and every time just on time!
Best CPA Network :)
I tried maybe 10 different CPA gateway networks and Adscend Media is by far the best. Their EPC is the highest I've seen, payments are always on time and staff is very helpful. I've been with Adscend Media for a few months now and already been bumped to NET15. They did have some downtime as a result of a DDoS attack which was probably the only inconvenience I've experienced with Adscend Media so far. They were able to resolve this issue pretty quickly and everything is running smoothly again. I get paid by wire so I've attached my earnings so far if that counts.
In my opinion Adscendmedia is the best affiliate network I've come across yet and I'll list my reasons why below:
I've been a member since Oktober 2010 and I have never received a late payment, ever.
Also their support is very clear and on time; if you ask a question, you can expect an answer within a day or sometimes even less.
I mostly use their file gateway to monetize my content, and it works great! They also have a large variety of offers which are frequently updated.
Their tracking system is also very advanced since it tracks your stats realtime which is a very usefull feature.
I would recommend anyone who uses CPA marketing to join Adscendmedia, since they are simply the best in the biz.
Adscendmedia is the best networks iam working with .
I received 5 payments from them.Another good thing is which i want to share is on one of my payment day it is sunday .They paid on that day also that is Jan payment.
For all my payments I received exact on 30th of every month it may be Saturday or sunday .
I feel its my good opportunity to share a review to share about this wonderful exact time paying network.
NO Late payment. I observed this with some networks but this network i never failed to receive in time.
also there are wide range of offers and more over there is no shaving which i observed in other networks Top converting offers and other best thing i observed in my 6 months work with adscendmedia is AM is very good and support and respond in time
if you need payment proofs just get back to me reply me. I can answer any questions you have
AdscendMedia is one of the best CPA sites out there. They pay out exactly when they should and they have new offers every week. Their support is great and helps with anything that I need. Being in school, this site allowed me to quit my real job. If AdscendMedia wasn't here, I don't know what I would do because I don't like any other CPA sites as much as this one. I recommend this site to anybody and have a few friends that use it! Thanks a ton!
I am using Adscend Media from only few months but i can see the difference right away. Adscend Media never delayed any of my payments and they do have pretty rich survey base with tons of offers. They have nice email submit offers which is rare and few other CPA networks have.
Their support team is very cooperative and friendly and helpful giving me new ideas on how and what to promote for better results. Special thanks to Fehzan for helping me with new ideas.
All in all Adscend Media is the network that i was looking for. I have been working with several other top CPA networks but by far Adscend Media is the best for me.

Copyright © 2010-2019 Affpaying.com All rights reserved.